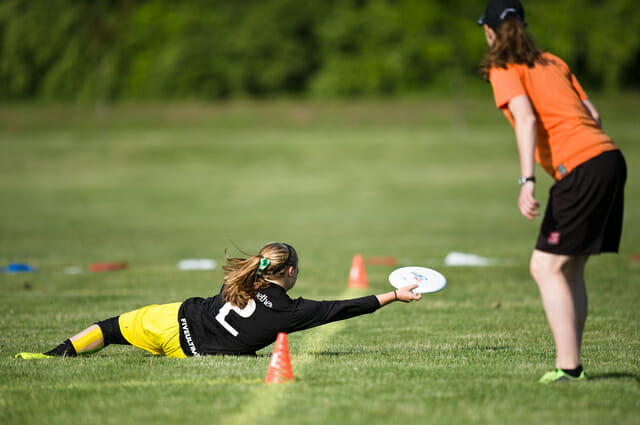 Here is a recap of the second round pool play games at the 2014 College Championships.
MEN'S
UC San Diego (#13) v. Wisconsin (#12)
Coming off their impressive North Central Regionals title, Wisconsin dominated UC San Diego 15-7 in the first round of games in the stacked Pool A. Rarely giving the disc back after an Air Squids turn, the Hodags managed to convert their break opportunities and roll through their opponent with a string of devastating runs.
The two teams traded to 4-4 with some fortunate grabs on both sides before Wisconsin rattled off a few breaks to take half 8-5. Then they rolled to 12-5. It happened faster than one might think. UCSD was stunned.
The offensive distribution for the Hodags was remarkable. They found eleven different men for their fifteen scores. Nexgen star Colin Camp had three assists, Ben Rehmann had three assists and a goal, and the 6'6" Craig Cox had three assists and a goal as well. But that's about as far as anyone on Wisconsin came to dominating. No player had more than two goals, and the smooth offensive flow made it difficult to spot any one Hodag commanding special attention.
Coach Hector Valdivia said his team came into the game wanting to get flow off good disc movement and opening up space in the opposite direction so that UCSD's containment zone couldn't get the Hodags trapped or stagnant.
The strategy paid off and Wisconsin's confident throws, despite the rising wind, and timely cuts proved consistently problematic for UCSD.
"We're playing loose," Valdivia said. "It feels like the middle of the season for us now. We're not even close to burnt out."
While the Air Squids didn't look tired either, their usually reliable O line repeatedly struggled to complete break throws and swings that were routine throughout the season.
UCSD Coach Matthew Parisi said his team had never encountered the poachy containment zone that Wisconsin ran, and by the time they figured it out it was just too late. He also added that the Hodags' execution made it extremely difficult for the Air Squids to gain any ground that they might have lost.
"Wisconsin looked calmer and more poised," Parisi said. "They didn't make many mistakes."
In an attempt to contain Wisconsin's momentum, Parisi said his team was overaggressive to the break side, trying to stop everything, and consequently got burned to the open side too often.
With the Hodags' steady throws and smooth flow, this proved to be a dagger.
Despite getting decent production from All-Region players James Lai (three goals) and Trevor Purdy (one goal and one assist), the Air Squids just couldn't stop the Hodags from getting what they wanted.
Colorado (#1) v. Harvard (#8)
The New England champion Harvard hung tight with Colorado in the first half but couldn't withstand the mounting pressure from the Mamabird defense in the second half and fell 15-11.
Jimmy Mickle was not especially sharp for Colorado, but Stanley Peterson and Tim Morrissy had good games to drive Colorado to a victory. Harvard struggled to work the disc downfield against aggressive underneath defense.
Harvard's defense was stout, particularly on the mark; they forced Colorado to try to jam the disc up the sideline again and again, and forced some turnovers with that pressure. 6'5″ Daniel Broudy played solid defense on Mickle, limiting his hucks and keeping him from having a big game. Mickle was more effective when he made aggressive strike cuts than when he hung back.
Florida State (#10) v. Massachusetts (#19)
The first round of Pool C featured the 3v5 matchup between Florida State and UMass, and the 2v4 matchup of UNC vs Tufts. Both UNC and FSU were missing a significant player in their offensive systems. UNC is missing Ben Snell, who after a second MRI was ruled out due to a torn ACL. FSU was hurting without their Callahan nominee Chris Laroque who's at a wedding in California.
FSU was hurting early and UMASS took advantage. Some sloppy offensive miscues allowed Massachusetts to take a 4-1 lead. Sophomore Jeff Babbitt was on fire early, scoring three of ZooDisc's first four. Ironside practice player Ben Katz helped give Babbitt the hot hand; Katz to Babbitt was a very popular combination. In the first half, DUF struggled to convert break chances, which ultimately resulted in a 8-6 UMass lead at halftime.
The second half appeared to be no different as UMass started with dominant offense. As the wind picked up, ZooDisc began using zone defenses in their offensive sets, making break opportunities for DUF much harder. The game got more and more heated as FSU came roaring back to tie the game at 12-12. In a game to 14, both teams threw multiple turnovers. But in the absence of Chris LaRocque, Connor Holcombe and Andrew Roney took the game over. Roney had a layout D that led to a 13-12 FSU lead, then after a UMass hold, hucked to Holcombe to set up the double game point win.
North Caroline (#6) v. Tufts (#15)
Ben Snell's absence (ACL) on North Carolina allowed Tufts to keep it close with Darkside. After leading by two for the majority of the game, Tufts scored two breaks to tie the game at 13s after the increased wind challenged UNC's handlers. After a UNC hold, Tufts senior William Wong lead his team down the field. He would eventually catch the score off of a timeout to force double game point.
On the game's final point, Jonathan Nethercutt was too much to handle for Tufts. A few give-and-go moves from Nethercutt left him open near the endzone to throw an easy backhand break for the win.
POOL C WRAP
It's clear that the loss of these two playmakers is affecting both FSU and UNC. Darkside will have to recover in time to stop Will Driscoll of Texas at 2:30 this afternoon. But regardless of a scare, a win is a win, and UNC is one step closer to a high seed come quarters. FSU is a quarters hopeful that will have to adjust their strategies without LaRocque present in order to beat a hot Tufts team later this afternoon. This team definitely has the capability and, more importantly, the depth to make that happen.
WOMEN'S
OSU (#1) vs. Michigan (#8)
The 1- and 2-seeds from Pool A faced off on the showcase field, with Ohio State the heavy favorite and Michigan a popular choice for the quarterfinals. As their game began, Ohio State looked at ease and confident, their play smooth yet relaxed as they almost immediately brought the score to 3-1. Paige Soper orchestrated the offense like a true maestro, finding Cassie Swafford, Lauren Franke, and Stevie Miller over and over again in the endzone.
Michigan Flywheel looked a little desperate early in the game, forcing throws they didn't need and making decisions they shouldn't have. Even the ever-tranquil Meeri Chang looked a little flustered to begin the game, and Fever got to 6-2 before Flywheel took a deep breath and rediscovered their rhythm.  They wove together their throws, finding inside looks to Jacqueline "JJ" Jarik and Alyssa Abbey to work step by step toward the endzone and toward more points.
Both teams threw zone in the blustery wind, although Ohio State was better able to find open pockets through the cup that they were able propel into quick points. Ohio State's zone was tall and imposing, so Chang and Hannah Henkin went under, slipping low throws back and forth until they found opportunities. This OSU zone forced enough throws from Michigan, however, that OSU was able to capitalize and take half 8-6.
Michigan found their energy and their momentum, playing beautiful offense, but on defense they weren't able to generate any real turns from OSU; they had to settle for the rare mistake. Two teams may have had a 85% and a 90% completion rate respectively, but that 5% can make all the difference, and OSU exploited it.
A springy layout D from Hannah Henkin on Paige Soper gave Flywheel another jetpack of confidence, fighting back to bring it to 9-10. Then OSU took control once more, with huge bids from Soper and impressive depth from the first to the seventh woman onfield. They scored four points in a row to reach game point, and despite a late point from Flywheel, OSU took the game, 15-10.
British Columbia (#9) vs. Colorado (#19)
British Columbia's first game of the tournament was against the last seed in their pool, Colorado, and played out like the paper numbers indicated. British Columbia cruised to a 15-5 victory.
UBC's offense looked fluid throughout, using Laurel Jay, Terynn Chan, and Mira Donaldson to make key throws. Freshman Victoria McCann was huge for the Thunderbirds, racking up points by being opportunistic. Donaldson, per usual, created matchup issues.
Colorado struggled against the not only their Canadian opposition, but the wind as well. Despite their general skill & talent, Kali continued to fail to execute consistently. Often, they gave the disc up in key situations – near either goal line – and UBC made them pay. The T-Birds played well despite the wind, showing off a depth of skill across the roster that should serve them well.
Victoria (#12) vs. Virginia (#13)
The first "upset" (only a one seed difference) of the women's division belonged to University of Virginia Hydra, who had no trouble rolling over Victoria in their tournament opener. Johnston and Nada Tramonte each were heavily involved in the Hydra offense, particularly around the end zone. Sarah Hansen made some huge defensive plays.
Virginia went up 3-0 early and Victoria was never able to recover. Danie Proby saw a lot of touches and did most of the offensive work for the Vixens. Lexi Omand deliver a huge layout for UVic, but it was too little, too late.
Victoria simply looked outclassed by a more athletic and more diverse Virginia attack. It was a rough start for the first nationals appearance for the Canadian team and they'll need to regroup if they want to make more of out it.
Virginia's early showing is promising for a team that had an unbalanced regular season.
Carleton (#6) vs. Northeastern (#15)
Northeastern and Carleton College exchanged points early, marching up to 2-2 until Syzygy was able to work it up for the break, and then seal that break again with a successful bailout to reach 4-2. The game began with heavy turns from both teams as the wind began to bluster and each team found their hands.
Northeastern held true to their pattern of punting the disc deep and hoping their height, Lizzie Jones, would bring the disc down. This approach was effective, but in competitive games they won't always be able to throw and pray. On defense, Kate Flood was everywhere, grabbing plastic from the sky and making physical, effective run-through plays.
Carleton matched their aggressive play with heavy defensive pressure on their handlers, and calmer work from their handlers, Kirstie Barton, Julia Snyder, and occasionally Lucia Childs-Walker. Snyder and Barton consistently found and connected with their deep looks down both sides of the field, and it may take better handler defense than that from Northeastern to shut them down.
Carleton began to sit back on their heels as they pulled ahead, and Northeastern took advantage, fighting back for scrappy points. Nevertheless Carleton took half on a junky punt that Emily Buckner landed in the endzone.
Syzygy pulled away late in the second half behind strong zone play, both on offense and defense. The increasing wind favors the skilled and poised throwers that make up the Carleton roster. Emily Buckner made numerous big plays for Syzygy and Julia Snyder tallied 1G and 5A as they held off any comeback attempts from the lower seeded New England team.
"We couldn't stop [Julia Snyder's] around backhands," said Northeastern Coach Jason Adams, who also pointed out Buckner's impact on the game. "They made just about every play they needed to make."