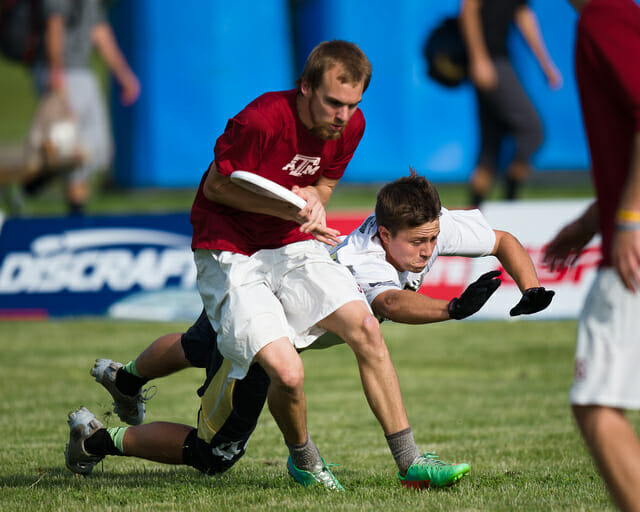 Here is the recap of the Round 3 Pool Play games at the 2014 College Championships.
MEN'S
Michigan (#11) v. Central Florida (#14)
There were lots of lead changes, different defensive looks, and a borderline unwatchable amount of calls before Michigan MagnUM broke to take a crucial pool play game over the Central Florida Dogs of War, 14-13.
It's getting windier. Not overly windy. You'd still feel pretty good about throwing a hammer over the zone if this was any other tournament. Only it's not. It's nationals.
Both squads mixed in man and zone – and Michigan threw a couple different zone looks out there, including a four man cup and a trap wall. In their round one game against Texas A&M, UCF elected to throw over the zone via huge Mike Ogren hammers. As the wind has picked up, the Dogs elected to go the possession/thousand throws route.
This game was tight all around. UCF broke early. Then Michigan broke before half on a huge backhand huck from Noah Backer to Ryan Schechtman, whose left hand is broken and fully casted. Schechtman's hand is essentially a club, not unlike a defensive lineman pre NFL/AFL merger.
Michigan breaks again, 7-5, but UCF fights to get back on serve at halftime.
After halftime, it looked like UCF was going to rally back. John Best abused a force backhand mark with an around flick break to knot it at 9's. Mike Ogren threw a monster around break huck. Langdon and McKelvey were both playing hot.
Through all of this, Michigan just kept the faith and did the little things right. Cut and clear. Test the force lane even in tight coverage. Make an up line cut that's covered but keep enough space to cut back for that grey area throw that's not totally a break. Even after they went down a break, 11-10, set up by a John Best huck, Michigan just kept chipping away.
It came down to 13-13, game to 14. Michigan comes down in a sneaky zone and forces a low tight throw from Ogren to Best. It hits the turf. A few swing passes later and a break cut to the front cone by big man Jesse Buchsbaum and that's ball game, 14-13.
Keys to the game
Both these teams were extremely well-coached. A few times late, UCF got a little too fancy running switches and left guys wide open. Also, Michigan's Yonatan Rafael was playing really well, and with a ton of confidence. Rafael shouldn't win the Callahan, but Michigan leaned on him and he carried them with the kind of confidence that only someone who won't be there next year — win, lose, or draw — can.
Notes
– In the first half Michigan received a TMF for a marker foul a possession after the fact because there was no stoppage.
– Over all, way, way too many calls in this game. Not even life-changing could calls, just meaningless picks and violations on both sides.
– UCF tried to match their previous worst pull of the tournament (eight yards in the Texas A&M game) with a 15 yarder at 12-12.
Pittsburgh (#2) v. Texas A&M (#7)
After a shaky start by both teams with a lot of turnovers in the wind, Pitt cleaned up their act and routed Texas A&M 15-9. Though Pitt jumped out to an early 3-1 lead, Texas A&M climbed back and the two teams traded to 5-5.
Then Pitt turned it on.
En Sabah Nur would rattle off three in a row on Dozen to take half 8-5. Another few breaks would earn then the 12-7 advantage, which they would then ride to an easy 15-9 victory, thanks to four second half breaks. Pat Earles notched a goal and four assists — many of them pinpoint hucks — and Max Thorne tallied four goals and an assist himself.
Once getting their footing, Pitt would never look back and steadily increase their lead over the course of the match, thanks to quick movement and patient handler work amidst the Texas A&M zone. En Sabah Nur's handler core of Earles, Thorne, Marcus Ranii-Dropcho, and Tyler Kunsa look to be among the best of the tournament so far, rarely getting frazzled or making unnecessary decisions.
Dozen would put up a good fight in short bursts, largely through the stellar play of Matt Bennett. He threw seven of the team's goals, and was even responsible for a hockey assist on another.
With Dalton Smith's absence due to a hamstring injury sustained during warm-ups, combined with the at times stagnant or confused cutting of the Texas A&M offense, however, Bennett's commanding play and smooth hucks simply weren't enough.
They've only played two games thus far, but there currently looks to be no convincing solution to the problem of Pitt's seemingly unstoppable offensive attack. Michigan and Central Florida will have their hands full tomorrow.
Florida (#9) v. Carleton (#16)
Carleton CUT is successfully blowing up Pool D. As the wind picked up around mid-day, CUT met Florida in their second and final game today. Hot off a close win over UNC-Wilmington Seamen, CUT took the first two points quickly, and only briefly faltered before closing out a decisive 14-10 victory over the Gators.
This matchup brought the star-heavy and short rotation of Florida, against a confident and multifaceted Carleton. While Bobby Ley would play the entire game until calling injury at 13-10, Carleton would almost exclusive run distinct lines, occasionally sending Jesse Bolton to offense as their only standout crossover.
It wasn't just the wind, however, that took Ley's hucks out of the game. After allowing Florida a 4-0 run to take the lead at 7-5, CUT's D line began to follow Ley through his throw 'n go and fall into the lane as he stepped into power position. Forced to reset in the gathering gusts, Florida's second and third looks downfield were well-defended by Carleton.
Along with that smart defensive adjustment on defense, CUT's offense ran a textbook vertical offense, with backfield movement orchestrated by Ben Caffrey, Nick Petru, Justin Lim, and others. Cutters and handlers in the Carleton offense settled in and broke the flick force from Florida with inside flips to unders, and reset well to spread the offense.
"We played our game," said head coach Phil Bowen. "Team-wide, we're playing efficiently and healthy."
"We gave them too many chances," said Florida Head Coach Cyle Van Auken. Those chances were created by hucks that didn't fall in the right places as his team struggled to adjust in the changing conditions. "We need to clean up the end-zone line," he added.
While the wind may have shortened and angled Florida's hucks, it didn't seem to rattle CUT, who continued to reset well as the conditions worsened slightly. "We're used to attacking the arounds against ourselves," said Bowen when asked about CUT's success breaking the Gators' marks. "When we see that other teams have different marks that open up, we're happy to take that."
Carleton now has two upsets in the pool, and takes on Oregon tomorrow afternoon at 12:30 PM after a morning game against Rutgers. They'll look to continue their success and methodical style of offense.
"We're feeling like we're playing Carleton Ultimate," said assistant coach Nick Stuart.
Florida will try to make up ground tomorrow, against the two higher seeds in Pool D. The Gators play Oregon in the morning, and take on UNC-Wilmington at 12:30 PM.
Oregon (#4) v. Rutgers (#20)
Rutgers was never in this game, falling behind 8-1 at the halftime and trailed by as many as eight in a 15-5 loss to the top seed in Pool D, Oregon.
Rutgers was overpowered all over the field and could not contain Dylan Freechild or the rest of the Oregon offense.
WOMEN'S
UCLA (#16) vs. Whitman (#9)
UCLA grabbed an upset in round three against Whitman, 15-10. UCLA's energy was high, with rowdy cheering sidelines and evident enthusiasm. They traded points with Whitman throughout the first half, relying heavily on handlers Michelle Chang and Katie Swinnerton to boost the disc downfield at least once a point. Their offense orbited around their throws and Kelcie Ralph's work downfield, but it worked, and Whitman's smaller roster had trouble containing their deep looks.
Whitman continued to play their game, finding their open looks and working through UCLA's zone. But as the wind picked up, their higher number of throws, some of them forced, gave UCLA the opportunity to capitalize, taking a close half 8-7.
UCLA's building energy contrasted with Whitman's quiet, intense focus, and in the end BLU's momentum won: they took a 2-point run on Whitman with big crossfield looks that their receivers landed with ease.
Whitman managed to score 3 points in the second half, but they never found an authoritative rhythm, and UCLA punched in the final point on a nice flick from Katie Swinnerton to Alexa Cohen, 15-10. 
Tufts (#14) vs. WWU (#11)
Despite clean offense and solid plays from Western Washington, Tufts handily swung an upset 15-11. Crosswinds picked up in the third round, and teams showcased their zone defenses. Western Washington was able to lock down the first point on a nice assist from Abbie Abramovitch, but Tufts answered by breaking through Chaos' cup to match their score, 1-1. Both teams played tight and scrappy until 4-4, with man defense from Abbie Abramovich and Callie Mah stealing opportunistic turns.
Tufts pulled ahead, however, largely through the dominant play of Qxhna Titcomb, Michaela Fallon, and Mia Greenwald. Greenwald grabbed a huge Callahan to tie the score at 5-5, and from there Tufts pulled ahead, with Shields continuing to dominate the midfield and Titcomb releasing step-out backhands into the endzone at will.
"[Tufts is] very effective at using their handlers to break defenses," WWU Coach Pauline Ruegg commented, and this held true for most of the game. "Nala" Earle landed some of the handlers' more floaty passes deep, and combined Tufts was able to assert themselves on the game, taking the lead 10-7 in the second half.
Western Washington, on the other hand, failed to impose their offense onfield, keeping their best players predominantly in the backfield to keep the disc moving. Western is undeniably talented enough to keep the game close, but against such a physical team, they struggled to grab more than one break at a time when they were down.
Oregon (#2) vs. Stanford (#7)
The showcase field played host to a potential heavyweight matchup that didn't disappoint. The reigning champions came back from an early deficit to take control and hold off a talented Stanford team, winning 15-13.
Superfly made early strides with lot of zone, flustering Oregon's attempts to run the side stack iso's that they have utilized effectively this season. The wind repeatedly pulled deep throws past the hands of receivers from both teams, but Fugue's Jesse Shofner and Stanford's Monisha White, among others, continued to attack. Stanford's offense came up with some big plays, like Jennie Lummis's snag and subsequent huck to make it 6-4.
Adrienne Bovee put up the play of the game: after tripping trying to track down a Darch huck, Bovee recovered, making an incredible grab, fully extended, with defensive pressure, making it 6-5. It was one of her five goals in the round.
Oregon managed to take half after a short field turn, which proved crucial to their success. Fugue finally began to get moving after a sluggish start.
Stanford's star handler, Monisha White, was emotionally distressed by her own struggles, as she was held without an assist in the first half, near tears during the half time. White managed just a single assist by the time the game concluded, despite playing every single point for her team.
Points were traded out of half, and both teams had their opportunity, but Oregon began shifting things in their favor with tighter defense and the resulting offensive benefits. Their zone offense had no qualms about taking difficult over the top throws that gave Stanford's cup fits.
Oregon Coach Lou Burruss explained that the team "played a little looser on offense" while attacking the wings more, and went man more often to contain Stanford's bouts of pinball-like disc movement against their zones.
Stanford, meanwhile, looked out of gas.
"Oregon is really good at turning it on. When they need to win a game, they are very aggressive in making sure that happens," said Superfly Coach Jamie Nuwer, adding that Stanford was struggling to do the same in the late game.
Stanford's Maya White filled the scoresheet, hauling in five goals and adding an assist. Jesse Shofner was monstrous for Oregon, recording two goals and seven assists with a just a single turnover.
Washington (#4) vs. Cornell (#20)
Washington Element began their weekend with a dominant performance against the tournament's bottom seed, Cornell. The Wild Roses went down early and never recovered. Washington won 15-3.
Element imposed their will, attacking from numerous angles and with varied personnel. Barbara Hoover lead the way with 2 goals and 2 assists, while Lucy Williams added 4 assists as well.
"It's a great way for us to start our tournament," said Washington Coach Kyle Weisbrod, saying he opened up the rotation. "We got a lot of rest for people."