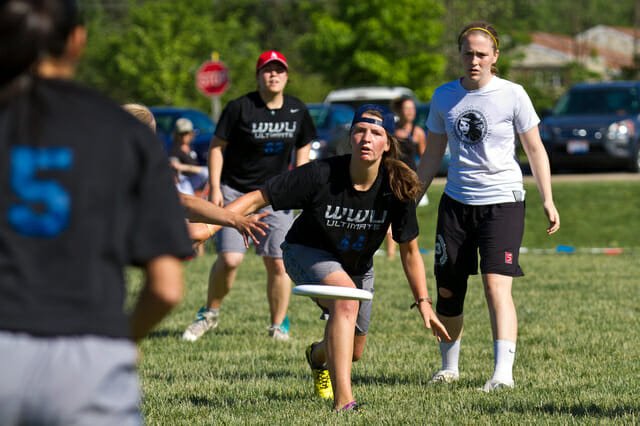 Western Washington Chaos stepped onto the field today with a healthy resume: they had wins over Stanford, British Columbia, and UCSB. They earned the #evilempire another bid, and they have a rising star in Callie Mah.
But the nationals field doesn't give preference to your resume. And today Western Washington's list of accomplishments mattered little when faced with lower-seeded teams that wanted the win.
Western began their weekend against Tufts with pretty offense, and the teams traded points early. Yet Tufts began to pull ahead, earning breaks that Western couldn't effectively answer. Qxhna Titcomb repeatedly threw assists with juicy reaching backhand breaks that her cutters consumed in the endzone, and Michaela Fallon's defense downfield was so imposing that some of her turns came solely from cutters sensing her presence.
Senior Natalie Powell was crucial early on for Western, giving options for Abbie Abramovich and Callie Mah to hit in the endzone. Several of Powell's and Abramovitch's plays kept Western in a game offensively that they were losing defensively. Chaos would exploit several run through D's, but nobody on their roster could shut down Mia Greenwald and Emily Shields downfield.
Tufts took half 8-7 after several neck-and-neck points, but as the second half began, Tufts took control. They were always a dominant team, but as their presence on the field increased, Chaos' offensive presence waned. Tufts grabbed the lead, taking a run to reach 11-7 before Chaos could adjust their side of the scoreboard.
Chaos continued to find ways to score, but they pulled their strongest players – Callie Mah, Tiffany Phan, Abbie Abramovitch – into the backfield to control the disc, which limited their offensive flexibility.
Late in the game, Callie broke for a fast up the line cut, and she stretched too far for an overthrow, possibly pulling her hamstring and sitting out of the rest of the game and the day.
Even without Callie, Western played well alongside Tufts, but they were never able to assert themselves on the game. It was always Tufts' to take, and Chaos couldn't play big enough to win the big game, losing 8-15.
Tufts had probably been underseeded, they were a well-established presence in the Northeast, and they played well. There were many ways that Chaos could have examined their faults in that game and came out of their warm-down feeling okay.
But the story changed after the 5-seed Colorado College, the team nobody expected to be here, broke Chaos for the first point of their game. Chaos scored, and Strata broke again, 3-1. Western kept to their game plan, playing a smooth offense that relies on the decisions of Abramovich and Phan. But their calm focus looked like fatigue next to the insane energy of Colorado College. For every point that Chaos scored, Strata would respond with two, until they were up 7-4 after a four point run.
Chaos got to the College Championships through their skills, their talented roster, and their strong wins. But the teams that thrive at Nationals are the teams who discover a mental game that works, and Strata's mental game perfectly suits their style. They stay driven, they stay pumped, and they stay relentlessly positive about each other's play.
They laid their bodies on the line for most points, with successful layout scores from Maggie Bailey, up the line grabs from Lisi Lohre, and an impressive out of bounds snag from freshman Annie Brewster. Strata was able to effectively translate their excitement into action, and it highlighted how stuck Chaos looked, especially without Callie.
Colorado College took half on bookends from Lohre, and in the second half they took the reins, with big plays from their full roster. Like in their game against Tufts, Chaos let Strata reach 11-4 before they scored again. Chaos connected several times in the second half by relying heavily on Abramovitch, but Strata was on a roll, and their momentum was undeniable.
In the final point, Chaos dropped the disc shortly after the pull near their own endzone, and it was over: Chloё Rowse found Jessi Garhart in the endzone to win, 15-8.
Western Washington is new to nationals, and nationals is a different beast. But the disparity between their mental game and their physical game shone through today. Tomorrow they will have a second chance, but they will have an uphill battle against the fierce defenders on Oregon and Stanford. Western Washington may be a rising star, but they have a few adjustments to make.