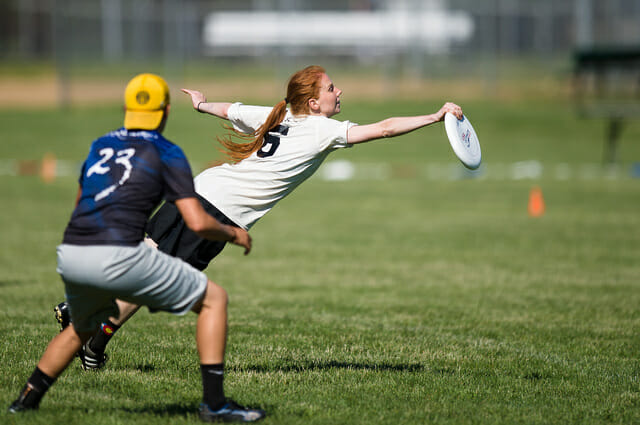 Here is a recap of the Round 6 Pool Play Games (8:30 AM round on Saturday).
MEN'S
Colorado (#1) v. Wisconsin (#12)
Securing their pool and a bye into quarters, Colorado toppled Wisconsin 14-12 in the opening round today. And if that seems like a close game, it's because it was.
The Hodags came out fired up and dropped the overall one seed into a 3-0 hole with a trio of breaks. Mamabird's signature confidence took a beating. They would not be seen throwing around the football or volleyball in a carefree manner until halftime.
Callahan frontrunner Jimmy Mickle would record four goals and four assists — along with five turnovers — but it would take the entire squad to pull Colorado out of their opening slump.
Massive pulls by Mickle and Janas would push the Hodags to the back of their endzone on numerous points, giving Mamabird a chance to run down and lay down some pressure D to let them climb back into the game.
Soon enough, a 3-0 run would make it 5-5. Wisconsin would stop the bleeding on the next point, but another three unanswered by Colorado gave them an 8-6 lead going into the half.
What would happen next left Mamabird in a situation they had yet to experience this weekend: stripped of momentum and in danger of losing a game.
Wisconsin sprinted out of half with a 4-0 run that put them in control, particularly with their large fan base on the sidelines pumping them up with loud, droning cheers. With Mickle throwing a handful of turns and looking out of his element after the break, the Hodags looked poised for a shocker.
Yet, despite Mickle taking the next two points off to cool down, Mamabird reasserted themselves on the backs of Mark Rauls and Stanley Petersen, the latter of which had two goals and three assists for the match.
At 10-10, Wisconsin stopped the bleeding, but another mini-run by Colorado, triggered by two unforced throwaways by the Hodags, found Mamabird with a 13-11 advantage in a game to 14.
An impressive sky by Jordan O'Neill, who finished with three goals and one assist, on a questionable hammer made it close. After getting the disc at midfield on an errant pull, however, Colorado would work it up, and Mickle would burn his man upline and continue to Hidde Snieder for the win.
Colorado captain Pawel Janas said the game was defined by a series of runs by both squads, and, in the end, his team managed to pull it out by converting their chances late in the match.
"It was easier once we had the momentum," Janas said. "Once we got them on their heels, they crumbled."
Wisconsin captain Colin Camp concurred, noting that his team of mostly young players fell victim to a bout of nerves, playing the one seed during a live stream.
Camp — who notched one goal and two assists, including a monster sky over former Nexgen teammate Mickle — attributed the loss largely to his team's failure to execute, despite their defensive intensity and tireless effort.
"It was just a few execution errors on our part. But if we play defense like that, we can stay with any team," Camp said. "If we clean up our execution, we can pull off an upset."
He said that Wisconsin will be ready for their big game against Harvard, and the Hodags expect to go far in the tournament.
Janas expressed a similar confidence in his team and their ability to defeat anyone.
"(Colorado's confidence) is based on our belief in this team," he said. "Our belief that we're going to win it all."
Tufts (#15) v. Massachusetts (#19)
The first round of Saturday in Pool C featured an elimination game between Tufts and Massachusetts. This became another Pool C game that wrapped up on double game point. Unlike a similar scenario yesterday against UNC, Tufts prevailed in a 15-14 final.
Both teams played fantastic team offense by spreading out the disc and taking smart throws. The difference lied in Tufts' ability to convert breaks when UMass gave them the opportunity. In the whole game, Tufts only missed one of their chances to convert, partially due to the excellent play of Eric Shaw. Shaw played point guard for Tufts, effectively distributing the disc to his cutters.
Although eliminated, UMass lost its three games by a combined four points. Tiina Booth called them "a young team, where this is just the beginning." Proof of that is in the play of Freshman Ben Sadok and Sophomore Jeff Babbitt, who was unfortunately injured yesterday against Texas.*
Tufts is now almost certainly locked in for prequarters, where they will face the second seed in Pool B.
*Jeff Babbitt tore a ligamet in his throwing shoulder, likely sidelining him for two months. However, he was in good spirits, continuing to lead his team from the sideline throughout the game.
Oregon (#4) v. Florida (#9)
Oregon dominated the first half of its Saturday morning against Florida, which culminated in a 15-10 victory for Ego. A rotating cast of players moved the disc as Dylan Freechild barked instructions with his teammates from the sidelines. Despite having some trouble converting the turnovers they earned, the Ego defense ran their way to an 8-1 lead at halftime.
Even without the wind from yesterday's second game, the Florida Gators could not connect on their deep shots and high arounds in the first half, most of which came from Bobby Ley. In the second half, however, Florida's offense connected, and stole a few breaks back from Ego on defense to make a very respectable comeback. The second half score was 10-7 in favor of Florida, but the game finished 15-10 with Oregon on top. Oregon moves to 3-0 in the pool, with a tough matchup against Carleton looming this afternoon. Florida's survival will depend on the outcome of UNC-Wilmington v. Rutgers, taking place this round.
Carleton (#16) v. Rutgers (#20)
Rutgers was in this morning game from the start. Much the same way that Machine ran with the Gators to start Friday, Rutgers' legs carried them through the the first half to a 7-5 lead, even without stalwart handler Matt Weintraub who was out with back spasms.
CUT needed a different look to get out ahead, and their D-line came out in a zone which thoroughly befuddled Machine. Carleton's efficient play from yesterday returned and they easily converted with great field position. CUT's zone allowed them to tear off a 3-0 run and take half 8-7. They would go on to win 15-14 on double game point.
Weintraub returned after spending the first half dealing with back spasms, hopefully help out Scott Xu and Josue Alorro who were making a valiant effort to keep Machine in the game. Still, the turns kept coming, as CUT's zone stayed rock solid to start the second half and converted 2 in a row to make it 10-7.
Where Rutgers returned a key player in the second half, CUT's Jesse Bolton, a formidable presence on the field for Carleton's defense, was absent. The defensive line was kept in order during their scoring instead with impressive performances from Jake Ritmire and Justin Lim. Whether it was Bolton's absence, Weintraub's return, or a combination of other factors, Rutgers snuck their way back into the game and stayed close, forcing a familiar double-game-point situation. They played tight defense on the final point, but Carleton's offense was ruthlessly calm and walked it into the endzone for the win.
Harvard (#8) v. Eastern Michigan (#17)
Even in a 15-12 loss to a college Ultimate blue blood like Harvard, Eastern Michigan proved they are absolutely fearless.
With a small roster of 15, and an even smaller rotation, there are no home games for the boys from Ypsilanti. It doesn't seem to bother them. Following the action yesterday and seeing the Hellfish hang tough against Colorado and Wisconsin while playing nearly savage, you got the feeling that if they were going to nab an upset, it was going to be with a full tank of fuel and a good night's sleep.
This was almost the game.
Over on Field 10, the grass is a little higher. It's a long walk from tournament central, the showcase fields, and past the parking volunteers. But at halftime the stage was set for something big, as EMU led Red Line 8-7, up a break.
Harvard had been without goal scoring junior Jeremy Nixon for part of the first half due to an apparent ankle injury. Nixon played the first point out of half – a seven turnover slugfest that ended with a Harvard break to get back on serve.
For small teams like Eastern Michigan, those long points are absolutely "must win."
The Hellfish are starting to fade. Harvard freshman John Stubbs is having a big game and EMU was temporarily without the services of Alex Theiss, who was shaken up during the 8-7 marathon point. Don't be fooled; guys like Theiss, Dan Boynton, and Austin Engel are incredibly valuable to Eastern Michigan. They might not be superstars but they eat points and get Johnny Bansfield the disc.
After being broken twice, with Harvard up 9-8, the Hellfish are looking tired. Listless. Ready to run on offense exclusively. Following an in cut, Johnny Bansfield goes for a chest high catch block on a Harvard cutter who calls fouls. The foul call is upheld by the observers.
Bansfield gives the disc to his man, smiling and shaking his head in disbelief. Exhausted stud teammate James Highsmith is covering the dump during the stoppage. "I guess that's the world, " Highsmith says, so angry he's almost laughing. "Let's go." Cue the goose bumps. Out of nowhere Eastern Michigan's defense is back in a big way. They'd been the underdog, but now they feel personally wronged. It's the Hellfish against the world.
Harvard scores to make it 10-8, but for the first time in a long time the Eastern Michigan is fully energized. They roar back to 11-11 on the back of some huge D's by senior Gary Grant. They even had a couple chances to make it 12-11. Stubbs and Harvard won't have it. 15-12 final.
Keys to the Game
When you're rolling 10 deep you've got to score the long points. EMU couldn't do it. Harvard's got a big bench and, accordingly, used their timeouts for strategy. The Hellfish were using their timeouts to get water and conserve energy, which has been their story of the weekend.
Other Notes
– If EMU had pulled off the upset, the poster for the feature film would have that quote of Highsmith. Sometimes people undervalue the power of raw emotion. In this instance that energy was 100% responsible for the late Eastern Michigan surge.
– Jeremy Nixon of Harvard and Alex Theiss of Eastern Michigan both appeared healthy upon their returns later in the game.
WOMEN'S
Colorado (#19) vs. Northeastern (#15)
Pool C was already dramatic after Northeastern's upset yesterday over British Columbia 14-13, but Colorado Kali wreaked havoc this morning with a crazy upset over the Valkyries, 15-14.
After a sluggish Friday, Kali found their game early this morning with a 3-1 lead. Northeastern still scored effectively by playing their game: big throws from Lizzie Jones or Mei Brust to their phalanx of receivers streaking deep. But Kali held their lead with close man defense and several great defensive reads in the deep space.
Kali played quick, with fast looks that Northeastern could neither prevent nor control. Christina Mickle, Meagan Cousins, and Dori Franklin hit up the lines to each other up and down the field, making the Valkyries' height moot. This momentum took them through half, 8-6.
Without wind, Northeastern attempted man defense against Kali in the first half. But Kali's speed and skills left Northeastern chasing, and in the second half they reverted to their tall zone, regardless of the lack of wind.
Mickle and Cousins both made key plays for Kali, and Kirstin Johnson somehow managed to be huge in the air and in the midfield for Colorado despite her short stature. Northeastern's offense – huck it deep to veteran receivers – worked nine times out of ten, and despite a brief Northeastern break, Kali fought back with a break of their own until the 4- and 5-seed found themselves at double game point.
Northeastern threw their zone, but a high-release crossfield pass to an open Christina Mickle gave Kali plenty of break-side real estate, and Kirstin Johnson threw an open pass to Nhi Nguyen for the win, 15-14.
Ohio State (#1) vs. Victoria (#12)
Fever continued their dominance in Pool A with a significant win over the Victoria Vixens, 15-9. They grabbed their lead early with a 3-0 margin. Paige Soper and Liz Gates found several connections through the first half, and Fever rolled to half 8-3.
Victoria hustled to put together some flow, and nice defense from Jessie Bell helped their team get opportunities on offense.
In the second half, the Ohio State offense continued to reign, and they reached 12-5 with easy work from Swafford and Gates. The Vixens found a few chances through the Fever zone, scoring on a great layout from Allie Short to make it 6-12, but Fever was relentless, and they took the game 15-9.
Washington (#4) vs. Whitman (#8)
Whitman gave fellow Northwest squad all they could handle in the 8:30 AM Saturday round. Washington came in sitting pretty, playing their pool's bottom two seeds and only needing one win to essentially lock up the pool. Their depth won out in the late game, and they'd claim the final score, 15-11.
The Lady Sweets stayed close in the first half, and neither team pulled away. Washington was playing with Callahan nominee Shira Stern (heat exhaustation), but still displayed the deeper team.
That's what allowed Element to be in charge of the second half. A scrappy Whitman team, behind Corinne Pingul, Ari Lozano, and Julia Bladin, was able to hang tough. Alysia Letourneau was impressive going both ways, doing a good job containing Whitmam phenom Claire Revere and notching four goals. Barbara Hoover also rocked the score sheet, with two goals and five assists.
Fatigue set in for Whitman, leading to mental and execution errors. Open opportunities and well-chosen deep looks were missed and discs misread. Their heart showed through, keeping them in it until the final five points. Ari Lozano made a huge sky in the endzone, but that was Whitman's last hurrah.
Washington's victory likely gives them Pool D's top seed and gives them a bye into tomorrow's quarterfinals.
UCLA (#16) vs. Cornell (#20)
The Cornell Wild Roses were wide awake this morning, catching UCLA BLU off guard in Saturday round one and taking an early lead. Once UCLA found their footing, they dominated the first half. Cornell tried to battle back, but UCLA fought them off at every turn and won, 14-11.
Down 1-4, UCLA got big plays from Megan Beck and Han Chen to make a powerful seven point run to the half. They clamped down on the open side, which Cornell had been gaining access to consistently, and began punching in efficient breaks in transition. Some of their top players, like Michelle Chang and Alexa Cohen, barely played in the first half.
Cornell kept it interesting in the second half, dialing in their deep game, which was a major problem for them during UCLA's first half run. The Wild Roses, however, gave up too much ground to make it up and BLU closed it out under the soft cap.
The win will send BLU to the prequarters out of Pool D.