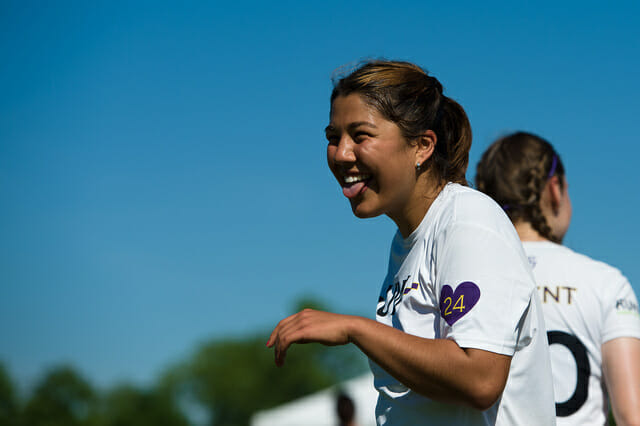 Here is a recap of the 8th round of pool play at the 2014 College Championships.
MEN'S
Central Florida (#14) v. Dartmouth (#18)
There's a little more reason to get excited about this Pitt vs. Central Florida matchup as the Dogs defensive line propels them past Dartmouth, 15-11.
You've got to hand it to Dartmouth. They can score on anybody. They play a safe offensive game and don't take a lot of chances. You can hear Pain Train's coach Brook Martin echoing the mantra, "Run the O, Train!" Great season for Dartmouth and they got a signature win over Michigan.
Central Florida was in the driver's seat from halftime on and was even able to open up subbing in order to rest their top players before facing Pitt in the final round of pool play. UCF sophomore Kyle Reedy (#4) was having himself a nice game so he stayed in to anchor a less experienced crew in the waning points against Pain Train.
Keys to the Game
If your O line turns it, UCF will look for the deep shot. They've got some great receivers like Jeremy Langdon (#25) that can beat you with speed and size. They've also got handlers like John Best (#33) who can get loose and take you deep, like he did multiple times in the first half against Dartmouth.
The Dogs have the pieces. Let's see if they can put it all together at the right time.
Florida (#9) v. UNC Wilmington (#5)
UNC Wilmington rallied back from a late deficit to stun Florida on double game point with a 15-14 win that secured their spot in the prequarters and eliminated Florida.
Florida attacked the Wilmington defense with a much more balanced and patient offense than in previous games, happy to work the unders and eschew the long bombs. It worked for the most part — the team was out in front for most of the contest and had a 10-8 lead late.
But a small Wilmington rally highlighted by a huge Jack Wiliams layout grab tied the game at 10-10. UNCW man defense was stout, even as their legs got tired late in the game.
After trading out to 14-14, Florida turned it over on the final point and Wilmington took advantage, scoring the game winner and staying alive in the tournament.
Wilmington played most of the game without star handler Luke Hancock, who has been battling a foot injury. Nick Jackson filled his role ably, firing some huge hucks of his own en route to the UNCW win.
Harvard (#8) v. Wisconsin (#12)
The deciding game between the two and three seeds in Pool A proved to be a dogfight, with Harvard edging out Wisconsin 14-13 in hard cap.
Red Line's steady offensive attack and solid breaks wore down the Hodag defense, thanks in large part to eight assists from dominant handler Mark Vandenberg. Getting it essentially every other throw on O points, even when it took thirty throws to find the endzone, Vandenberg consistently provided problems for Wisconsin with his smart cuts and easy breaks.
With primary cutter Jeremy Nixon still recovering from an injury sustained earlier in the weekend and not looking 100 percent, Vandenberg, John Stubbs, and the entire Red Line team stepped it up to snag the second seed in the pool going into prequarters.
Harvard captain William Dean took pride in his team's confident flow and strong backfield play throughout their pool play.
"The team is in a good mental place," Dean said. "Contribution across the board makes everyone invested in the game."
Indeed, Red Line often dictated their will on offense with solid decision-making and smooth flow, wherein most of their turns were simply errant throws that just missed their marks.
Though both teams came out a bit sluggish, they soon found their groove and transitioned into a back-and-forth battle.
Despite resting five of their key contributors for their upcoming prequarters match, including Colin Camp, Jordan O'Neill, and Ben Rehmann, Wisconsin managed to stay within contention throughout the contest.
Both squads traded to 3s before a Harvard run put them up 6-3. They coasted on this lead and took half 8-5, holding most of the momentum.
Coming out of the break, the Hodags cleaned up their offensive mistakes, but retained their defensive intensity with multiple layouts on under cuts, often just missing the D. This enabled them to spin off a 4-1 run shortly after half to tie it up at 10s.
Red Line adjusted and responded with their own three-point run to take a commanding 13-10 just after soft cap.
Perhaps believing the victory to be in the bag, they began to take riskier looks, allowing Wisconsin to climb back into the game.
Unfortunately for the Hodags, they ran out of time and despite scoring the last point in hard cap, fell to the third seed and will have to play the second seed from Pool D to begin bracket play.
Nevertheless, O'Neill found much to be pleased with, particularly considering Wisconsin played without much of their top talent.
Inspired play from numerous sophomores exhibited the depth of a young Hodag roster. Bill Kleunder recorded three goals and Ross Barker tallied two assists and four goals, a number of which resulted from huge skies including a monster roofing of the 6'5" Daniel Broudy.
"Our younger guys have been stepping up more and more over the season," O'Neill said.
He added that the younger players' ability to stretch Harvard deep in the match really helped the whole team create space across the field.
Given their extraordinary play without much help from their seniors, nearly beating a Harvard team employing all of their best weapons, Wisconsin looks like a team more than capable of making it into quarters.
Their matchup with Carleton in prequarters is sure to be a fierce contest with outstanding play coming out of both sides.
Oregon (#4) v. Carleton (#16)
Oregon #1 v Carleton CUT
It's often said that good Ultimate looks boring, but on the showcase field this round, it looked beautiful. Oregon Ego, charged up after a firm victory over Florida in the morning, took on Carleton CUT, who had another barn-burning win under their belt over Rutgers.
In the end, the game was decided on just a handful of turnovers per team, with Oregon taking three breaks to Carleton's one to end in a 15-13 Ego win. Each offense rolled otherwise: Oregon had an unstoppable horizontal stack that featured Dylan Freechild (5 goals, 1 assist) scoring and Trevor Smith (6 assists) distributing.
It was illustrative, though, that while Oregon rolled on offense, they had only two major blocks against the CUT offense, which also put together a very efficient 13 points. Ben Caffrey (3 goals, 6 assists) and Justin Lim (3 assists) each created many offensive opportunities for CUT. Had a few tipped discs not been cleaned up, or a couple of Oregon hucks missed, this could have been a very different story.
The chips have fallen though, and Oregon will skip the prequarters round sending CUT on to a classic matchup against Wisconsin Hodags later this afternoon.
WOMEN'S
Tufts (#14) vs. Colorado College (#18)
So far this weekend Colorado College has had a string of epic upsets, from Western Washington to Stanford. Their game against Tufts would give them another opportunity for upsets, and another chance to prove their mettle. While Tufts took the game 15-12, Strata showed once more that they have the tools to upset everyone's expectations.
Ewo asserted dominance early with a 4-0 lead, playing close defense and scoring efficiently with great work from the usual suspects. Strata fought back to grab a few points, but Tufts played a zone-and-one against Lisi Lohre that took her out of many of Strata's plays, leaving the team with limited options. Tufts took half 8-4 as Strata struggled to regroup and find a strategy that could earn them points.
Strata threw a zone out of half, and they were able to capitalize on a turn. A great grab from Patty Weicht gave Strata their first break and an injection of energy. Hannah Garfield played close on Lohre, and Tufts had several close and aggressive D's on her when Colorado College sought the reset. But even after Tufts scored 3 quick points in a row, Strata persevered, scoring the points they needed.
Soft cap went on at 13-10, and Strata needed to maintain a close margin to ensure their spot in prequarters. They could have rested Lohre, but instead Strata stole two more points before the game was through, 15-12. Tufts and Colorado College secured spots in prequarters, at Stanford's expense.
Victoria (#12) vs. Michigan (#8)
Michigan faced off against the 3-seed Victoria, leading early but losing the game 15-11 to Victoria's hustle. Early on, Meeri found Becky "Tots" Moore deep who connected with Theresa Zettner for the first score. Their core connected again for a second look, this time with Zettner finding Tots in the endzone.
Victoria didn't seem in the game as they followed Michigan's score, from 2-1 to 3-1. But lapses in Michigan defense let the Vixens through, and they tied it up at 3-3. Michigan and Victoria proceeded to trade points for the rest of the half, but Victoria took half 8-7 despite big plays from Zettner.
Victoria scored out of half again, and despite strong play from Flywheel, the Vixens wanted the plays and they earned them. Victoria held their lead through the second half with big hucks, increasing their lead late through the game until it was 14-11. Hannah Henkin played out of her mind on defense for Michigan with layouts every other point, but Victoria was able to secure the upset, 15-11.
Washington (#4) vs. UCLA (#16)
If Washington Element isn't careful, they'll get a reputation as a second half team. Yet again, Washington played a grinding first half, coming back from deficit to win the half. In the second half, their opponent fell prone to mistakes and Washington capitalized to run away with it. In this case, it was UCLA, the pool four seed, playing for a chance to finish second in the pool. The Los Angeles players came up short, losing 14-10.
UCLA came out hot to start, going up 6-3. BLU's defensive pressure was the early difference maker. "[We] came out real hard on defense, and I think that shook [Washington] a bit," said UCLA Coach Alex Korb. Before the game, Korb told his team if they could win by five, they could finish second in the pool, a key motivator.
Washington got back into it with a three point run to tie it at 6-6. UCLA's Han Chen continued her strong play today, hitting a receiver with a nice deep shot to make it 7-6, but Washington took the next two to take half.
The second half saw Washington reaching deep into their strategic pockets for a variety of poaches, junks, and zones. Element changed the pace of the game and forced a tired UCLA team to think and execute.
"We didn't do a good enough job being flexible," said Korb, referring to how BLU responded to the myriad defenses Washington employed.
Once the five point win seemed out of reach, UCLA pulled most of their top players, resting for the coming prequarter game.
Lucy Williams and Barbara Hoover both added to impressive bodies of work from nationals. Williams tallied one goal and three assists, with Hoover adding two goals and three assists of her own. Alexa Cohen and Han Chen led the way for BLU on offense.
Ohio State (#1) vs. Virginia (#13)
Ohio State battled Virginia in a critical Pool A game and a clash of two regional champions. The home field advantage was palpable, with a packed Fever sideline cheering and clapping throughout Ohio State's victory. The unyielding Ohio State roster never let up on Virginia, and through punishing their simple mistakes, won the game 15-8.
The first few points were very tight, as Ohio State tried to put together some offensive flow and Virginia pushed them on defense. Alika Johnston is deadly in the red zone with her quick reset cuts and slicing break throws; she stung Fever more than once.
But Fever's leaders, Cassie Swafford and Paige Soper, never wavered and, through their patient and consistent play, wore down the Virginia defense. Their whole team takes on that character and when teams falter, Ohio State doesn't. Virginia played well, but when they faced down drops and misthrows, they couldn't stop Fever from punching in score after score. They pushed to a 8-5 half time lead.
The second half saw Ohio State remain relentless and Virginia fold. It is hot here in Mason, OH, and facing a large deficit and beating sun is enough to drain the spirit out of a team and sap the juice from their legs. OSU has not only the advantage of playing well, but a flush sideline of noise and energy to feed off of.
Virginia has a game remaining against Kansas, and should they beat their pool five seed, would land the second spot in the pool. Ohio State is rewarded with a bye into the quarterfinals.