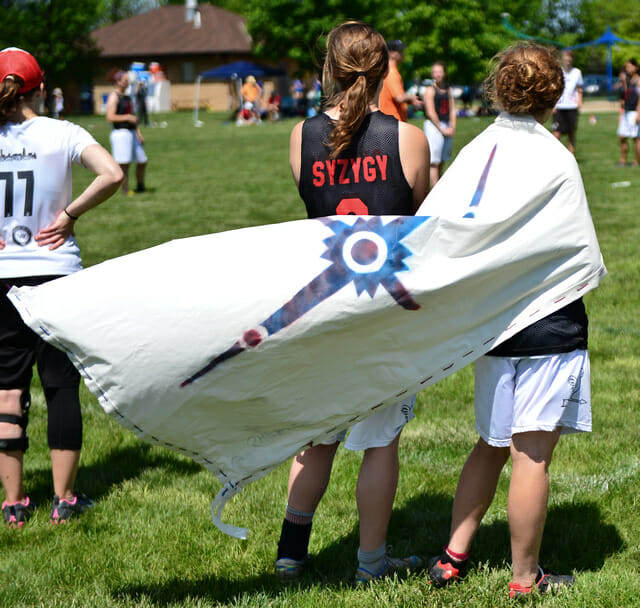 Carleton (#6) vs. Tufts (#14)
Carleton and Tufts made for a strange prequarters pairing Saturday afternoon. Two teams with the same records, but different results: Tufts crashed the prequarters party by finishing second in their pool after coming in seeded 4th, while Carleton entered nationals second in their pool and sixth overall, but wound up making the prequarters on point differential.
It was all out of the window – their seasons, their seeds, Carleton's 15-12 victory over Tufts during the regular season – for the prequarters. The first half was a hotly contested, but once Carleton established their lead, they were able to keep Ewo at bay. Carleton advanced the quarterfinals with a 15-13 victory.
After a little back and forth, Syzygy registered two breaks in the next three points, including a Bri Rick run through D and subsequent Julia Snyder flick huck. Tufts' star cutter, Emily Shields, was active early and often, making big plays in the air to help keep Ewo in it. She hit Alex Earle to give Tufts a break back and make it 5-4.
At 6-6, Carleton was swinging the disc towards the sideline, with one throw sailing a bit, where sophomore handler Kirstie Barton brought it in. Tufts Coach Sangwha Hong emphatically vocalized her belief Barton had not caught the disc in bounds, but the observer disagreed and Barton tossed a crossfield flick in for the break.
Hong screamed for a timeout, clearly frustrated with the observers. The timeout didn't prevent another Carleton break to go into the half, 8-6.
Snyder continued to damage the Tufts defense, along with Syzygy freshman Emma Nicosia, who scored four goals and had two assists in the win. Shields continued leading Ewo to the endzone, supported by a good defensive effort from Hannah Garfield and offensive contributions from Laura Fradin. It got as close as 10-9, but Carleton notched the next two goals to open their lead back up. It wasn't long before Syzygy closed it out and took their place in the top eight.
Carleton will take on Ohio State in the quarterfinals.