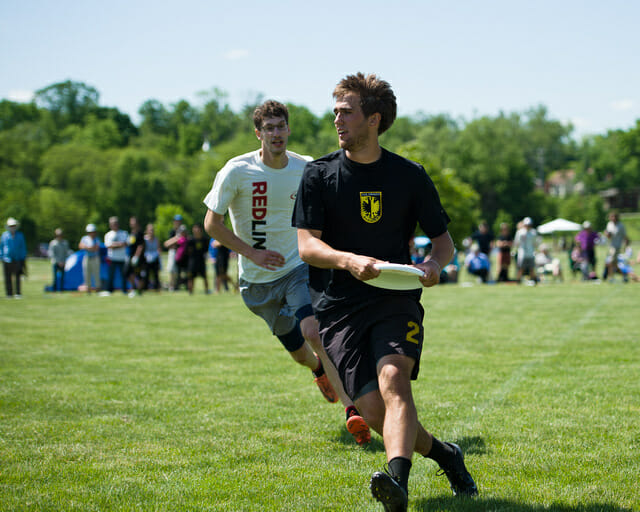 Each winners of the two last major college tournaments of the regular season, Colorado and Michigan will face off against each other for the first time this year in a quarters matchup that could wind up closer than one might expect.
To be sure, Centex champion Mamabird's track record and performance so far this weekend point to a likely blowout, regardless of MagnUM's Easterns title. Pitt's 15-8 thrashing of Michigan on Friday serves as further evidence.
Just two months ago, however, Michigan found themselves on the other end of that stick, upsetting Pitt in the finals of Easterns. Their Sunday performance at that tournament, particularly their crazy comeback victory over Minnesota in the semis highlighted by a 6-0 run, indicates a scary potential that could be unleashed at any time.
One of the streakiest teams in the nation, MagnUM is capable of the kind of hot hand that would make NBA Jam look tame. It's tough to underestimate the power of a team that runs on chemistry and improvisation when all the breaks are falling their way.
Still, it is Colorado.
Though they may have lost to UC San Diego in their last game of pool play, the game essentially counted for nothing and a good majority of their top-end sat out for the rest of the day to prepare for quarters.
So far, Wisconsin has been the only team that gave Colorado a legitimate challenge. In fact, the Hodags were up 10-8 in that game with a lot of momentum before Mamabird closed it with a 6-2 run. Which is all to say that Colorado certainly has their weaknesses.
Wisconsin's ability to contest a great amount of the unders and stay close enough on most of the deeps forced Colorado to work it up with more patience and discipline than they might have been used to given their usual dominance. As a result, the Hodags generated a number of turnovers on questionable decisions and poor execution.
If only Wisconsin had been able to convert more of those turns, and not give away the disc on offense, then it could have been the Hodags taking on MagnUM.
Similarly, should Michigan come up with fiery D and find a way to cash in the break opportunities they're given like they did at Easterns, then the upset of the tournament could be in store.
Coming out of their victory over Tufts in prequarters Saturday, Michigan captain Eli Leonard summed up his squad's attitude going into a game against the #1 overall seed.
"If you want to be the best, you have to beat the best," Leonard said.
Though their peak athleticism may not be that of Mamabird's, MagnUM's tall roster with eleven players reaching at least six feet might be enough to contain some of their opponents' deep threats, namely Tim Morrissy, Hidde Snieder, and Stanley Petersen.
Colorado, on the other hand, may have their hands full with the 6'9" Jesse Buchsbaum, who's been wreaking havoc on defenders all weekend. Mamabird's tallest player is the 6'3" Jimmy Mickle, and he's likely to be occupied with some of MagnUM's other strong cutters and leading his own O line to be able to guard Buchsbaum all game.
Michigan will need heavy contributions from Leonard, Yonatan Rafael, Sam Greenwood, and Alexander Russomanno, coupled with their best defense of the weekend, however, if they want a fighting chance at pulling out the surprise win against a team with some of the best break throws in the country.
Colorado will just have to play the kind of game they've been playing all season long.
Unless Michigan figures out a way to slow down a versatile and dynamic offense, excellent simply might not be enough.