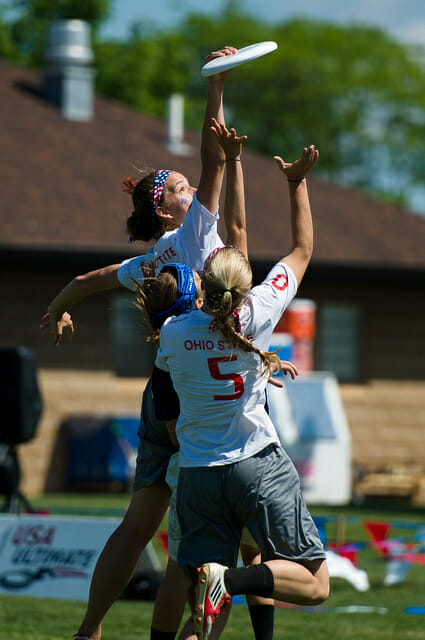 Carleton College Syzygy became more polished as their weekend lengthened, from their turn-laden game against Northeastern to their focused win over Tufts Ewo in their prequarter game where they won 15-13. Carleton's top end looked set and resourceful with a deep deck of offensive choices, and they enter the quarters redeemed.
Ohio State earned a bye through prequarters after the only truly dominant pool performance at nationals. With a pool play score of 60-32 against a pool that produced two other quarterfinalists, Fever has every reason to feel good tomorrow morning on the first pull. With the tournament taking place a short drive from their hometown, the Ohio State sidelines have been jam packed with a personal cheering section that seems to grow each round, feeding them with energy to spare.
Despite their discipline and their intelligent play, Carleton College will face an uphill battle if they hope to overcome Ohio State. These teams attended the same tournaments this season, but Syzygy and Fever have yet to meet onfield. Carleton gave shakier performances at both Queen City Tune-Up and NW Challenge, and they will have to severely reduce their turns if they want to run with Fever.
Carleton Syzygy
 2nd in Pool C, def. Tufts in Prequarters (15-13)
When Syzygy's star players controls the disc, their path to nationals quarterfinals is clear: easy passes. Kirstie Barton, Julia Snyder, and Zoe Borden move the disc smoothly from one edge of the field to the other, finding Ahna Weeks, Bri Rick, and Emily Buckner in the midfield and the endzone.
Snyder and Barton alone will rack up many of the team's assists tomorrow: both handlers have silky backhands that float into their receivers' space, and they both have enough big-game experience to manage the Syzygy offense with composure. Katie Ciaglo has also turned in an impressive performance as a freshman handler and looks primed to continue the honored Carleton handler lineage.
Syzygy is very comfortable with zones, happy to run their own or torch yours. Barton is an experienced deep defender, opening up the team's downfield athletes to run in the cup and letting Carleton transition quickly. Against the zone, Snyder and company have all the tools to attack different angles.
The red zone is another area of Carleton strength. In that space, Snyder and Barton are able to make full use of their picturesque break throws while Bri Rick and Emily Buckner can use their height to clean up high throws. Snyder in particular gravitates towards her difficult-to-stop high release backhand.
Ohio State Fever
1st in Pool A, bye to Quarterfinals
Only Central Florida has defeated Ohio State this season, and Fever can't see them unless they both reach the final. Ohio State perfected the art of notching hardworking victories while making it look effortless. Cassie Swafford and Paige Soper could outplay many of the women at nationals by themselves without reaching into the dangerous Fever toolbox that houses Stevie Miller, Lauren Franke, Liz Gates, and Emmy Schroder.
Fever plays systematically and with precision, setting their games' tempo not with fast breaks and aggression but with patience and deliberation. This composure begins with Soper and Swafford, and their cutters react to what this duo wants downfield. It is Fever's ability to understand and react that sets their offense apart from any other in the current college game. Where other teams rely on set plays, the Columbus women turn to honed instincts to inform them when to clear space, when to slide under, and when to push deep.
Another characteristic of Fever's play is that it is relentless. Few teams in the country can boast their levels of efficiency and consistency. Line after line of athletic players applying defensive pressure overwhelm teams, and then Swafford, Soper, Miller, and Caitlin Harley can calmly steer their break train to its end zone destination. Opponents have shown the ability to run with Ohio State in spurts, but over the course of 20-30 points, they stumble and Fever powers onward.
The Verdict
Ohio State is a team on a mission and, in front of the hometown crowd, has been the strongest team in Cincinnati. Carleton has gone far behind their team skilled and Julia Snyder's ability to takeover, but face a tough test in a Fever team with few weaknesses. It was take an uncharacteristic slew of mistakes for Fever to falter this early. Even though Carleton was a finalist last year, they're a very new team, with eight rookies and maybe six solid contributors from last year's team. Fever has the edge there, too.
Ohio States win with a big second half, 15-9.