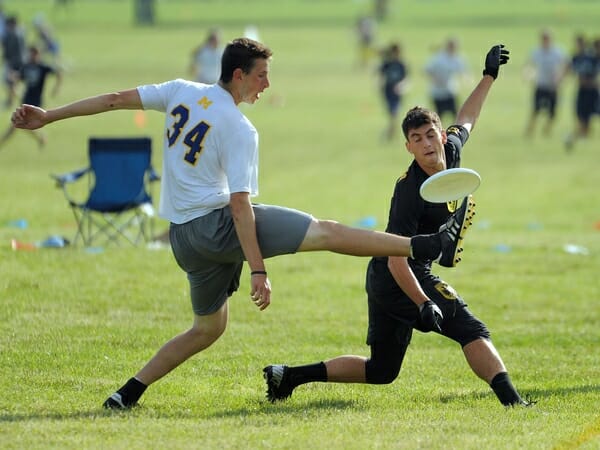 A three-point margin of victory generally qualifies as a sound win at the elite level, but it doesn't always tell the whole story.
Colorado downed Michigan 13-10 to advance to semis, but if just a few more throws went their way, MagnUM could have been in a position to challenge the one seed.
Mamabird's O line turned it over seven times, including three times in one point. In an about face from their Easterns run, MagnUM only converted once.
"If we played a different game," said Eli Leonard, captain of Michigan. "If we just hit the open guy."
With their handful of slip-ups essentially nullified by Michigan's inability to capitalize, Colorado coasted on their early lead to close it out in soft cap.
Broken twice right off the bat, MagnUM dug themselves into a pit that they just couldn't climb out of — especially with Mamabird pressuring them at every point.
Alex Russomanno led the charge with four goals and two assists, and Michigan received strong contributions from Leonard, Jesse Buchsbaum, Sam Greenwood, and Yonatan Rafael.
A top tier team like Colorado is only going to make so many mistakes, however, and without the poise to take advantage of those errors, Michigan gradually lost their shot at pulling out the upset.
Despite almost exclusively playing O points, Jimmy Mickle amassed five assists and one goal, often holding the disc for a solid set of counts, waiting for things to develop downfield. Colorado's Pete Gleason added another two goals and two assists, while Tim Morrissy contributed a goal and two assists and Hidde Snieder found the endzone three times.
Though they failed to extend their lead after the break, even letting MagnUM earn their first break to make it 9-11, Mamabird managed to ride their three first half breaks to a comfortable victory without much trouble.
Michigan attempted a zone on the last point of the half, forcing a turnover, but couldn't punch it in. They tried to run it again a few times in the second half, but Colorado's handlers, namely Pawel Janas and Mickle, sliced through it with sharp hammers and big outside-in arounds.
Janas said his team watched film of MagnUM's zone yesterday and were well prepared to face it in quarters.
"We knew we had to take shots. That gave us our advantage," Janas said.
He added that despite a lot of contested calls being made in the game, Colorado managed to push through with mental toughness and run their offense amidst all the interruptions.
"We fought through that stop-and-go mentality," Janas said. "Our flow is what we're made of, but we proved we can play through the resets."
With the exception of a few execution errors, Mamabird's offense looked smooth and dynamic throughout the game. Cutters found the holes and spaces in MagnUM's zone and managed to get good separation out of their vertical stack for the short and deep.
Michigan, on the other hand, often struggled resetting the disc due to tight dump defense from Colorado.
Moreover, their chemistry often looked spotty, as they rarely got more than two passes in a row. A majority of their scores came from mid-to-high stall counts, where late hammers and other cross field puts bailed them out.
Though that's not to say MagnUM's offense wasn't working at all.
Anyone who saw their inspiring run at Easterns knows that Michigan likes to run a somewhat unorthodox offensive set, based largely on a "take what they give us" style of play. They don't necessary rely on any hard system other than moving the disc and hitting the open man.
Leonard said that much of his squad's problems just came from execution mistakes, particularly with regard to the D line's inability to convert breaks.
"The D line were cutting to the same place a lot and flooding the disc," Leonard said. "We shied away from the huck game on D, and that was our bread and butter."
The magic that permeated Michigan during their Sunday performance at Easterns, the kind of hot hand you just can't stop even if you're Pitt putting in a solid effort, couldn't be found.
They played well. But well isn't close enough to topple a team labeled the favorite for a national title for the season even started.
In order for such a prophecy to be realized, though, Colorado will have to make it through an Oregon squad thus undefeated on the weekend and bent on breaking through their curse of being stopped short in semis for a third year in a row.