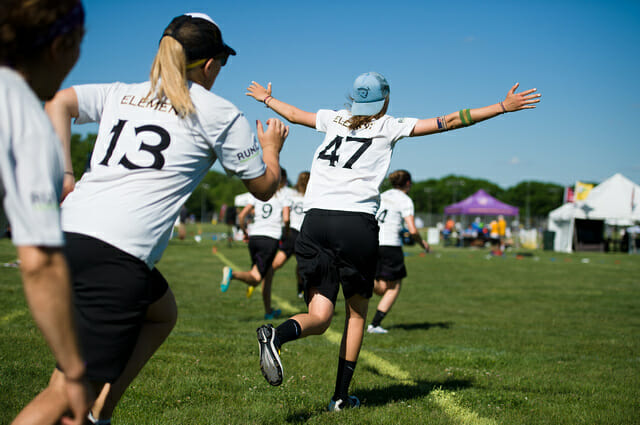 The Northwest Region has been a powerhouse in the women's college game, and this season culminated in them sending a record six teams to the College Championships. Two of those teams – Washington and British Columbia – will take each other on in the quarterfinals, ensuring the region will produce a semifinalist.
Neither team is considering any regional pride as they head into the elimination round, with their eyes on the semifinal. As they say, once you make it to the bracket, anything can happen.
Setting the Stage
Washington is undefeated in Cincinnati, having won Pool D. British Columbia had to battle their way in, taking second in Pool C based on point differential, and then delivering a dominating prequarter performance against underdog Colorado College. Both teams fell in the quarterfinals of last year's College Championships, so someone will outperform last season's finish.
Element in 2-1 on the season against UBC, winning their two most recent games decisively, with 13 point and 6 point margins. The lone Thunderbirds victory is 10-8 from Stanford Invite.
The higher seeded Seattle team will be the favorites going in, but British Columbia's talent is worthy of respect. Washington's inconsistencies have been mitigated, assisted by their ability to dictate pace, but UBC's could be their undoing.
Battling the Elements: Playing UW's Game
What has driven Washington to such strong play – particularly in second halves – at nationals is that they have settled into a style of play that suits their strengths. The UW offense is at its best when the disc is moving quickly and they're forcing marks to help their defenders, pushing the pace after turns. Their defense is happy to clog upfield lanes and key in on important offensive cogs with top defenders.
Element's defensive playbook has become an important tool. Coming into the weekend, it sometimes seemed like Washington was getting too tricky and too cute with their assorted defenses. However, they have found out how to best use them to force teams to play slow offensive and then flip the switch into overdrive once Washington gets their hands on the disc.
The other benefit of their change of pace strategy is that it wears down the opposition. Washington has made a habit of playing close early, often taking the first half by one or two points, and then asserting themselves in the second. This allows Element to make use of their depth, which they consider one of, if not their greatest, advantage.
UBC Chooses Risks Worth Taking
British Columbia has made their strategy against zones very clear: aggressive throws to open receivers. Few women's teams have put up as many hammers, blades, and scoobers as the Thunderbirds have, opting to use their well versed throwers to take the gaps zones give them.
While the strategy is tough to defend, it is also really tough to execute. The reason few teams take these risks is because they think the percentages are too low. UBC's decision to go on the throwing high road sometimes bites them, and it is a source of their inconsistency.
Laurel Jay, Mira Donaldson, Devra Waldman, and Terynn Chan are all capable of completing these challenging looks and their gameplan isn't changing any time soon.
Youth vs. Experience
Much has been made of British Columbia's youth, as well as Washington's experience. The two will clash and could play a factor under the pressure of quarterfinals. At least seven of the T-Birds are playing in their first college nationals, and while Victoria McCann and the UBC Class of 2018 have mostly played quite well, they're facing a veteran group that's been here before.
The Verdict
British Columbia is capable of winning this game, but is capable of getting blown out as well. Washington's had some off halves this weekend and always comes back strong from them. UBC can't afford to falter and they don't look like a team with a full game of strong play against elite competition in them. Washington wins, 15-12.