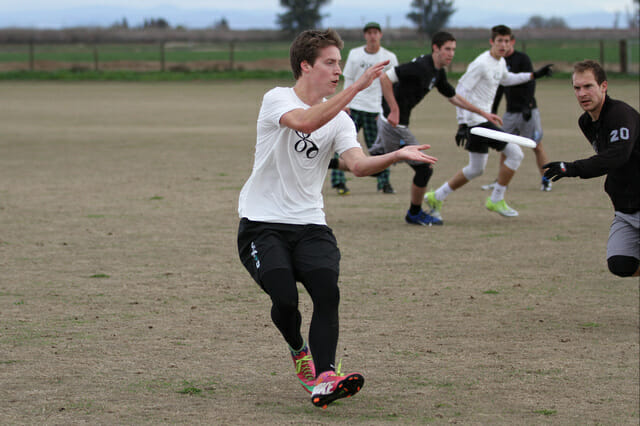 The last time both Texas and Oregon missed the College Championships was ten years ago; to say these teams are powerhouses is an understatement. Oregon looks to advance to semis for the third straight year, but to pull it off they'll have to best a Texas team that has been plagued by disappointment in recent years.
Texas Has to Hit Their Windows
In TUFF's game against UNC on Friday, Texas struggled with the tight man to man defense of a strong Darkside squad. Although they have seen a high level of competition throughout the season, they looked uncomfortable hitting their cutters that were only open by a yard or less. TUFF's offense is at its best when they play against poach defenders and are able to utilize around breaks. And thats exactly what Oregon will refuse to give them.
Oregon's mantra has always been tight man to man defense. Their defense is led by none other than Dylan Freechild. Like Freechild, the team's specialty is speed. That could mean that Texas' height might finally come into play. Oregon senior Gabe Fruchter will likely get the job of covering Driscoll, and it'll be up to Coach Calvin Lin as to whether Driscoll handles or cuts. The likely outcome is that Driscoll does a little bit of everything, but they look to hit their other big men, including 6'3'' senior Chase Cunningham.
Oregon Better Check Twice
Texas has gotten their blocks this weekend by making the thrower think his cutter is wide open. They do this through constant switches, height match ups, and deep help defense. From the sideline, you can tell that the TUFF defenders know where there help is on the field, partially due to a very involved sideline. Oregon will have to check twice before taking their deep shots tomorrow morning.
Offensively, Oregon will need to keep the disc moving at all times. TUFF relishes the high stall situations, and the give and go moves from Freechild and company could prove to be fatal. If the 2013 Callahan Winner gets limited, expect big things from Captain Trevor Smith. He, along with the rest of Ego, loves the short game and has the quickness to make it work.
Key Match Ups
Sunday morning, fans can expect to see some of these entertaining match ups.
Mitchell Bennett and Dylan Freechild — Bennett has displayed his potential this weekend, especially in his clutch sky on double game point against UCF in today's prequarters. But Freechild specializes in a good mark and handler neutralization, so look for Bennett to spend some time finding his ideal space on the field.
Will Driscoll and Gabe Fruchter — Driscoll has been deadly this weekend from throwing and cutting (currently top three in both categories). Fruchter represents the height of Oregon and is their typical deep threat, but don't be surprised if they move him to defense for the purpose of covering Driscoll. Driscoll will do the same as Bennett, finding where he is most valuable to help his team win.
Note: Oregon met up against TUFF earlier this year at the Centex Invite. Texas defended their home turf with a 15-12 win in the 5th place bracket.