We are excited to announce the 2014 Ultiworld All-America teams, honoring the country's best college players after an exciting season.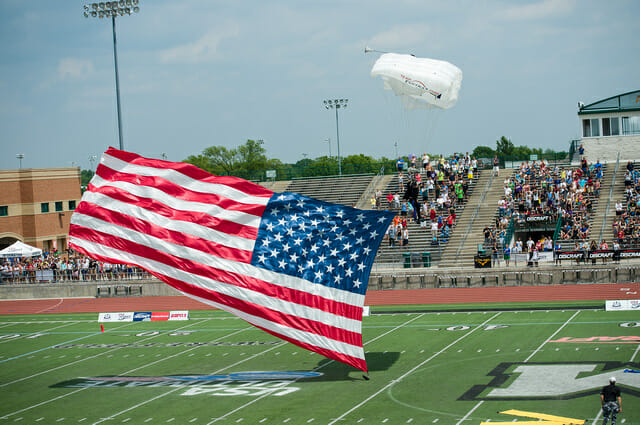 We are excited to announce the 2014 Ultiworld All-America teams, honoring the country's best college players after an exciting season. The selection process included consideration of both the regular season and the USA Ultimate Series, including the College Championships.
Players will receive custom jerseys and shorts courtesy of VC Ultimate as a tribute to their outstanding performance this season.
MEN'S
1st Team
Jimmy Mickle (Colorado)
Jimmy Mickle was the most outstanding college player this year, hands down, and deservedly took home the 2014 Ultiworld Player of the Year award and the Callahan award. With a versatile skill set and almost effortless dominance, he had an incredible season with Colorado.
Will Driscoll (Texas)
Will Driscoll was the heart and soul of Texas this season, playing like a superstar but not over playing his role. Landing the Ultiworld Offensive Player of the Year award and a top 5 spot in the Callahan voting, Driscoll was one of the only talents that was truly considered to approach Mickle this year.
Marcus Ranii-Dropcho (Pittsburgh)
Marcus Ranii-Dropcho sat back in the early part of the season as the young players on the Pittsburgh roster got playing time and learned the systems. Then, when it was time to start winning, he showed up and dominated. He was the best player at the fields at Easterns and was incredibly consistent all year for Pitt.
Jon Nethercutt (North Carolina)
Jon Nethercutt put on a show in the second half of the College Championship semifinals which capped off a remarkable year for the offensive firepower behind North Carolina. All season, Nethercutt was the key distributor for the UNC offense and frequently brought his talents to the defensive line as an effective two-way player.
Eli Kerns (UC Davis)
Eli Kerns – the only All-American not to make the College Championships this year – won't be underappreciated for much longer now that he has made Revolver's roster for 2014. He is skilled at nearly everything you look for in an ultimate player and was an absolute force for UC Davis in his time there.
Mike Ogren (Central Florida)
Mike Ogren led the way for Central Florida this season in a rocky season that culminated in two of the best games of the year: UCF v. Pittsburgh in pool play and UCF v. Texas in prequarters. Ogren was unbelievable at Nationals, shouldering much of the offensive work load and seeming to make all the right throws when the team needed them most. His selection as 2014 Southeast Player of the Year in a crowded field solidified just how impressive he was this year.
Christian Johnson (North Carolina)
UNC's Callahan nominee Christian Johnson was 2014's best pure cutter. While many of the other players on the first team often took on a lot of handling, Johnson was freed up to tear up yardage downfield and was extremely effective even when the defense knew what was coming. Johnson and Nethercutt were perhaps the best 1-2 punch in college this season.
2nd Team
Johnny Bansfield (Eastern Michigan)
Johnny Bansfield took Eastern Michigan to an unforgettable season this year, including a Nationals appearance and some very competitive games in Cincinnati. Bansfield is a joy to watch play: an unbelievable throwing arm, crazy quickness in his release, and a shoot first attitude. He was one of the game's most unique handlers this season and he played with style.
Dylan Freechild (Oregon)
Dylan Freechild, the Oregon stalwart and 2013 Callahan winner, couldn't do everything for Ego this year, but he tried. Freechild was the absolute key to the team's offense and he continued to excel with his lightning fast foot speed and movement around the disc. If he comes back for a fifth year, Oregon will be a force in 2015.
Matt Bennett (Texas A&M)
Matt Bennett was the main distributor behind the Texas A&M attack and put up some unbelievable stats at the College Championships as one of the Division's assist leaders. With Dalton Smith hurt for almost the entirety of Nationals, Bennett had to do more than ever, and he responded ably.
Stanley Peterson (Colorado)
Stanley Peterson, named the 2014 Ultiworld Defensive Player of the Year, was an incredible asset for Colorado on their run to a National title. With shutdown defensive abilities and a knack for coming up with the big play, Peterson made his mark all season long.
Jeremy Nixon (Harvard)
Jeremy Nixon stepped into a big new role this year for Harvard and didn't skip a beat. From initiating the offense with big underneath cuts to streaking to the endzone for scores, Nixon was all over the field for the Red Line offense and should be an instant contributor for Ironside this season.
Chris LaRocque (Florida State)
Chris LaRocque was Florida State's Callahan nominee and an excellent two-way player this year for DUF. He was the center handler for the offense for much of the season, finding creative uses for his variety of break throws. He was one of the key parts of Florida State's rise to prominence in the past two years. It was a shame he missed Nationals for a wedding.
Ben Snell (North Carolina)
Ben Snell was the country's most impressive defensive player for the first half of the season and had a good case as UNC's most valuable player, often crossing over onto offense as another extremely steady handler alongside Jon Nethercutt. An ACL tear sidelined him at Easterns and for the entirety of the Series, but Snell's contributions were so great this year that he still earned second team honors.
WOMEN'S
1st Team
Cassie Swafford (Ohio State)
The Ultiworld Player of the Year Runner-Up & 2014 Callahan winner was more than just one of the most spirited and dedicated players in the college game; Swafford was clearly one of the most talented. Her full toolkit of skills, from putting up hucks to dependably getting open to owning the air, allowed her to impact every game this season. On top of that, she was a high quality defender capable of matching up with the game's elite. Swafford's poise and leadership were marquee intangibles among many that made her a star.
Sophie Darch (Oregon)
Most people may not actually realize how good Darch is or was this season. They know she was probably the best the deep thrower in the division, launching guided missiles that burst from her hand and leave defenders helpless. However, she was also an impressive defender, doing the best job against Paige Soper and Lisi Lohre of anyone in Mason, and Virginia can tell you about her vicious layout D in quarters. Darch was a player who could fill the highlight reel and deliver the consistent play and leadership great teams thrive on.
Julia Snyder (Carleton)
Snyder remained one of the nation's best players, but you have to see her in action to understand her impact. The game was simply different when Snyder took the line: the game warped around her, a premier thrower and equally scary cutter when she moved downfield. She's got a real motor, able to grind out openings against nearly any defender, and her influence is palpable. She read the field expertly, assisting her in manipulating the field and exploiting any opportunities.
Shellie Cohen (North Carolina)
It is a shame that the Carolina commander didn't get the chance to strut her stuff at the big show, but she was definitely one of the nation's best. Cohen built a reputation with her incredible hucks and even rarer pulls, but she did it all. Cohen was the type of character a story is built around, and her starring role let her power her offense and lead her defense. There are few instances when someone would go against her in the air and come away victorious, merely a microcosm for her performance in general.
Mariel Hammond (Central Florida)
It will be a long time before people stop talking about Mariel Hammond's highlight reel grab in Central Florida's semifinal game. But anyone who has watched the Sirens this season will tell you that that grab wasn't out of the ordinary for Hammond at all. This year Hammond helped lead her team from every angle, and her individual abilities have allowed Central Florida to succeed together as a team. She played such a dangerous short deep in their zone, for example, that the rest of their zone was able to choke up on the handlers and form a nearly impenetrable wall. If their opponents tried to pop the disc over the top, Mariel was there. Offense, defense, zone, or man: you want Mariel Hammond on the line next to you.
Paige Soper (Ohio State)
It takes years of hard work for a player to learn the game. It takes even longer for a player to be able to throw perfectly. And no matter how many years someone plays, they may never become a smart player. Paige Soper encompassed all three, in spades. She made complete and utter control of any given game look effortless, and over the past 5 years she has led Ohio State Fever to their first ever College Championship title. If you want a playmaker, you need Soper.
Lisa Pitcaithley (UC Santa Barbara)
The logic is simple: you never want to line up across from Lisa Pitcaithley in any given game, whether it's at pickup or the College Championships. You want her on your team because she will make the huge bid to get the D, or she will make the huge bid to score the winning point. She will casually throw a full-field huck, or she will casually loft a high-release break backhand. Whether you love or hate her game, you can't ignore her. And if she lines up across from you, you will be hard-pressed to stop her.
2nd Team
Meeri Chang (Michigan)
Light on her feet, low to the ground, and with elegant throws, Meeri Chang is every handler's ideal. Her throws break through every zone, and her accomplished, composed play earned Flywheel some of their biggest upsets this season and some of their closest games at nationals. On defense she was quick, smart, and a bigger presence than her slight stature suggested. She didn't star in any one play; instead she led them from wherever she was on the field.
Sunny Harris (Central Florida)
After a high profile season as the star of a breakout team, everybody knew how Sunny Harris played. They knew what she wanted to do, where she wanted the reset, and what she would do once she had the disc in her hands. But nobody – not even Oregon – was able to stop her. Harris' style is simple in theory, but it was her perfect execution that made her a force of nature.You can shelter yourself from the rain, but you can't stop it. You can guard Sunny Harris, but she ended her college ultimate career unstopped.
Lisi Lohre (Colorado College)
Lisi Lohre can cut and handle, and this season she frequently did both for Colorado College. She was the player to shut down during every point, but only some of the top teams in the country were able to truly take her out of the game. And when she was in, she teed up her receivers with pinpoint throws and the kind of layout grabs that communicate utter dedication. Few players in the country demanded an answer from their opponents the way Lohre did.
Barbara Hoover (Washington)
Element developed a talent late in the season for stealing games that they began from behind. Watching them play, you could see a switch flip in the players' throws and their legs, and every single switch began at Barbara Hoover. Whether she was in the backfield releasing hucks or sprinting downfield to catch them, Hoover was the workhorse of Element, and her tireless effort and well-rounded play for Element led them into the semifinals.
Jesse Shofner (Oregon)
Shofner was a 1st team quality talent; when she was on, she was as close to unguardable as anyone. Her first steps left defenders lagging behind and once she got the disc, out came a fantastical throw most handlers dream about: a low release IO flick to the back corner or backhand huck that drops in just before the back line, for starters. The highlight reel was Shofner's domain, whether its from those draw dropping throws or from layouts that left eyes wide. If she tightens her decisions and consistency at all, she'll be dominant.
Alika Johnston (Virginia)
Johnston's greatest weapons were her quickness and toughness and she wielded them expertly. This season, she added increased game intelligence and cutthroat efficiency to her arsenal, particularly as her team neared the endzone. Her around backhand may have been the best in the college game this season, making defenses pick between being broken for goals or getting beaten by the give and go for scores. Johnston piloted a characteristically scrappy UVA team back to quarterfinals at nationals despite expectations.
Mira Donaldson (British Columbia)
Donaldson brings an elite offensive skillset to any offense she works in, regardless of whether its the college scene, club level, or World stage. When she deposited a picturesque huck into a receiver's waiting hands, her grace made it all seem effortless. The 20 year old's rangy 5'9″ frame helped make plays in the air and reel in difficult grabs on offense and defense. Numerous UBC points began with Donaldson making the first cut, and even if it was obvious, defenses seemed unable to keep her from getting the disc and making plays.