London Calling, an important early tuneup tournament for European teams headed to Worlds, is in the books. Sion "Brummie" Scone breaks down the action in this tournament recap.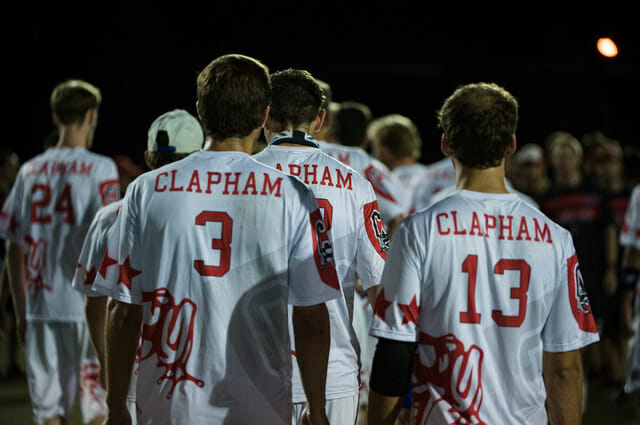 Full results are in for London Calling, and my predictions were way off the mark. The up-and-down results of some teams seem to indicate that styles of play were a major factor this weekend; only those teams who were adaptable seemed to have consistent success. Here's a review of the quarterfinalists, only five of whom I correctly predicted would make it that far.
1 & 2: Clapham
All eyes were on Clapham, and they didn't disappoint. With regular one-sided wins, their closest game was as a single combined squad in the show game against Bad Skid, where they managed to claw a 15-13 victory after trailing 12-13. Clapham's O line, in particular, seemed to struggle in the red zone this weekend; they scored with relative ease in flow, but if they didn't, their 7-on-7 endzone offense was consistently beaten backwards, even by much weaker teams. They do, however, show a lot of patience – Clapham's O line only coughed up the disc twice – a huge improvement from last year. Too much patience, perhaps, only seeming to hit cutters who were open by yards. One thing is for certain: their cutters are not going to get that free next month at the US Open, so it will be interesting to see how Clapham adapts to another level of pressure. Whether they will crumble, or whether we only saw them in second gear this weekend, remains to be seen.
How well they fare in Minnesota will largely depend on how efficient their D line is with break opportunities; last year, they were extremely effective. From the video footage of their match against Bad Skid, the Clapham D line scored just two goals on five opportunities; they'll need to do better than 40% to beat the likes of Revolver, Ironside, or Sockeye (by way of comparison, Bad Skid scored 2 from 2).
3: France 2
Surprising everyone en route to a third place finish – and with wins over Flying Angels, Bad Skid, and Viksjöfors – France are the real deal. Next year's European nations will be interesting indeed. I spoke to several teams who played them and mostly heard the same thing: unremarkable play, extremely patient, not relying on any player in particular, and just playing basic stack offense well as a team. Incredibly well, it seems, and with levels of consistency that most national teams would struggle to replicate. Given how long they have before EUC – and their split squads – this is a team to keep an eye on.
4: Viksjöfors
Looking a lot more like the Swedish national team than the short-handed club of previous years, Viksjöfors brought a huge squad of well drilled athletes. They epitomised the "swing & ping" offense, happily sitting on a static disc for six seconds or more and not threatening much with their resets either, just happy to maximize the time they could look for the deep shot from their veteran handlers. Still, the heavy loss to Clapham and the close loss to France 2 will give this team plenty to think about over the next few months.
5: Bad Skid
Bad Skid seemed to get into more tight games than any other club; this weekend they played six games that were won by a margin of two points or fewer. They only lost one of these in the regular tournament (plus the show game to Clapham), but the fact that it was a vital quarter final matchup with France 2 won't sit easily with this young German squad. Whether or not these close games reflect mental focus issues is unclear, but given their small squad and the number of points played, they showed real grit to overcome a 8-5 half-time deficit in their final game against emo.
6: emo
This bunch of upstarts enjoyed giving me grief for not featuring them in the top 12 of my predictions – all the more because I play for them. Heavily beaten by Clapham & Viksjöfors, yet overcoming Ranelagh, Ragnarok, and France 1 and losing 15-14 (from offense) to Bad Skid, emo proved they can mix it with the best in Europe when they maintain composure, although two one-sided losses indicate work to be done. They are sending a lower strength team to Windmill Windup, but with such a young squad, they can only improve between now and Lecco.
7: Chevron
Another team who seemed to get into tight games, Chevron played in three sudden death games last weekend, winning one (thanks to their defense). Chevron has a curious balance of extremely patient handlers and dominant deep cutters on their offensive line – much like Viksjöfors – and frantic "headless chicken" offense from their young D line who like to keep things exciting for the spectator. It's like two different teams throwing on the same shirts. Still, their D line will have learned a lot with this Europeans preview event, and there are few O lines more composed. They won't finish this low at Windmill.
8: France 1
Losing all your games on Sunday sucks, and there's little doubt that this half of the French squad were wondering what they were doing so wrong that their compatriots were doing so right just two fields over. I'm intrigued as to whether their combined squad could have pushed Clapham, but we'll have to wait until next year to find out if they can repeat their victory over GB from 2011.
***
Good luck to everyone heading to Windmill Windup; why not take part in their Prediction Contest?