The Boston Invite is always an important early tune-up for teams. That's never more true than in this Worlds year.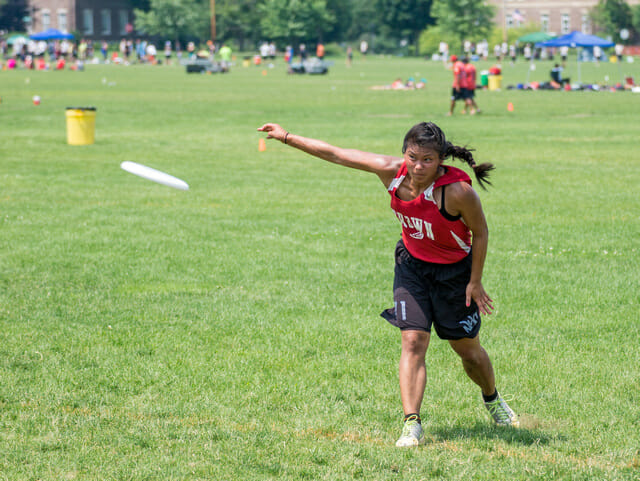 DEVENS — I was in Massachusetts this weekend for the Boston Invite and had an opportunity to report on multiple games across all three divisions. With some teams still trying out new players and others gearing up for a trip to Lecco for the 2014 World Club Championships, expectations were all over the map. Here's a look inside the early season tournament.
***
Final Standings
| | | | |
| --- | --- | --- | --- |
| | Men's | Women's | Mixed (Round robin) |
| 1. | Phoenix | Brute Squad | Wild Card |
| 2. | Geno's | QUB | Union |
| 3. | Big Wrench | Capitals | Slow White |
| 4. | Medicine Men | Bent | SHUYAMOUF |
***
Of note:
All three divisions featured Canadian teams prepping for WUCC: Phoenix (Men's), QUB (Women's), Vintage (Women's Masters), Gecko and Union (Mixed). Nice Bristols (Women's) from the UK will also be playing in Lecco.
The tournament featured the Colombian U17 Boys' and Girls' teams, participating in the non-elite Easterns bracket (which the girls won!). Boston Invitational rounded out a two-week tour for the youth players, during which they played top local squads Amherst Regional High School and Lexington High School. Coaches Camilo Buitrago, Maurico Moore, and Alejandra Torres accompanied the teams.
Said Buitrago, "This was an incredible experience. For a lot of them, it was their first trip out of the country and a great opportunity." Buitrago was their connection to the Boston Invitational, having played there last year with Bushido (Dominican Republic) and two years ago with Makawua (Colombia).

Moore elaborated that while the objective of the trip was for the kids to have fun, it was also an investment in Colombia's youth program:
"They're under 17, so we are preparing our teams for future Worlds. This year we have our U19s going to Italy, and our U17 boys are going to Italy for the European championships, but there wasn't a spot for girls, so we decided to bring them here. In two years, they'll be our U19 teams."

Colombia has an established youth system and Moore estimates that participation is nearly 60/40 between boys and girls, who primarily play single-gender ultimate.
ELITE BRACKETS
Men's Division
Eventual champions Ottawa Phoenix played in their first full-squad tournament this year as they prep for WUCC. They went 1-2 in pool play, then won 5 straight games.

Boston area Big Wrench was the only pool winner to make semis, and the top 2 seeds (Dark or Light and Garuda) were knocked out in quarters.

Geno's, from Philadelphia, was described as "the Southpaw tryout team." Southpaw is returning this year after folding in 2013.
Women's Division
This division was much expanded, growing from a 7-team round robin to 16 teams.

The Toronto Capitals brought a primarily rookie squad, waiting for after WUCC to set their USAU series roster. Co-captain Kathryn Pohran was playing with QUB in preparation for Lecco. QUB will end their 2014 campaign at WUCC and Pohran will return to The Capitals.

Darcy Drummond, co-captain, explained: "This is our first tournament and we're playing with a short roster.  We brought 17, including 12 rookies…The objective of the Boston Invite was to give experience to the newbies and get a warmup in. Many of our athletes are still playing with other Canadian teams [until Worlds]."

New York Bent went undefeated through the quarterfinals but seemed to droop after that. They put themselves out of contention early in their semifinal against Boston Brute Squad, turning the disc on a lot of unforced errors to put them at a 1-5 deficit early on. They regrouped for the start of 3rd place game against Capitals, but could not hold their early 4-1 lead, and fell 12-15.

Brute Squad had a strong debut. On Saturday, they lost only to QUB in their crossover game (9-15), but were ready for the rematch and came out on top in the finals. Starting out on D, they quickly earned a break and then generally traded points until half. Offensive points were efficient and marks generated good pressure. Brute continued to turn the screws in the second half. Final score: 15-11.
Mixed Division
Half of the 8-team round robin will see each other at WUCC.

6 of the 8 teams were quarterfinalists at Mixed Easterns; Jughandle (T-11) and SHUYAMOUF (not at Mixed Easterns) were the only exceptions. Boston teams Wild Card and Slow White each repeated a strong showing and Union jumped to second after missing the semis at Easterns. The Ghosts had an off weekend and went 3-4.
An earlier version of this article said that Phoenix would end its season after WUCC. That is incorrect; they will continue through the USA Ultimate Series as usual.