Eight teams are headed to Minnesota to compete in the Men's Division of the US Open, the first leg of the Triple Crown Tour. With fresh rosters getting set to take the field and the World Club Championships a month away, everything is set for a great weekend.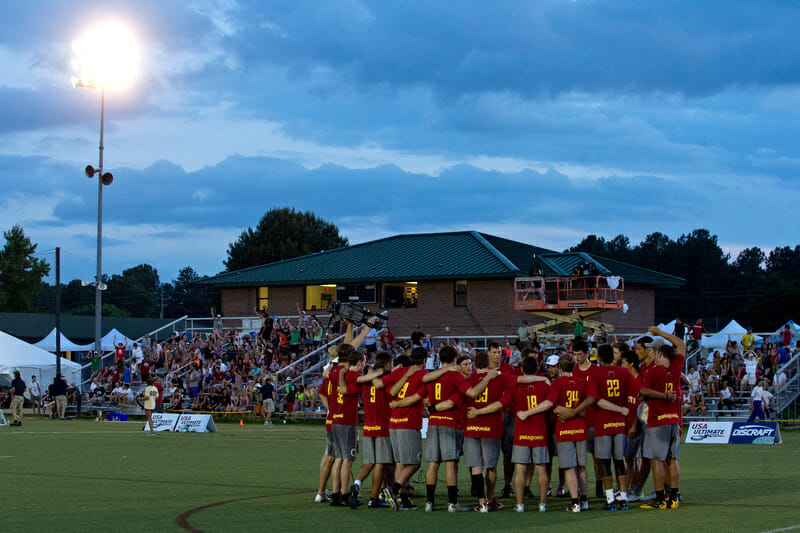 As the first major tournament of the year and the initial leg of the Triple Crown Tour, the U.S. Open offers the earliest glimpse of how elite teams are going to stack up against each other in the coming season. What makes 2014 different from previous years, however, is that the open division looks genuinely up for grabs.
In its inaugural year in 2012, the tournament had a good crop of teams, but Denver's Johnny Bravo looked to be a clear favorite and walked away with the title unscathed. Last year, despite defending champion Austin Doublewide and semifinalist and home team Raleigh Ring of Fire in the mix, the event looked largely like a dogfight between San Francisco Revolver and Boston Ironside, with the two teams trading double game point wins and Revolver coming out on top.
Yet, with the ever-increasing consolidation of talent at the highest levels and continued dominance becoming more and more difficult every season, this year's incarnation could seemingly find its victor among any of the top four seeds.
To make matters that much more interesting, six of the eight teams will be using the tournament as preparation for Worlds in Lecco, Italy, next month. This not only raises the stakes, but also means that squads will surely be experimenting with various strategies and trying to see just how their newcomers will work into their system, ensuring a great deal of intrigue all weekend long.
Though it's tough to see any of the lower seeds playing well enough to earn a spot in semis, anything could happen. Such a fact is particularly true this early in the season and in conditions which look to be increasingly hot, with decent chances of rainstorms on multiple days.
Here's a look at the competition.
San Francisco Revolver
The reigning national champions will look to defend their U.S. Open crown with a revamped roster that looks as dangerous than ever. Though San Francisco lost five players from last year's title run, including some key components like Josh Wiseman and Eric Greenwood, their additions should more than make up for the losses.
Perhaps chief among these additions is the return of dominant handler Robbie Cahill after playing with San Francisco Blackbird in 2013. Veteran experience will also be found in Chris Kosednar (Seattle Sockeye) and Alex Evangelides (Minneapolis Sub Zero). Emerging young talent in Simon Higgins, Greg Cohen, and Eli Kerns, all of whom earned First Team All-Region honors in the Southwest this year, will surely provide additional depth on an already stellar roster.
Though Revolver is a team known to be wise about its early season approach, often trying to work in younger players as much as possible to give them experience battling in high pressure situations, they remain the most likely contender to still be standing at the end of Sunday.
When one considers that they won each of their matches at Nationals in such convincing fashion that Johnny Bravo was the only team to finish within three points of them in any game, it's tough to see them falling to anything but an outstanding performance from their opponents.
With another gold medal set solely within their crosshairs, and U.S. Open serving as the most important prep for such a goal, Revolver is sure to come out hungry for a tournament victory to help give them plenty of momentum going into Worlds.
Seattle Sockeye
As one of the most storied and successful programs in all of ultimate, one can expect Sockeye to be in the thick of it regardless of context. Coming off their quietly impressive run last year that took them to their fifth finals appearance at Nationals, Seattle will look to repeat that course again in 2014, but this time earning their squad's fourth Club Championships title.
They may have lost some integral parts in Tim Gehret, Chris Kosednar, Adam Holt, and Frank Barich, but the inclusion of some new names this year will aim to offset that. Justin Lim (Sub Zero), Markham Shofner (Truck Stop), and Riley Meinershagen (Portland Rhino), and a host of others, including longtime Sockeye mainstay Ray Illian, will join the fish on their quest to reclaim their dominance from last decade.
The classic Sockeye style of small ball and quick disc movement will likely be implemented once again this weekend. If defenses aren't ready to defend against the frenetic pace at which Seattle likes to play, particularly as the Minnesota heat climbs higher and higher, opponents may find themselves down handfuls of breaks before they know it.
Boston Ironside
Since their inception in 2007, when Death or Glory merged with Metal, Boston has repeatedly fallen short of reliving the dominance exerted by DoG. Ironside has made it to the semis or finals each of the past six years, but failed to bring home the elusive title.
The 2014 crew will be looking to rewrite that script.
Some major losses in the form of Peter Prial, Seth Reinhardt, and a few others might make this task a bit challenging. The impressive list of newcomers to the boat, however, is sure to add enough explosive play to make the transition short lived.
Veteran stars Brian Garcia (Blackbird) and Jon Hirschberger (Boston's The Ghosts) (who makes his return to Ironside) will be joined by Thomas Sayre-McCord, who helped bring Boston's Wild Card to their first semis birth at Nationals last year in the mixed division. Harvard standouts Jeremy Nixon and John Stubbs, both of whom made First Team All-Region this year, will also lace up for Ironside.
After a somewhat curious regular season in 2013, where they nearly snagged the U.S. Open crown, lost twice to Sub Zero at Chesapeake Invite, finished dead last at the Pro Flight Finale, then climbed their way back to finish third in the nation at the Club Championships, Boston will most definitely be trying to make a more definitive statement this year.
And there's no better way to do so than to win the first leg of the Triple Crown Tour. One wrinkle: Ironside is focusing much more on the National Championships than the World Club Championships, which could mean a different approach to the US Open as they won't be looking to have a peak a month from now.
Denver Johnny Bravo
When one looks back at Johnny Bravo's 2013, it's tough not to think they could have found themselves in the finals of Nationals if only they had met Ironside or Sockeye in semis instead of eventual champion Revolver. Sure, such quibbles are just that, but the Denver team had so much talent and experience, it's no surprise they gave Revolver their best game of the tournament.
What's even scarier is that, despite coming in with an already impressive lineup, Johnny Bravo experienced the most ridiculous roster augmentation of any team across all divisions this year.
They may have lost seven players from last year's roster, including hammer machine Eric Johnson, but one could argue that the majority of them were role players. Who they picked up, however, are some of the biggest names in ultimate.
Kurt Gibson (Doublewide), Brodie Smith (Doublewide), Sean Keegan (Truck Stop), and Brett Matzuka (Ring of Fire) will all be suiting up for Denver in 2014. Keep in mind that they will join three Callahan winners in Jimmy Mickle, Nick Lance, and Josh Ackley, as well as other big names like Bart Watson, Ryan Farrell, and Jack McShane.
Moreover, Johnny Bravo will return five players from Colorado Mamabird's championship run, including Mickle (Ultiworld Player of the year), Tim Morrissy, Hidde Snieder, Stanley Peterson (Ultiworld Defensive Player of the Year), and Dennison Bechis.
And they're all going to be hungry to prove that this is the year everyone will be seeing Bravo red.
Minneapolis Sub Zero
Coming off the most successful season since their prominence in the early 2000s, Sub Zero enters the U.S. Open on their home turf, seeking to score some upsets and sneak their way into semis.
On the backs of their recruits from Minnesota, Carleton, and Wisconsin, the latter two of which put together great performances at College Nationals just a month and a half ago, the Minneapolis team comes into the tournament as a five seed on the outside looking in at the highest tier of elite teams.
Yet, with powerful forces in Grant Lindsley, Simon Montague, Eric Johnson, Josh Klane, and Nick Stuart, as well as a strong supporting cast of teammates bent on breaking through to the upper echelon of ultimate programs, such a goal may not be as out of reach as the towering shadows of the Revolvers and Ironsides of the club scene may make it seem.
With assertive statements like their Chesapeake Invite victory and respectable finish at Nationals last year, they're on the right track.
They'll just need to figure out how to make it past the giants of the circuit on a consistent basis in order to do so. U.S. Open should act as a perfect opportunity to begin doing just that.
London Clapham Ultimate
Since their inception in 2001, Clapham have dominated the United Kingdom's ultimate scene and become one of the premier programs in all of Europe. They've won 13 consecutive national titles and come out victorious at the last two European Championships.
This season started off on the right foot as they won the competitive Windmill Windup in Amsterdam last month.
But unfortunately for the London team, the U.S. game is an entirely different beast.
Sure, they've had some legitimate success in the states. Clapham bested Atlanta's Chain Lightning, Ring of Fire, and a few others at Chesapeake Invite last year before falling to Ironside in the semis 14-12.
In order for Clapham to assert themselves as a truly dominant force outside of Europe, however, they'll need to start finding a way to defeat more elite American teams. This weekend will present them with the chance to further build up their reputation as they prep for WUCC.
Vancouver Furious George
2013 may not have been exactly been the year of the monkey, but one can never really count out Canada's most storied ultimate program. A fourteenth place finish at last year's Nationals may not inspire much confidence for their hopes in 2014, but Furious George have played in so many high-level situations across the globe and over the years.
Their roster this year has some curious omissions, particularly the absence of Vancouver icons like Oscar Pottinger and Brendan Wong, but that shouldn't be cause for too much concern. Other mainstays like Morgan Hibbert, Andrew Brown, Aaron Loach, and Andre Gailits remain to provide veteran leadership.
Plenty of young talent will also help Furious George reclaim some of their lost glory, especially U-23 Canada stars Peter Yu, Nick Wright, Myles Sinclair, Ryan Kremsater, Rumi Tejpar, and Kevin Greer.
Moreover, considering the Vancouver Nighthawks' success in the MLU this year (they are set to face the DC Current in the Championship later this month), and how much the two teams' rosters overlap, there's good reason to believe the Vancouver scene is set for a resurgence.
If Furious George has anything to say about it at U.S. Open, that revival will begin this weekend.
Colombia Evolution
Though only formed two years ago, Colombia's Evolution have worked hard to improve with every opportunity they've been granted.
They finished third in the Colombian National Championships in 2013 and competed in the Pan American Ultimate Club Championships that same year, finishing fifth.
Not much is known about how Evolution will stack up against the top U.S. teams, but coming into this weekend as a relative unknown just might give them an advantage.
If they can manage to come out fired up and capitalize on their status as a mystery, they just might be able to snag some upsets and continue bolstering the strength of their rising program's name.
Considering the moderate success of Euforia, another up-and-coming squad from Colombia, at last year's event, there's no telling just how well Evolution might do if they can find their groove.