The US Open offers up the top competition of the Mixed Division regular season. Can home town favorite Drag'N Thrust begin their National title defense with a win at the US Open?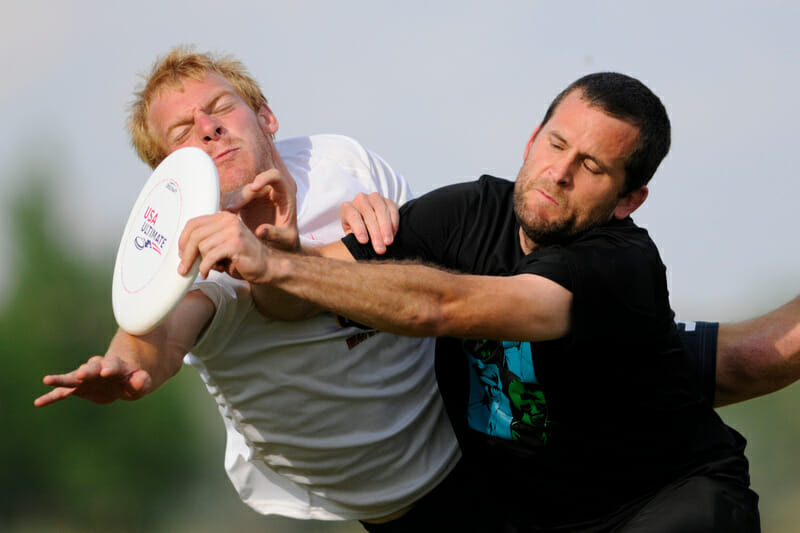 This weekend, eight of the top mixed teams from America, Canada, and Colombia will face off in Twin Cities, Minnesota. The U.S. Open features the top six finishers from the 2013 USA Ultimate Championships, the 2013 Canadian National Champions, as well as the Colombian 2013 runner-up. Home-team Drag'n Thrust will look to defend its national title while reloaded teams from across the country look to dethrone them in the regular season's most competitive mixed tournament. Tournament play will take place from Thursday, July 3rd through Sunday, July 6th. Let's take a look at each of the competitors.
Minneapolis Drag'n Thrust
Drag'n Thrust will build upon its championship season starting at the U.S. Open. It will be a chance for the reigning victors to test their skills against the best and measure their progress towards achieving their goal of a World Championship in Lecco.
"As it's an early season tournament, we don't have a ton of new stuff up our sleeves," says Captain Austin Lien. "We're always scouting and keeping an eye on the other teams rosters, but mainly focusing on making sure that we're where we need to be."
The squad is largely the same, as every rostered player from last year was offered a spot, but the return of Callahan runner-up Robyn Wiseman is a strong addition that should bear watching. It will be interesting to see how she fits in and how the mixed team uses her skills.
"She is someone with previous playing experience with Drag'n," said Captain Patty King, "and is powerhouse on D and adds firepower to offense, by not only being a deep threat, but also having strong hucks."
"The US Open is really the bench mark of the season with its timing and the competition involved," King continued. "We will be looking for the new players to continue to gel with the team. We're also hoping the offense will continue to flow with the addition of some new cutters like Sarah Anciaux, Emily Regan, and Mike Clark."
Drag'n has always relied on athletic, tough defense and this year should be no different. "With the addition of another woman to the roster (twelve women and fifteen men, rather than eleven women and sixteen men the past few seasons)," explains King, "we feel we can also dabble in playing some four women on offense which we rarely attempted last year."
This strategic change could have a big impact on the field, as it will force other teams to respond and could translate into long-term success. Drag'n's women will be especially important this tourney, as they may be short of men this weekend.
"Jeff Trosvig will be missing from our roster due to a broken leg," says Lien. "We'll definitely be missing his huge throws and all-around big plays, but are fortunate that we will be able to see him return within this club season. Jordan Hupp will be temporarily filling his roster spot despite not being able to play with us for the club series."
"With Jeff Trosvig out with a broken leg and Pete Carr questionable due to a concussion, we'll be a bit short on male handlers," says King.  "A couple rookies to watch out for: Mike Clark's crisp throws and Emily Regan's speedy defense."
Lien also emphasizes the importance of winning at home, especially for the TCT. "We're definitely excited about the opportunity to have an elite level tournament right in our backyard," he explains. "We're very proud of our ultimate community, and are happy to share it with so many great teams."
San Francisco Polar Bears
Making it to the National title game four years in a row is no joke — especially for a team that's only been together for as many seasons. San Francisco's Polar Bears may have only won one of those championship matches, but had just a few other points swung their way, they'd be looking at a similar status to fellow Bay Area titans, Revolver.
 Yet, despite how those games may have played out, one cannot argue with the fact that the Polar Bears have been the most consistently exceptional mixed team in the country over the last few years — a fact made that much more impressive when one takes into account the up-and-down nature of ultimate's most unpredictable division.
Since their inaugural year in 2010, the San Francisco team has been led by Greg Marliave and An-Chi Tsou, the latter of which has risen to become one of the most dominant cutters in the nation. Stalwarts like AJ Shankar, Natasha Won, Daniel "Robot" Naruo, Clay Miller, and Adam Raty have all also been with PBR since their inception and continue to provide veteran leadership in 2014.
This year, however, the Polar Bears experienced one of their greatest roster turnovers, after losing athletic men like Simon Higgins and Eli Kerns to Revolver, as well as their main handler core from last year, Casey Ikeda and Tommy Li.
While only 15 players will be returning from 2013's successful season—when the Polar Bears had just five losses, made it to the finals of every tournament they played, and bested all but one opponent at Nationals by three or more points—PBR's offseason pick-ups have the potential to make them even more dangerous this year.
Eric Greenwood brings his speed and experience from playing with Revolver to the mixed game, while Kate Schlag (San Francisco Nightlock) and Marisa Mead (Chicago Nemesis) look to make a similar transition after playing elite level women's club. A number of other players currently on semi-pro teams such as Sam Adamson (San Francisco Dogfish), Federico Chialvo (San Jose Spiders), and Cecil Qiu (San Francisco Flamethrowers) will also round out the roster.
Given these additions, PBR's impressive resume, and the fact that they haven't failed to make it to the finals of a tournament since Labor Day of 2012, expect to see Polar Bears fighting hard all weekend in pursuit of their second U.S. Open crown.
Boston The Ghosts
The Ghosts, a team that prefers to focus on local tournaments during the regular season, will be bringing a very light roster to the US Open. Struggling to send enough players to meet the USAU 14-player roster minimum, they'll be focusing more on player development than team results.
"We'll obviously get to see a couple of teams that we could see at Worlds, but as a team, we don't really have much to accomplish [at the US Open]," said coach Jason Adams. "It will be a good opportunity for individuals to improve by marking up against strong players."
That said, fans and opponents alike will likely not see a "typical" showing from The Ghosts, seeded third. They will certainly be trying to make the most out of their travels, but there's only so much a half-sized crew can do.
Their results from the Boston Invitational should be a good indicator of what to expect. There, again with a small roster, they went 3-4 over the weekend including a 3-15 loss to Wild Card. Just two weekends prior, the two teams had met in the semi-finals of Mixed Easterns, where The Ghosts put up a much better challenge, losing 11-12.
Regardless, The Ghosts are a team known for efficiency and should not be written off. Even with players missing at the Boston Invitational, they had close games while fresh on Saturday, including a 15-11 win against Canadian WUCC team, Gecko. The three-day schedule will give the few that are going some extra rest and should be to their advantage. Without any specific goals for the tournament, though, their place in the final standings may be up to other teams.
Boston Wild Card
Preferring to take destiny into their own hands is Boston neighbor Wild Card. They won both Mixed Easterns and the Boston Invitational in convincing style, thanks in part to an influx of top-level talent from both the club and college levels. Wild Card's roster sees ten new faces in total, including Seth Reinhardt from Ironside and UNC Pleiades Callahan nominee Shellie Cohen.
"Bringing in the new players has been really seamless," observed co-captain Lily Steponaitis. Referring to the fact that most of their new players have joined from single-gender teams, she added, "It's a refreshing infusion of talent and drive. They definitely bring a distinct kind of intensity and focus.  Not to say that we didn't have intensity before, but a new perspective is always good."
That new outlook should serve them well at the US Open. Although seeded fourth, Wild Card is a serious contender to win. Their early season tournaments demonstrated that last year's semifinal showing at the Club Championships was no fluke.
Steponaitis, Aly Heath, Eva Petzinger, and Kara Hammer bring a significant height advantage in female matchups, and co-captains Ian Engler and Denis Agniel help lead their fast, high-energy offense. Wild Card's biggest strength this year, though, is their depth — even with some big names on their roster, it's difficult to pinpoint any particularly critical player. The forecast looks good for Wild Card, but they're still careful to approach the US Open with a grounded attitude.
"For us, we're more of a process team than an outcome team: we work as hard as we can, be as cohesive as we can, and see where that takes us. We have high hopes, but we don't really talk about winning. Instead the mentality is 'we're going to push ourselves and get as far as we can,'" explains Steponaitis.
Of course, a Wild Card team pushing as hard could do some serious damage.
Toronto Union
2013 Canadian Ultimate Champions, Union, will be taking their talents to Twin Cities for the U.S. Open. If American teams are not yet familiar with the Toronto product, they certainly will be after this weekend.
The team is very excited to play the country's top competition. "This is a big stage for us and certainly the nerves are going for some. Many on our team though, have had experience — some, like Malissa Lundgren, quite significant — on the North American and World stages, and will help to keep our team on an even keel," explained captains Warren Tang and Amanda Moore. "Our focus for the U.S. Open is no different than any other tournament – it's important for us to train hard, have faith in that training, and to approach each game, mentally, with a consistent and familiar confidence."
In a move that will shake up the Mixed division, Union will be opting out of the 2014 Canadian Ultimate Championships and instead, participating in the USAU Club Series. "This year with Canadian Nationals falling too close to WUCC, we could not field a team to defend our title. Instead we are aiming for the double peak of WUCC and USAU, as are many of our American opponents," said Tang and Moore.
Given Union's impressive play so far this season, the move could mean an extra bid to Nationals for an already deep Northeast region. At Mixed Easterns, the team finished 7-1 only falling to Wild Card and at Boston Invite, they took down The Ghosts and Wild Card while taking half on Slow White.
"People who are not familiar with us and looking for a viewer's guide should key in on a few players — Garlok Lee and Jacky Hau, called 'Data' and 'Big Data' respectively, are defensive stars," said Tang and Moore. "Garlok is a relentless defender who will make athletic plays, and Jacky is on the D-line of the Toronto Rush AUDL team. Kate Jardine is a tireless cutter who has a laundry list of achievements in women's, including Capitals and various Canadian Worlds teams."
For Union and the rest of the country, the U.S. Open will be a gauge of where the team might stack up come October.
Ames Chad Larson Experience
Of late, Chad-Larson Experience has been overshadowed  by regional rival Drag'n Thrust.
Four years ago, it was CLX that was venturing to Worlds and coming home with the gold. They won't be making the trip this year, but expect the team from the Midwest to be a strong competitor and to make waves, beginning at the U.S. Open.
Last year, CLX had a great regular season, losing only four games in all and finishing 5th at Club Nationals. This year they'll have a tough schedule to begin the summer, but they have the experience to continue to play at a high level.
It's remarkable the extent to which CLX relies on their chemistry when you consider that they don't practice — ever. Iowa is a big state, and often a 'practice' may consist of pickup in Ames on a weeknight. This means, according to Seiler, that "pool play of our tournaments sometimes becomes 'practice.'" Their ensuing success reveals their finetuned mental game: they flip a switch and it's time to work.
The team from Ames relies on a strong core of Iowa players, especially an outstanding group of women including Cami Nelson, Sarah Pesch, Becca Miller, Melissa Gibbs, and Magon Liu.
Many of the Worlds veterans remain, but new additions have also made CLX a threat in different ways.
"The major difference of this year will be that we are getting a little younger, which helps our roster; our average age is something like 27," says Kevin Seiler. "We have about half the team 30 and over, with a lot of players being masters age, but about half our team 25 and younger. We added four new players this year and they are all 23 and younger"
Seiler wanted to make an effort to add more height on the male side especially, and is very excited for the addition Ryan Tucker, second-team all-region player of Iowa State. Tucker is 6'4", incredibly fast, and also has great throws and has shown he can huck well to both men and women.
"He's a deep threat and a thrower," Seiler says. "and I love the versatility he will bring to the team."
"I'm excited about the opportunity to have Kurt Rorson and Ryan Tucker to play together on the same O-line," Seiler went on to say. "Both are big guys and pretty much the best male deep threats on our team. I love the matchup nightmare those two give us. Some teams have a deep defender that can neutralize one deep threat, but I don't think any team out  there can neutralize both of them."
The O-line women will add to the defenders' difficulties. CLX had an incredible offense, if not the best in the mixed game, in 2012, largely because of outstanding play from Gibbs and Liu.
"We played 3-4 that year, with three guys and four ladies on the offense and there really wasn't a team that could hang with our ladies," Seiler explains. "Having the girls return to that form, alongside the new additions, and I don't see anyone who can play downfield defense against us."
CLX veterans were especially disappointed that they failed to qualify for Worlds last season, but they see the U.S. Open as a good opportunity to show their talent. "In many ways, this is our Worlds," Seiler says. "We hope to beat up on some of the teams that are going in August and show everyone that we would have been very competitive in Italy."
Chad-Larson may be trying a few new strategies in pool play, but come the bracket, they will do their best to win and other teams, especially other defenses, will have a tough time when they do.
Philadelphia AMP
The U.S. Open will be Philadelphia AMP's first big challenge since the National Championships in October. AMP came in as the tournament's top seed, but finished just sixth overall. "In our losses to both Odyssee and Wild Card we did not make adequate strategic adjustments against opponents who challenged our style of play," explained captain Kevin "Bulb" McCormick. "Still, our improvement from the prior season was encouraging and has led to nearly all of last year's roster returning to the team."
AMP has brought back a core of players that went into Nationals with a 24-2 record and they have only improved on the women's side of the disc. They've added dynamic handler Sara Taggart as well as cutters Lexa Stambaugh and Anna Truskin.
While AMP has been known to run four women on offense in the past, McCormick understands that they will have to be flexible in Minnesota. "It's hard to predict what will work best against each opponent so I'm not sure I can say whether that will be a theme" he explained.
Additionally, the team has been using game-tape to decipher where they can improve this season. "In terms of play style, we have been using video of last year's top teams to identify things they do differently and bring them success. Adaptive but aggressive downfield defense and creative offense are things we've enjoyed watching and make for a style that's fun to play," explained McCormick.
"We love video, and record and review our play whenever possible," he added.
Traditionally, AMP used nearly the entire regular season before finalizing their roster for the series. This put less emphasis on their regular season tournaments in preparation for Regionals and Nationals. However this season, the team took a different approach. McCormick explained, "We finalized our roster about six weeks earlier this season, which allowed us to play as a cohesive unit throughout our June practices."
Hopefully for AMP, the improved chemistry that comes with a finalized roster of returners will lead to wins at the U.S. Open. If last regular season is any indication, the Philadelphia group should have a strong weekend.
Bucaramanga One to One
One to One is based out of Bucaramanga, Colombia. While Bogota and Medellin are more known around Colombia for their Ultimate supremacy, One to One has put together a solid group. The team exists within a broader ultimate program, which is composed of 80 players on four teams and all three divisions.
Colombian Ultimate is solid across the board, sporting a top four women's team and top ten open team in the world rankings according to WFDF. Their youth programs are strong as well, ranking in the top five in both U23 divisions as well as a second place standing in Junior Men's and the top Junior Women's team.
The quality of Colombian youth ultimate can be seen on the One to One roster. The team is bringing only five players over 24 for an average team age of 22.8- nearly a full year younger than the youngest team at Nationals last season, Wild Card. Sixteen year-old Isabella Cortes is the youngest player at the tournament in any division.
Coming off of a second place finish at Colombian Nationals, One to One should give tough games to America and Canada's top teams.