Five years later, Atlanta's Chain Lightning is still looking to beat you deep.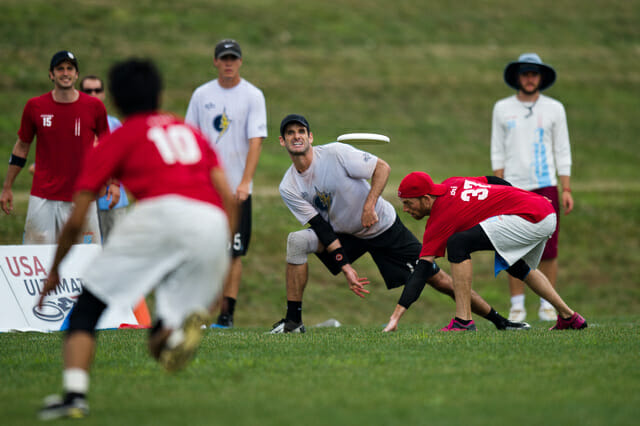 It was only five years ago when Chain Lightning grabbed the 2009 National Championship. Since then, much as changed, but the goal remains the same: return to the top.
While this is surely the goal for every Pro Flight team, the club from Atlanta might be closer than others — especially if consistency is an attribute you look for in contenders. Since 2009, Chain has finished in the top eight at every national Championship — semi's twice, quarters twice.
"We feel we've had the personnel to compete for the title ever year since 2008, but various things have kept us from achieving those results," said two time captain Frank Wooten. This year certainly appears to be no different.
Starting the Season Off Right: 2nd Place at Chesapeake
Chain's early season results indicate that they're off to a better start than they were in 2013. At the Chesapeake Invite last weekend, Chain lost in the finals — albeit handily — after winning their pool and defeating Ring of Fire in the semifinals.
Aside from their finals loss, where Machine's superior fitness really shone through in the midday heat, Chain played excellent ultimate all weekend and certainly looked much better than the team that took the field at Terminus, the site of the 2013 Pro-Elite Challenge.
They attacked the deep space, defended the backfield well, and made the right decisions offensively. Against Ring in the semis, Chain's offense only gave up two breaks. Both came at the end of the game after it was out of reach for Ring, who trailed 12-6 before losing 13-9.
New Faces Arrive, But One Big One is Gone
Dylan Tunnell recently elected to leave Chain to play with Atlanta's premier mixed team, Bucket. Harvard standout and Ultiworld Freshman of the YearJohn Stubbs has left to join older brother George on Ironside. Will Lokke has left for the very talented Johnny Bravo. Seemingly, Chain is without three of their important playmakers from 2013.
While players like these can't be replaced, the Atlanta club has definitely brought in some new faces that can contribute right off the bat. 
Its no secret that Chain has been using the youth of the strong Southeast Region to rejuvenate its roster. "We've spent the last two years trying to refocus our recruiting on local young talent and it has paid off," said Wooten.
The "new talent" consists of three additions from the Southeast college scene. Sam Little was one of the Southeast's best defenders, leading Georgia to the regional final. Little's athleticism fits right in to the explosive defense in Atlanta. They've also brought in two players from Alabama: Austin "Draco" Taylor and Brian Moore. Taylor has what Wooten calls "elite level speed," while Moore's ability to adapt into multiple different positions make the two of them prime additions for a talented roster. "The best part is that three of them are still in school and will only continue to develop their game on the college scene," explained Wooten. Taylor, particularly, stood out as an important player for Chain this weekend.
Outside the college scene, Chain has added Allan Laviolette from the Seattle area. Laviolette has experience with the Seattle Rainmakers and a short run (due to injury) with Sockeye. Laviolette is a product of Northwest offense, using quick feet and sharp handler cuts to move the disc rapidly. Chain will hope to groom him to be a valuable asset in their "long ball" system. They've also brought back Taylor Goforth — also known as "Tree" — a nickname, of course, un reference to Goforth's 6'7'' stature.
Aguilera Brings in New Assets 
Martin Aguilera will be used by Chain this year as a coach and consultant, helping with practice design and goal setting. Aguilera has often appeared on Ultiworld for his expert analysis, and has coached many prestigious teams including the U-23 Mixed national team and Paideia High School. With a recent baby, don't expect to see Aguilera on the sideline at many of Chain's tournaments. Yet — with the possible exception of Brute Squad and their video guru coach Mike Lawler — there may be no other team with a coach so well-equipped to breakdown the rapidly increasing video found in the club game.
"Most of the retooling this season and last year springs from [Martin's] brain. If you've seen any of his work you know he thinks about and sees the game from a different perspective," said Wooten. 
This philosophy that is being so heavily retooled is one referred to as the "long ball." Chain has become so heavily reliant on big hucks in the last five years that it has become their calling card and identity. Some have questioned whether the team impatiently looks deep too early.
The 2014 Chain squad will still heavily rely on their deep game on both sides of the disc, utilizing brilliant throws from Tyler Conger and veteran Jared Inselmann. They will be throwing to a plethora of young talent including Elliot Erickson, Trenton Spinks, and Byron Liu — plus established threats like Wooten. Nicky Spiva is still one of the best in the game, and will push the offense forward. The strategic story line to follow is whether the addition of Aguilera will result in better (if not necessarily fewer) shots, or at least shots that come from ideal field positions.
The team fell back into some bad habits in the final against Machine, throwing into double coverage and giving the disc away on deep shots that Chicago was anticipating. Spiva said it well after the game: "We took a couple deep shots where it would have been a great pump, and then hit somebody under when [Machine was] looking to crash those deep looks."
Past and Present: Inconsistent but Back in the Pro Flight
Chain was one of the least consistent teams in the 2013 club season, starting off slowly and overly relying on the deep ball.  A lackluster 4-3 performance at the 2013 Chesapeake Invite was followed by a disappointing performance at the premier tournament of the season, the Pro Flight Finale.
Then Chain turned it on for the series. They won their region (over rival Ring of Fire), beat Machine in pool play at Nationals, and defeated PoNY in the backdoor bracket back into the Pro Flight –meaning Chain once again qualifies for the 2014 Pro Flight Finale.
The inconsistency, plus the baseline talent on the roster, makes it impossible to read too much into any single result from this team. Is this an average team that barely snuck back into the top 8 elite tier, or is this a team that knows how to compete when it counts?
The mix of young talent and veteran leadership may just pay off for Atlanta in 2014. Jared Inselmann will be playing with the North Carolina masters team, Boneyard, in Italy this year for Worlds, before returning to Chain for the remainder of the season. Inselmann brings to the team an uncanny ability to throw through fouls and find poached receivers anywhere on the field, plus an incredible work ethic. One of the younger emerging stars is Christian Olsen from Emory University in Atlanta.
Olsen's extreme athleticism and great field awareness led to a quick bookends score for Olsen this past weekend in the semifinals of the Chesapeake Invite. The veteran offense matched with the sporadic defense makes Atlanta a very dangerous team come October.
"All in all, Chain feels like this is our year. We've been crushing upper body workouts so that the long ball is even longer than before  and we are prepared to get back to Finals by whatever means necessary," says Wooten. With a stout roster and the right mindset, this team could make the difficult jump to a semifinals appearance.