The highly-anticipated matchup between Johnny Bravo and Doublewide was just as exciting as billed.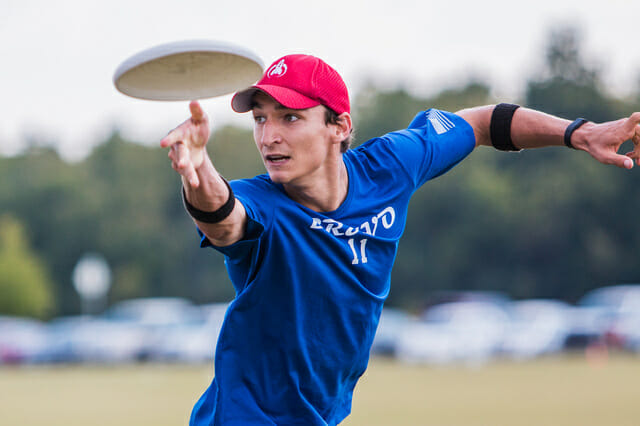 Everything was as it should be. A Johnny Bravo huck from Brodie Smith was soaring through the air to a streaking Jimmy Mickle, who was being tracked down by Doublewide's Will Driscoll and Dan Emmons. The game was tied 15-15, and it was double game point. All was right in the ultimate universe.
***
Sunday's South Central Regional final between heavyweights Johnny Bravo and Doublewide was an epic ending to a great weekend of ultimate, which saw Bravo win its first Regional title since the rezoning in 2012. Throughout the tournament, there were very few surprises. Only one lower-seeded team won a game against a higher ranked team in pool play — (#11) Space City Eclipse over (#10) Wildcard. This allowed for the championship matchup everyone was awaiting.
From the first point of the Bravo-Doublewide match, it was evident that these two star-studded teams were peaking for the final. The game started with massive layout score from Will Driscoll. After streaking deep for a huck from Rory Orloff, Driscoll fully extended, caught the disc, and somehow managed to twist his body so that he would come down inside the back end-zone line.
Doublewide continued their hot start, something that captain Jerrod Wolfe acknowledged has been a struggle for his team, with a break on the second point after a great block by rookie Drew Watson. Up 2-0, Doublewide forced another turnover and were looking to break again for a three point lead. After working it to midfield, Doublewide sent a huck to the endzone for captain Steven Darroh, who had a few steps on his defender. Bravo, though, was saved by outstanding help defense from Brodie Smith, who leaped from behind Darroh, and managed to swat away the disc without fouling Darroh. Bravo then worked it up the field, and punched in the score to make it 2-1.
Smith's great block set the tone for the rest of the match: big name players making big-time plays.
From that point on, neither team had a lead more than two points.
Doublewide missed two chances early on to extend their lead, but Smith's D and a drop in the end-zone prevented them from going up big. Bravo was able to get back two breaks to tie the game at four, and eventually took the lead, 6-5, on a beautiful blade huck from Nick Lance.
Bravo captain Ryan Farrell loved having great play from his big name players, but is wary about continuing to play that style of game.
"We want to get back to seven-man offense and defense," Farrell said. "It's great having players who step up and make plays when we need them, but we saw at Pro Flight and Worlds that relying too much on Jim [Mickle] and Nick [Lance] can hurt our team. It wears them down, and everyone else's play is marginalized. To us, big plays means that we are taking too many highly contested shots."
For both teams, though, having their studs make plays was vital in the championship game.
Doublewide relied heavily on their core group of veterans. Driscoll was a beast all game, consistently getting open under, stretching the defense, and performing solidly with the disc. The matchup between him and Hylke Snieder all game was great drama. Handlers Jeff Loskorn, Max Cook, Trey LaMastres, and Orloff played extremely well against a high pressure defense, rarely turning the disc over.
Defensively, though, Doublewide got some great play from their younger players. Drew Watson, Dan Emmons, and Michael Mathis got several big blocks that led to breaks. Defensive handler Chris Brooks, who up to this point in the season hasn't received much playing time, also played a fantastic game. It was Brooks who threw a perfect huck to give Doublewide an 8-6 lead at the half.
It was much the same for Johnny Bravo.
Jimmy Mickle continued to show why he is considered one of the best players in ultimate. His throws all game were near perfect, and his ability to cut both downfield and under makes him a very difficult matchup for opponents. Sean Keegan was open in the end-zone all game, and Bart Watson consistently found him. Along with those three, Jackson Kloor and Ryan Farrell were solid offensively for Bravo.
On the defensive side, Bravo's game plan was to contain Doublewide's main players, namely Driscoll. When they were not able to do so, they needed some huge plays from their stars to stay in the game. Henry Konker and Matthew Farrell provide Bravo's D with a spark they needed, Konker with some huge blocks and Farrell as their most effective defensive cutter. But no other player made an impact as big as Lance.
He was outstanding all game. His pulls were consistently putting Doublewide in the back of their endzone, he was strong with the disc, and he made arguably the biggest play of the day.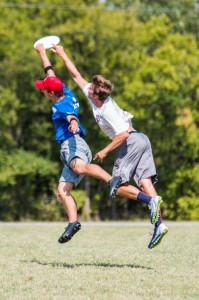 With the game tied at 11, Doublewide sent a 75-yard huck to LaMastres, who had Lance beaten by a half-step. Both players bid shoulder-height for the disc, but Lance somehow snatched the disc from right in front of LaMastres (photo at right). He proceeded to throw a huck downfield, get the disc back, and throw the score to put Bravo up 12-11.
If it were not for Jimmy Mickle, this play would have stood alone at the top of great moments from this game.
After battling back and forth for nearly two hours, Bravo and Doublewide were tied at 15, and were heading to double game point. This match deserved nothing less.
Bravo received the disc and centered it to Brodie Smith. Smith wasted no time in putting up a massive backhand huck to Mickle, who was isolated in a side-stack. Driscoll provided the chase and was helped by Dan Emmons who peeled off the back once the huck went up. All three players went up at the exact same time — an impressive sight as they all stand between 6'3" and 6'5" — and somehow Mickle came down with the disc between both Doublewide defenders. After a break mark throw and an easy continue to the endzone, Johnny Bravo was crowned as the 2014 South Central Regional champion. It is their first ever South Central title.
"We believe we have all the right tools to win a championship," said Bravo head coach Bob Krier. "We've talked about double peaking all season. We want to raise our intensity in games to match our practices. If we can continue to raising that level, we have a shot."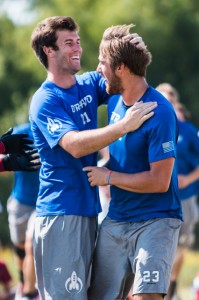 Johnny Bravo certainly proved this weekend that they have the potential to be a force come mid-October in Frisco. They have the stars, they have the experience; it's just a matter of whether they can put it all together for one tournament. If Bravo can do so, look out.
***
For Doublewide, this weekend was a positive step in their progression as a team. They got better each game of the tournament, and played their best game of the season in the championship match. This showed in the backdoor game against Inception.
The first time these two teams met in pool play, Inception gave Doublewide some fits, including a 5-0 run in the second half to bring it within one point. The second game was much different. Doublewide jumped out to a 4-0 lead and never looked back. Offensively, they only had one turnover, and it led to nothing for Inception. Doublewide easily took the game 15-7, and qualified again for Nationals.
This team still has work to do, mainly with being more consistent. There were times when their best players struggled with decision making. Doublewide has an immense amount of raw talent and athleticism, and Sunday showed that they can compete at the highest level, but for Doublewide to make a serious run at Nationals, the next few weeks of practice will have to be extremely focused.
Though the South Central was clearly topped by Johnny Bravo and Doublewide, there was some great play from other teams around the region. Inception, HIP, Plex, and Space City Ignite all played very well. The battle for third place between these four teams was fun to watch, especially with the play from some young college players from the region.
As the college season ramps up, there are a few players you should keep and eye on if you're in the South Central region. Inception's Mark Rauls and J. Wesley Chow (Colorado Mamabird) both had great weekends, leading them to a third place finish. From HIP: a trio of juniors Hagen Fritz, Dillon Larberg and Joel Clutton will look to lead Texas TUFF back to Nationals in May. Also from HIP, Matt Bennett and Thomas Slack (Texas A&M Dozen) are a dynamic handling duo.