Ironside regained pole position in the Northeast; GOAT and PoNY also qualified.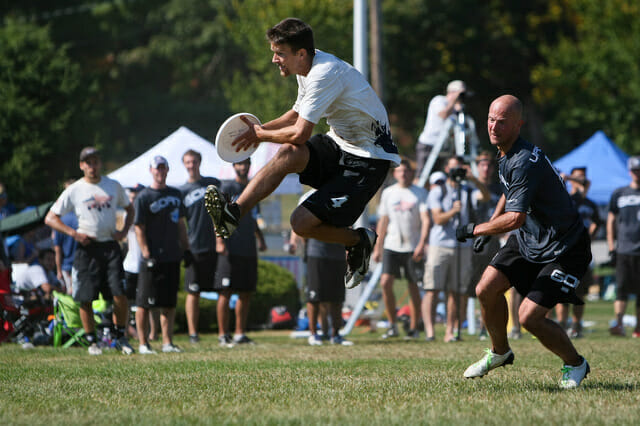 DEVENS, MA — Boston Ironside didn't take long to right the ship.
After relinquishing control of the Northeast Regional title for the first time as a team (and, for the city of Boston, the first time in nearly twenty years) last season, Ironside seized it back with a convincing 15-11 victory over Toronto GOAT in the final on Sunday morning.
After trading early breaks, the game stayed tight throughout the first half until Ironside rookie and UMass standout Jeff Babbitt showed off great vision as he shot his hands up to stuff a low GOAT throw across the stack in the red zone. Boston worked it down the field and George Stubbs hit Jack Hatchett for the 7-6 lead.
"[Babbitt]'s been a guy that we can rely on to take an alpha cutter on the other team and neutralize him," said Ironside coach Josh McCarthy after the game. "If you're not thinking about him now, you'll be thinking about him this year or the year after that. He's going to be playing high level ultimate for a long time."
Ironside went on to take half as Alex Kapinos fired a big huck to Will Neff, giving them a big advantage heading into the second half.
Another Boston newcomer helped put the game away early in the second half. Mark Sherwood, who joined the team just a few weeks ago, played strong reset defense throughout the game, assisting on one block early in the first Boston defensive point of the second half before making the decisive interception later. Scotty Nicholls tried to cut from the stack back to the handler position near the Boston goal line, but stopped his cut as Mark Lloyd released the pass. It was an easy block for Sherwood, who had the play covered either way. He threw a short flick to Stubbs to give Boston a three point cushion.
"[Sherwood]'s playing really good defense on whoever we put him up against," said McCarthy. "You don't need to worry about where he gets assigned. He takes that matchup and shuts them down."
GOAT started to play better midway through the second half, but they couldn't get the defense going quickly enough. They didn't play truly intense defense until the score was 13-10, and had already squandered a number of opportunities early in the contest. It looked like things might turn in their direction when Andrew Carroll got a run-through block on Josh Markette with a chance to trim the Boston lead to one. But after a timeout, Geoff Powell dropped a reset pass, Ironside scored, and GOAT was out of steam. Ironside broke the Toronto offense on the final point to reclaim the Northeast crown.
***
Although Ironside's offense was quite good, conceding just one break in the game and three on the weekend, the real story was their much more potent defense, which floundered for most of 2013.
"We have a deep defensive line, and that's a big difference between this year and last year," said McCarthy. "Our top 10 is solid and can really bring it. And everyone after that is a great player as well."
Babbitt and Sherwood have been instant upgrades, and bringing Stubbs back to his natural place on defense has allowed the line to be considerably more competitive on every point and really generate turnovers. However, the defense still struggled to put in breaks, earning far more turns than they converted into scores. The D line's offense made some poor decisions, especially in the red zone.
"That's the one thing we've really got to hammer home," said McCarthy. "We've gone back to the simple mantra of 'value the disc.'"
If they can do that, Ironside will be a formidable competitor in Frisco. This is the deepest Boston team in recent history; Brian Garcia has filled in nicely on the offensive line with the departure of Stubbs to the defense and Peter Prial to Washington DC. Whether they will have enough wind in their sails to capture their first national title remains to be seen.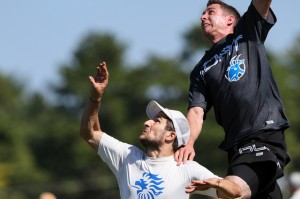 GOAT Still Coming Together, But Showing Glimpses Of Elite Play
While GOAT will not enter Frisco with the kind of buzz that tailed them in 2013, the team may actually prefer this year's relative obscurity. Last year's pressure cooker Nationals caused a GOAT meltdown after a sizzling lead-in to the tournament, losing in prequarters to Doublewide after a rough start in pool play.
GOAT may look back on last year as a lesson in peaking too early. They were lights out against Ironside in last year's final, playing a nearly flawless offensive game to clinch their first-ever Northeast title. This year, they settle for a somewhat ho-hum second place.
But they have to like their direction.
"It was a progression for the entire offensive line," said GOAT coach Scott Hastie. "They are still in the final stages of molding into what we hope it gets to."
While they clearly were not as polished as Ironside on other side of the disc, they started to find a rhythm later in the game against Ironside, and then again against PoNY after a sluggish start. At times, it looked like new arrival Justin Foord (Clapham) was a bit lost on the field, and GOAT tended to revert into their swing-swing-swing-huck to Mark Lloyd offense that we saw frequently last season.
Some of that, though, is understandable.
Veteran cutter Jeff Lindquist was out on Sunday after going to the hospital on Saturday with severe back pain. He felt OK later in the day and was cleated up and ready to play on Sunday. But the firefighters that took him in for treatment on Saturday returned Sunday morning and delivered some bad news: a second look at the x-rays revealed he had a punctured lung. He is out for at least a few weeks and could miss Nationals.
"The good thing is that he feels good," said Hastie.
Lloyd continued to be the pacesetter for the Toronto offense, utterly dominating downfield and coming back behind the disc when the handler set needed support. He was excellent in every big game GOAT played this weekend. Even George Stubbs couldn't keep up.
"I'd say maybe Mark gets a little bit of the better of the matchup today," said McCarthy. "You look to Nationals, if we get the opportunity to play GOAT, George is really going to be looking forward to that matchup."
Andrew Carroll was the standout defender for GOAT, coming up with numerous huge plays, including a decisive sky block over Markian "Muk" Kuzmowycz in the second play game against New York PoNY. On a weekend where top GOAT defenders Anatoly Vasilyev and Geoff Powell didn't have their best form, Carroll stepped up in the playmaker department and brought some great energy to D line.
"He is a fantastic defender," said Hastie. "He's extremely quick and I often wish I could play him on both the offense and the defense."
GOAT came out very slowly in the first half against PoNY, falling behind two breaks before clawing back only to watch Milo Snyder get a huge layout block on an inside backhand reset throw that led PoNY into halftime up 8-7 and a break.
PoNY scored out of half to take a two point lead, but GOAT brought it back to even after the Carroll endzone D over Kuzmowycz. After holds both ways, some sloppy PoNY offense opened up an opportunity for a big Foord backhand that was caught on an unbelievable layout by Jonathan Martin.
After more trades, PoNY's David Ferraro turfed a throw near midfield. After a GOAT timeout, a set play huck to Vancouver convert Morgan Hibbert sealed the 15-13 victory, as he toed the back line for the score.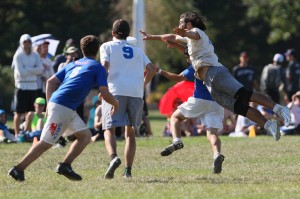 PoNY Does Enough, But Misses Some Opportunities
Let's be clear: PoNY was in no shootout in the third place game against Boston Garuda again this year. PoNY's 14-11 victory may look close on paper, but it was a wire-to-wire win that never felt in doubt.
Still, while New York is happy to qualify, they have to feel like they could have done more.
They were neck and neck with GOAT in both their semifinal and second place games. One or two fewer mistakes, a couple different bounces, and it's PoNY celebrating a big win. Instead, they had to slog through another batch of consolation bracket games to reach Nationals.
"We expected to be there, we expected to be in tight games," said captain Chris Mazur, who was pleased but certainly not exuberant about the team's performance. He noted that the offense clearly missed the presence of big deep threat Robbie Gillies, who is tending to a broken fibula but will be ready to play at Nationals.
Billy Katz and Mazur both had strong weekends for the PoNY offense, and Quinn Hunziker made some huge plays for the defense. John Geraghty all but sealed the PoNY Nationals clinch with a big block and bookends score right out of half to extend New York's lead to four at 9-5.
Garuda's offense was very good from that point on, but the defense couldn't find the endzone. PoNY easily held them off, and Mazur caught the game's final point on a beautiful backhand huck off of a pull play from Ben van Heuvelen.
All in all, PoNY met expectations, but didn't exceed them. And they didn't do much to shore up concerns about their ability to win against the nation's elite. The team plays very well together and takes advantage of the players' individual strengths, but they mostly lack the big playmaking ability of an Ironside or a GOAT.
Their defense did do a good job of converting the opportunities they had, but forced turns against GOAT were hard to come by. They will need to bring another level of play in Frisco to compete for a spot in quarters.
"We're all feeling pretty gassed after a two day tournament set of games, and that's probably not good," said Mazur. "So we'll be conditioning pretty hard over the next two weeks."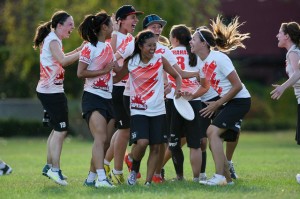 Capitals Stun Bent To Take Second Bid
On the Women's side of the bracket, Boston Brute Squad overcame a slow start against New York Bent in the final to cruise to a 13-6 victory.
As expected, Bent dropped down into the second place game for a rematch against the Toronto Capitals, who they had handily beaten on Saturday in pool play. Bent opened the defensive scoring with two early breaks to take a 4-2 lead that they carried into halftime, up 7-5.
After a Capitals break trimmed the lead to 7-6, Bent's Lauren Doyle made a great catch through contact to put them back up by two. Then it all fell apart.
The Caps got a quick offensive hold. Then a trapping zone gave Bent fits for the rest of the game. Bent seemed to lose their crispness against the zone and coughed up the disc multiple times over the ensuing three points. Bent's Anna Membrino went down with a right shoulder injury after the Caps tied the game at eight.
Shanaugh Howard caught the go-ahead score after just three throws down the field from the opposite endzone.
The Caps kept bringing the zone, with ever increasing fire and energy. Bent's Cara Brown fired a flick through a hole in the cup, but missed Michelle Rybak, giving the Caps a short field. Karen Chan made a strike cut to the backhand side, then found a seam coming back across the front of the endzone as her mark poached. She caught the game winner, highlighting a 4-0 Capitals run to a 2014 Nationals berth.