Austin Doublewide has been wildly inconsistent. Will they be able to put together a complete performance at Nationals?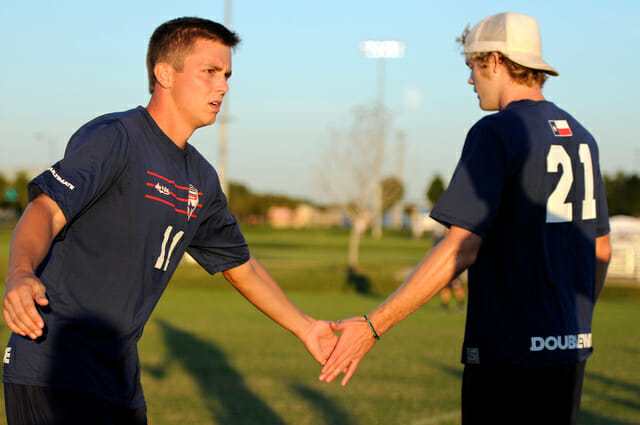 Untapped potential. That best describes Austin Doublewide this year. A team that has incredible raw talent and athleticism, but has yet to put it all together for a full tournament, or even a full day. If Doublewide wants to make a run at the National Championships, their inconsistenty will have to by ironed out by next week.
The South Central Regional tournament was a perfect example of Doublewide: almost blowing a six point lead in their first pool play game to Inception, and then coming back to nearly beat Johnny Bravo on double game point in the final. They have some well known talent — Will Driscoll, Jeff Loskorn, Max Cook, and others — but teams will prepare for those players. It will be up to Doublewide's supporting cast — including a number of rookies — to provide them with a spark in Frisco.
Can Doublewide set aside an up and down season, and play consistently well at Nationals? Or will their youth and inexperience be the downfall of a team that exits the tournament early?
Doublewide in a Nutshell
 Overall Indicators:
Overall #8 seed at Club Championships

2013 Nationals Finish: 5th
#8 in Ultiworld Power Rankings
#8 in USAU Club Rankings
Positives: 
Finished 2nd at the South Central Regionals, losing only to Johnny Bravo on double-game point.
Have a roster with 17 players over 6'0″, great speed and athleticism
Dynamic offensive line with star players like Will Driscoll, Rory Orloff, Max Cook, and Jeff Loskorn. These players were all a part of the 2012 National Champion team.
Driscoll is one of the best players in ultimate right now. At any moment, he can completely take over a game. His downfield cutting ability opens up countless options for handlers, and when he gets the disc under, Driscoll is dangerous with the disc.
Should have a healthy, full roster heading into Nationals.
Concerns: 
This team is extremely young. They've had a huge roster turnover since they won it all two years ago. Rookies are very raw, and will need to be solid for DW to have any chance at a run.
Have struggled with decision making. Even their best players have shown some poor judgment, which has largely led to the team's wildly inconsistent year.
Against top competition (2014 Nationals Qualifiers), Doublewide is 4-7. They've been blown out multiple times — twice against Sockeye; once against PoNY, Bravo and Ironside.
If their offense — their core group of players — isn't playing well, this team has little shot to win against tough teams.
Season Recap
Like many of the Pro Flight teams, Doublewide competed at only a few tournaments this year. With only two scheduled competitions — Chesapeake Invite (Pro-Elite Challenge) and the Pro Flight Finale — Doublewide was never able to get a good rhythm to their season.
In early July, they showed up at Chesapeake with an extremely raw team. It showed. Their first game was a disaster, losing 13-8 to PoNY. It was a sloppy game featuring a dropped pull, a number of missed break opportunities, and a few key injuries to Doublewide. They were, however, able to bounce back and get wins over GOAT, Boost FC and Madcow, but another loss to Ring of Fire knocked Doublewide into the consolation bracket. Sunday was a much better day for Austin. After working out a few kinks, they were able to easily take care of Florida United, and then beat GOAT again in the fifth place game. After coming in as the overall one seed, though, the tournament had to be viewed as a disappointment.
For a team like Doublewide, finding a practice schedule where everyone can attend has always been a struggle. They are typically a team that recruits players who live at far-flung points across the South Central region (and, sometimes, around the country). Because of this, Doublewide often hosts "mini-camps," where they spend one full weekend practicing, rather than set up a regular practice schedule. These mini-camps were all Doublewide participated in for a full month and a half. At the end of August, they arrived at the Pro Flight Finale — nobody knew what to expect.
Their performance at E.C.C was…lackluster…at best. In a pool with Sockeye, Johnny Bravo, and Chain Lightning, Doublewide knew they had their work cut out for them. Captain Jerrod Wolfe has spoken all year about his team's inability to start games and tournaments off well — they failed again in Seattle. Doublewide was crushed by both Bravo and Sockeye early Saturday. A bounce-back win versus Chain Lightning set up a quarterfinals matchup against Boston Ironside, a game in which they again were dominated from the start. After losing a rematch against Sockeye in the fifth place bracket, Doublewide were able to salvage a small victory, beating a depleted Bravo team to avoid finishing dead last.
Coming into the South Central Regional tournament, not many people, including myself, thought Doublewide stood much chance against Johnny Bravo. They hadn't proved that they could compete with the elite teams yet. After a shaky Saturday, which featured mistakes and some sloppiness, it was hard to see how Doublewide would match up with Bravo. Sunday, though, was without a doubt the best day of ultimate of the entire season for Doublewide. The final against Johnny Bravo was one of the most intense, exciting games of ultimate so far this club season. Though Doublewide ultimately lost on double game point, they showed, for the first time, a glimpse of their high ceiling. That energy carried over to the backdoor championship, where Doublewide easily defeated Inception to qualify for Nationals.
What Doublewide showed that Sunday is their true potential. It was impressive. That team was so different from the team that got crushed by Sockeye twice at the Pro Flight Finale, which makes predicting their finish at the Club Championships a crapshoot.
Play Style
Doublewide's offensive systems aren't so different than last year, but the personnel running them certainly is.
The team favors a split stack and vertical stack — they often begin their offense with a split stack with three handlers back, and they are usually seeking to isolate Will Driscoll in a one-on-one matchup early in the possession to get things moving. Driscoll, as mentioned above, is as potent an offensive weapon as they come; the defense absolutely must respect his deep ability, which often sets up big, open unders for him to initiate the offense.
Johnny Bravo used a junk set off the pull to slow down any pull plays in the SC Regional final, but Doublewide was patient and then transitioned into their vertical stack as they moved down the field.
The team is eager to attack deep, and with such a tall and athletic lineup, they are often at an advantage on the huck. Anyone on the offense is a deep threat, including handlers like Jeff Loskorn or Trey LaMastres, if they see an opportunity to exploit a weaker defender.
The problem for Doublewide is that last year's handlers — players like Alex Thorne and US World Games team member Mike Natenberg — were more dynamic and all around more dangerous. This year's offense has seen some big up and down swings.
The defense this year is also less star-packed and a lot more raw. There is as much athleticism as ever, but the team has an uphill climb after the turn without rocks like Kurt Gibson managing the possession. Still, players like Dan Emmons and Michael Matthis have been able to generate blocks even against the potent Bravo offense. Chris Brooks has started to come into his own as a D-line handler, and looked poised against Bravo at Regionals.
Doublewide wants you to take shots against them — they are quick to help deep and feel confident in their athleticism. The question is not whether they'll come up with blocks — it's whether they'll be able to convert them. Their looser offensive style can be dangerous — hucks are liable to go up at anytime — but against the top teams they may struggle to keep possession. They can't rely on a single playmaker like they did in years past; they need a full team effort from their defense if they are going to put in breaks.
Likely Ceiling
Quarterfinals exit. With such a young roster and a big inconsistency problem, Doublewide would be a real stretch to reach the semifinals. The team has struggled against elite teams this year (besides Johnny Bravo) and will face an uphill battle starting in prequarters.
Likely Floor
Prequarters exit. With a crossover against a very tough Pool D, Doublewide could draw a bad matchup and find themselves out early. They may have to fight towards the Pro Flight through the backdoor bracket.
Worst Match-Ups
Ironside and Sockeye. Both have defenses that put immense pressure on throwers — less depth on the Doublewide offensive line means mistakes will be more frequent. Both teams also dominated Doublewide at the Pro Flight Finale.
Sockeye's speedy offense is well-suited to counter Doublewide's tall, hoping-you'll-huck defense. And Ironside's offense looked sharper than ever at Regionals.