For Boston Ironside, the narrative has stayed the same: Impressive talent, solid regular season, and questions about whether they can win when it counts. But, as our Club Championship Preview reveals, there's a few new tricks in their 2014 play. Will that make a difference in Frisco?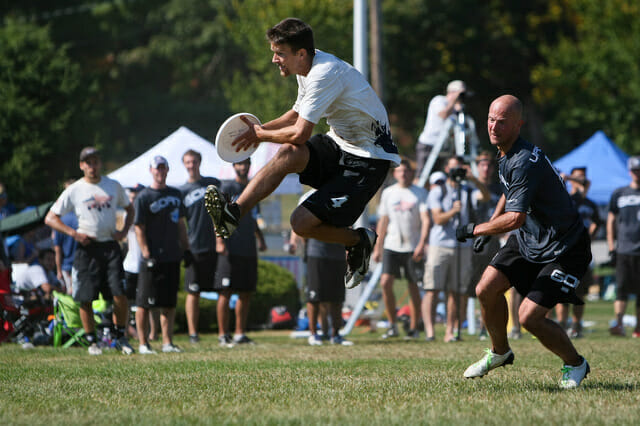 Boston Ironside just can't seem to get over the hump. Since 2008, the perennial contenders have reached at least the semifinals of the club championships every year, but have yet to claim that elusive title. The 2014 Boston club is coming into Nationals with only one goal in their mind: Win.
For Ironside to achieve that goal, they will have to continue their solid play from the regular season. Led by George Stubbs and Danny Clark, Boston has the talent, drive, and ultimate I.Q. needed to make a run at the championship. They have proven that they can beat the top teams at regular season tournaments, but now is the time for this team to put it all together.
Can Ironside finally get past their semifinal and final blues and grasp the title? Or will 2014 see another agonizing defeat on the doorsteps of the championship?
Ironside in a Nutshell:
Overall Indicators: 
Overall #4 seed at Club Championships
2013 Nationals Finish: 3rd
#3 in Ultiworld Power Rankings
#2 in USAU Club Rankings
Positives:
Impressive tournament performances: 3rd place finish at the U.S. Open, Pro Flight Finale runner-ups, Northeast Region Champs.
An impressive 11-5 record on the season, with a 9-5 record against Nationals qualifiers.
George Stubbs, back in his more natural D line role, has been playing great ultimate all season. He can take over a game at any moment and is a big reason that Ironside has been successful.
The late season addition of Mark Sherwood and a healthy Danny Clark bolsters this roster both defensively and offensively. Ironside haven't played a tournament with a full roster yet, which is scary for other teams.
Concerns:
Ironside haven't played a full tournament together. They have struggled with injuries all year. It may come back to hurt them at nationals
Haven't been great in elimination games. Boston seems to have no problems getting to bracket play, but can't seem to get over the hump and win a tournament.
Mental mistakes. What hurts this team the most is the occasional mental mistake, especially in a big moment: a drop, a forced throw, a turf here and there. To beat the best, Boston will have to limit these mistakes.
Though they have consistently been one of the best teams in ultimate, Boston has not won a major tournament in quite some time.
While their D line is more talented — and created more opportunities — conversion rate is still less than championship-level.
Season Recap:
Boston Ironside put together an impressive regular season. Coming off a third place finish in 2013 and with the addition of some talented young players, the Northeast club was looking to pick up where they left off at the U.S. Open in early July.
Boston played well in pool play, earning victories over Furious George, Sub Zero and U.K.'s Clapham Ultimate, but their best win was against Revolver. A tightly contested matchup in windy conditions forced Ironside to be at their best, which they were. Overall, a 5-2 pool play record (losses to Bravo and Sockeye) put Ironside in bracket play, where they again faced Revolver. This time, the San Francisco club were the better team, and Boston left the tournament with the familiar feeling of being knocked out in the semifinals.
Because of their third place finish in last year's Nationals, Ironside qualified for the WUCCs in Italy in August. Like the rest of the American teams, Boston cruised through pool play. Unfortunately for Ironside, thought, they drew a brutal pre-quarters matchup with the Japanese club Buzz Bullets. The game went down to the wire but the American squad fell on ultimate point, 17-16. Now in the consolation bracket, Boston rebounded and easily went on to take ninth place. Besides the tough draw, Worlds was a good tournament for Boston. Heading into the final stretches of the regular season, they had started to `play with confidence.
This confidence carried over into the Pro Flight Finale. There, Ironside again established why they should be considered a favorite in Frisco this October. The Boston club picked up two wins over regional rival GOAT, a win over Chicago Machine, and a win over Doublewide on their way to the finals. Their one loss in pool play came at the hands of Revolver. In the finals, Ironside were set to play a Machine squad who had been playing great all weekend. Again, Boston ran into a team that was hot, and failed to capture the title.
With the regular season in the books, Ironside turned their attention to reclaiming the Northeast Region title from Toronto GOAT. In 2013 GOAT became the first non-Boston team in 20 years to win the region. Finally with a full rosters, Ironside were easily able to take care of business. Because of the straight-bracket format, Boston only had to play four games, each of which they won handily. In a finals rematch, Ironside took down GOAT, 15-11, and captured the Northeast Region title.
It would be hard to predict anything other than a semifinal appearance for Boston. They have been there each of the past six years. The gap is closing between the top teams, which means this year could finally be the year for Ironside.
Playing Style:
Usually, Ironside runs a fairly standard vertical stack – with inactive cutters in the middle of the field, they create two large lanes of space. Although Boston's O line will sometimes initiate a point in another offense (including horizontal, side, or split stacks), they usually default to their classic vertical stack later in the point. Unlike most teams, Ironside often doesn't keep a dump back behind the disc.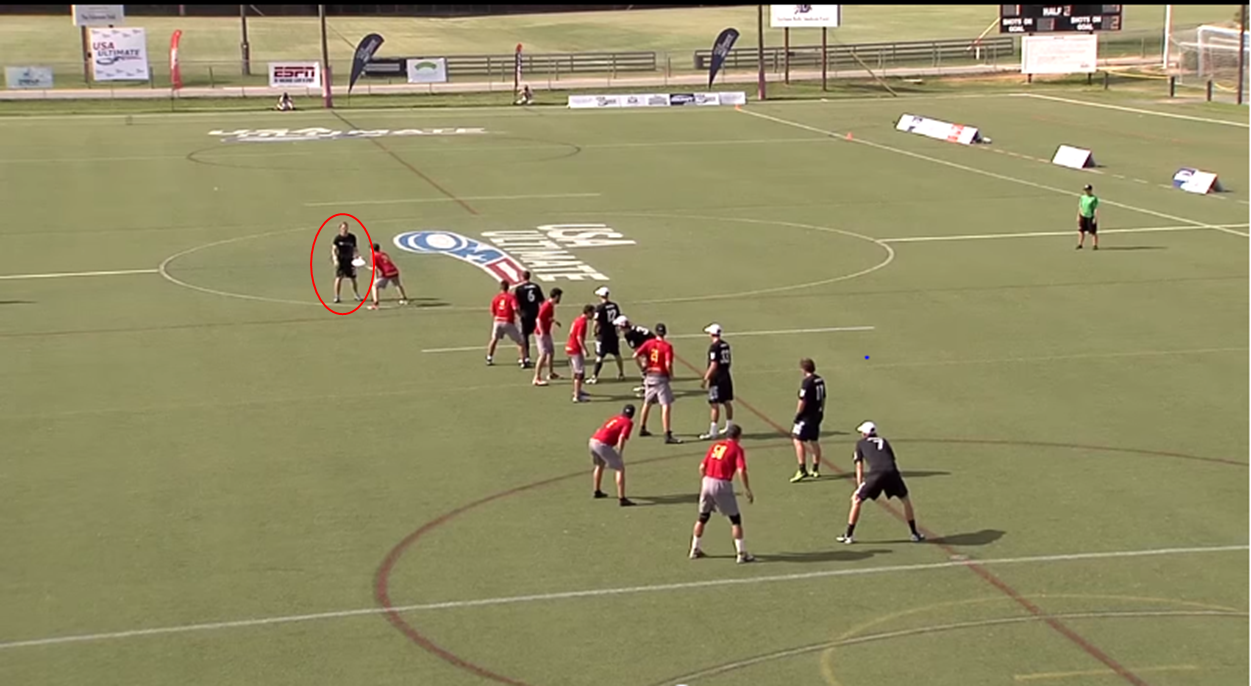 For most teams, a vertical stack can be predictable – the back of the stack makes a cut, followed by the next guy, etc. Although wrinkles are sometimes thrown in, in most cases it really is that simple.
When watching Ironside, however, the order and location from which they cut can sometimes seem random. Upon close inspection, we can see that they cut in a way to abuse mis-positioning and open space. The system requires good field awareness by all of the players on the field. Lou Burruss at Skyd calls Ironside's set the "muddy vertical" stack: you get more completions towards the middle of the field than in a sideline-lane cutting vertical, but you also have more confusion.
In this clip, from the US Open, George Stubbs catches the disc with just two cutters downfield from him. Notice that both cutters are being fronted, the defenders recognizing the relatively short field Stubbs has to work with. Danny Clark, the deepest cutter, recognizes that his defender is positioned to take away the under, so he clears deep. As a result, the other cutter has tons of space to make his next cut.
Another such example is shown in the clip below, taken from Ironside's loss to Machine in the finals of the Pro Flight Finale. In the clip, Russell Wallack is receiving a big cross-field swing. Jack Hatchett, number 27, is in the perfect spot on the field to make a continuation cut. However, his defender knows this, and adjusts his positioning, ensuring that any cut Hatchett makes will be heavily contested. Hatchett, realizing this, decides to push his defender out of the play, keeping the lane open and allowing Quella, whose defender is not prepared for the cut, to take the under instead.
http://www.gfycat.com/CarefreeEarnestBlackfish
Personell-wise, this may be a better balanced Ironside team than we've seen in recent years. The big offseason loss was Peter Prial, who had taken on a primary cutter role on the team and was one of the most feared cutters on the east coast. Alex Kapinos, in particular, has stepped up to fill some of that void, and Blackbird vetran Brian Garcia has also been heavily involved in the Ironside offense — especially for a "rookie."
Bigger than any offseason move, however, may have been the intra-squad lineup swaps. Following a 2013 semifinals loss against Sockeye where Ironside struggled to create turns — and was forced to cross him over anyways — Stubbs has now permenantly moved over to the defensive side. In return, former D line handler Brandon "Muffin" Malecek has moved into a primary O handler role. Malecek, never afraid to shoot, brings both raw throwing talent and unpredictability to the offense side. At least one commentator (in Ultiworld's Charlie Eisenhood) contends that the Stubbs-on-d-move represents a more "natural" fit — for which, of course, the final verdict will only come in after the Club Championships.
Defensively, Ironside has also depended on the big boddy of rookie Jeff Babbit to generate blocks this season. Babbitt's addition — plus Stubbs' move, Hatchett's continued development, and the late-season addition of Mark Sherwood — puts Ironside in a better position against cutter groups who rely on their pure athleticism, such as GOAT's Lloyd/Masek-Kelly combo they took down at Regionals and Sockeye's Rehder/Murray duo they struggled against in the semifinals last year. What's less clear is whether Boston — who tends to rely on a strict man system — can capitalize on those advantages against systematic offenses that rely more on equal distribution (and might avoid throwing high balls in the wrong area).
Likely Ceiling:
2nd place. The knock on Ironside is that no one will think they can win until they finally do it. While that may be a bit unfair, a slight talent gap between Boston and other top seeds means that most of Ironside's elimination games will be tight. And they simply haven't proven that they are an excellent squad in tight, high-pressure games; they'd need to come together in a way we haven't yet seen if they want to take home the crown.
Likely Floor:
Quarterfinals exit. Hard to see this Ironside team dropping to a team in prequarters, especially since they crossover to face a Pool A squad. After that, every team is talented enough to give them a game.
Worst Matchup:
Revolver, who feels comfortable about its athleticism edge against Ironside; it also has the mental edge that comes from habitually beating Ironside when it counts. Simply put, Ironside tends to make more decision and execution mistakes than San Francisco when the two squads square off. Revolver knows not to rely on superhero plays when a game gets tight — and if those two squads faceoff in Frisco, the game is likely to do just that and come down to the wire.