Washington D.C. Scandal currently holds the title, but their campaign to defend it won't be easy. Can they repeat their incredible run? Find out our take.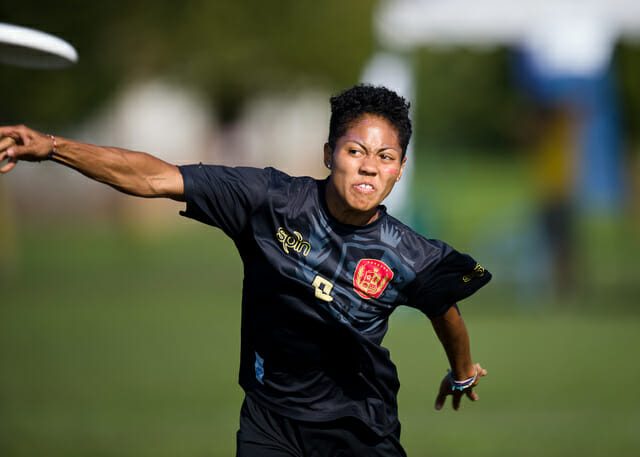 There aren't a whole lot of places to go once you're #1.
Sure, the top spot comes with national and international recognition, medals, a trophy – the whole shebang. But it also comes with a big target, and a tendency to inspire the closest competitors to help you on your way down. Considering the pressures and talent shifts that have occurred in the off season, Washington D.C. Scandal have maintained their reputation, and will arrive in Frisco just a short ways down the totem pole from where they ended 2013. Though they enter the weekend as defending champs, their lower seed smacks of last year's start and may fuel the D.C. women in their search for upsets and repeated glory.
Scandal in a Nutshell
Overall Indicators:
Overall #4 seed at Club Championships
2013 Nationals Finish: 1st place
#3 in Ultiworld Power Rankings
#3 in USAU Club Rankings
Positives:
Big game experience, especially as the "underdog." Scandal's seeding is eerily familiar to their start at nationals last year, and they seem to be recovering well after some gut-check losses early in the season at the US Open and Chesapeake Invite.
No reason to not expect -finally- the power of Scandal's full roster. Results so far have been muddied by injury and absence and some thinner lines.
Outstanding leadership, on the field and off. Sandy Jorgensen is one of the division's elite defenders, with Opi Payne not far behind. Coach Alex Ghesquiere is himself an undeniably valuable asset.
Cutters Ashley Daly and Alicia White have been excellent downfield this season, and Scandal adds handler Anne Mercier for extra firepower.
Concerns:
Scandal may have spent the beginning of their season reinventing the wheel. Beyond being challenged by roster absences, they struggled early to implement a new cutting system. It wasn't broke; was it worth fixing?
Abundance of game footage. Much the same that video may have blown the element of surprise for GOAT last year, there's no shortage of study material when preparing for a game against Scandal.
Key losses. Though they stand at an impressive 32-6 on the season, Scandal are 1-3 against Seattle Riot (including WUCCs), 0-2 against Boston Brute, and 0-1 against Fury.
Have looked, frankly, less hungry than last season, when their passion and energy was one of their best characteristics in their title run
Season Recap
The D.C. women began their season at the U.S. Open, and left many question marks after a 3-4 performance on the weekend. For a team that finished the 2013 in outstanding fashion – the semis and finals last year weren't close – their first big tournament was an underwhelming one. They failed to even make it to the bracket. Still, it was an early season outing, and the team was plagued by the aforementioned absences and a steady, difficult wind blowing through the field complex.
Scandal cleaned themselves up for the Pro-Elite Challenge, and cruised through weaker competition to the final, where they again met Brute Squad. Though they would rally late to notch 9 against Brute, Scandal dug themselves a deep first half hole with a rash of miscues and a few long points in a noticeable wind. They relied heavily throughout the game on throws from Payne, Alika Johnston, and Jenny Fey, the last of whom has shown great patience in the Scandal offense this season and will surely be missed during longer points in Frisco.
The team seemed in need of a break, and a vacation to Lecco, Italy fit the bill. But Scandal went to Italy to work. Their fellow American teams, along with Russia's Cosmic Girls, did put the ladies from the capitol to the test. D.C. beat Showdown twice, but couldn't come up with Ws when tasked with topping Seattle. The 2013 USAU semifinals rematch in the WUCC semifinals was a grinding affair that Riot won 13-11, mostly behind the kind of unforced errors Scandal had struggled with all year and Sarah "Surge" Griffith, who got the better of Payne.
At the Pro Flight Finale notched notable wins over Riot and Traffic, though Seattle would get their revenge on Sunday and knock D.C. from the chance to take the title. By weekend's end, Scandal's roster was a hollow representation of their full capabilities. Other than the 12-11 win over Riot, the rest of their wins at ECC were commanding, solidifying Scandal's place in the top four when USAU crunched results through their algorithm for the end of the regular season.
At Mid-Atlantic Regionals, Philadelphia Green Means Go was the only team to put up more than 5 points on Scandal, though D.C. remained in the driver seat for the entire game. These results show Scandal's sheer dominance in the region, but they also may have left D.C. without a game to fire them up before their trip to Texas. Less than a handful of Scandal's games against lower seeded opponents were decided by three points or less; the reigning champions have struggled against the top seeds that bar the way to another title. That competition will be waiting for them in Texas.
Playing Style
It comes down to one word: defense.
Looking back at last season's tape, especially the title win over San Francisco Fury, the sag and recover style of Scandal's up front defense defined their success. Excellent athleticism and smart positioning combined to frustrate opposing throwers, and when the throw went up, Jorgensen was there to clean up. That system demands trust and chemistry from any team willing to hang deep in throwing lanes, understanding full well how damaging a break throw or change of angle can be.
One of the best uses of Scandal's personnel is zone defense. They often shine in this area of strength, where Jorgensen can patrol a wide – and tempting – swath of deep space by herself, while Payne is able to take the defensive risks that allow her to make huge plays in the short deep space. Tall, athletic, and hardworking defenders, like Lauren Sadler, Allison Maddux, and Amy Wickner, fill out the rest of the defense and consistently deny easy upfield options to the offense. Their defensive group is happy to grind you out.
When the defense generates turns, many of Scandal's title-winning defenders from last year will be there to see the disc through to the end zone. Their offense has been a slightly different story this season, lacking some of the dominating efficiency that they showed in their bracket romp at the club championships last year. Still, they will bring a heavy dose of talent back, and rely on dynamic cutting. Alika Johnston is consistent threat both underneath and upline, and Scandal have both speed and height to stretch deep in Daly, Jorgensen, Sarah Itoh, and Kimberly Beach. Mercier's presence (absent from the entire regular season and World's) will bolster Scandal's throwing, as it did in marquee-fashion last year. 
Their horizontal stack is, like last year's, built around their handler movement. Scandal's backfield quickness and activity is exhausting to watch, as Payne, Johnston, the steady Jessi O'Connor, and the very talented but rarely healthy Sasha Bugler bounce the disc around one another and explode up the line. Motion and speed are the keys to Scandal's offense, and when the disc is moving quickly, it is a Formula-1 model. Cutters rarely keep the disc more than a few seconds if they can help it and throwers take deep shots off of motion and in power positions.
Racecars are fine tuned machines and if anything under the hood is out of alignment, they can stall when under minimal duress. Scandal's offensive miscues stem from spacing and timing issues from downfield. When their offense is struggling, you'll see multiple cutters attacking the same space or cutters clearing just as their handlers look to them. Static hucks are another red flag. Redesigning their cutting systems took a toll on Scandal's early season performance, and their rotating roster will do no favors to the chemistry and timing their offense functions on.
It is worth noting that Scandal's raw hunger to win was often their savior last season. At the Club Championships, Payne showed the propensity to completely dominant the games for spells with superhuman feats. We know what Jorgensen is capable of, and Daly has lightened her load this year. Players like White, Mercier, and Maddux have all shone they can do the same, and Johnston may prove just as dangerous. The team will miss Fey, another contributor with gamebreaking potential. Maybe it is asking them to capture lightning in a bottle again, but it could be a factor when push comes to shove.
Likely Ceiling
Scandal have the tools to return to the final, but the word is out, and they have yet to beat any of the other top three teams in truly convincing fashion this season. A semifinal showing seems very likely.
Likely Floor
Their later results this season do not suggest that the inconsistencies that hurt Scandal at the US Open will return and they've mostly dominated competition outside the elite. Don't expect to see D.C. bow out earlier than quarters.
Worst Matchups
Brute Squad will be a real handful for Scandal should the tournament go to seed. The Boston team has the offensive efficiency to punish each and every Scandal turnover and their handler defenders will challenge Scandal's ability to move the disc quickly. Brute is also one of the few teams with personnel that could matchup well with the D.C. stars, with defenders like Liên Hoffmann and Chelsea Witte-Garcia. Both of their games have been decided by a comfortable four point margin in Boston's faovr.