After seven straight title defense campaigns, Fury's become just another challenger to the throne. Their season has been tougher than most during their run. Find out if they can make it back to the top.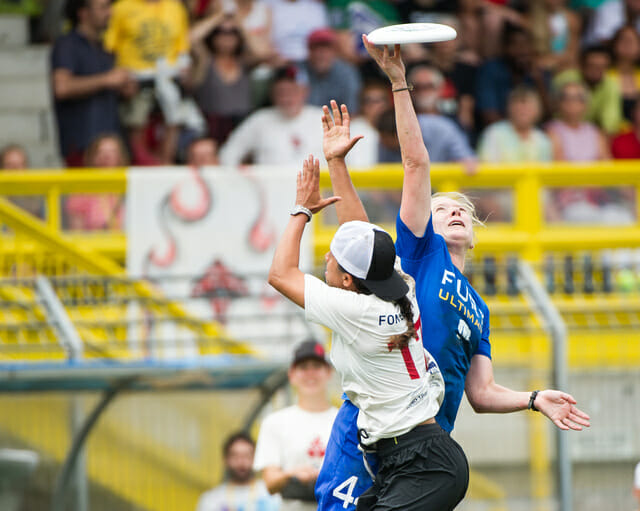 When San Francisco Fury was felled in the Club Championship final last year by DC Scandal, it marked the end of an era. After seven straight titles, Fury had ceded the throne. How they would respond in 2014 – including how they would defend their WUCC title – was one the most intriguing questions coming into the club season.
After a rocky start, Fury has improved and showed better results, but have yet to win a major tournament they've attended. Yet nobody knows how to play their best at nationals better than Fury. This year could be a show of resilience for the program or the continued tumble from Ultimate's precipice.
Fury in a Nutshell
Overall Indicators:
#3 seed at Club Championships
2013 Nationals Finish: 2nd
#4 in Ultiworld Club Rankings
#4 in USAU rankings
2014 WUCC Runner-Up
Positives
Deep and experienced team with a rich history and culture of success on the biggest stages
No "rookies" – all of their new players have either experience with Fury or at the most competitive levels of club Ultimate
22-6 record from the season, including victories against Riot and Scandal
Have been improving in the months following their underwhelming US Open, winning their last 11 games
Loaded with extremely balanced skillsets that allow the team to rotate, flow, and create matchup problems
Concerns
Entering nationals with most losses since 2005, the year before they began their epic 7-year title streak
1-5 record this year against the teams seeded above them, Brute Squad and Riot
Have gone through bouts of ugly offensive play, where poor conversion rates, decision making, and red zone play have left the team on the back foot all game
Some of the team's best players have been struggling with injury
Season Recap
While most people consider Fury's season to have gotten off to a rocky start in Minnesota, their first tournament was actually one of the three they've won this season. Way back in June, the Bay area team began the season with a pretty dominant 7-0 showing at Eugene Solstice, including a substantive win over Riot in the final. That victory dramatically improves their regular season profile.
The US Open was full of firsts for Fury, and not the good kind. They opened the tournament with two consecutive losses to Vancouver Traffic and Boston Brute Squad. A matchup with Scandal loomed, as did the potential for them to go 0-3 on the first day, but the team rose up and took control for a big win. They'd lose twice more – both to rival Riot – on their way to a semifinals showing, a less than inspiring weekend.
Fury was finally able to bounce back at the World Ultimate Club Championships, where they spent the first few days racking up large margin wins. It wasn't until bracket play that San Francisco was given tough games, having to battle through Uno 17-14 and Showdown 17-12. In the final, they faced off with Riot with a close game where Fury could never quite regain their footing, especially after Alex Snyder went down with a non-contact knee injury. Seattle took home the world title, 17-15.
Seattle was a mixed bag for Fury, who was bounced in the Pro Flight Finale quarterfinals by…you guessed it, Riot. It was a close battle where some questionable deep looks might have been the difference. They took another L at the hands of Brute Squad during pool play, but won both of their consolation games, including 15-12 over Traffic.
The Club Series was just as adventurous. In a unique move, Fury chose to play in their Sectionals, despite their Pro Flight exemption. They wanted more reps to get ready and having another nationals team in your section has its benefits. It nearly cost them, as Fury narrowly held off a furious Nightlock comeback, 15-14 in the Sectional final. They rematched Nightlock again at Regionals, defeating them by a point in pool play before putting their foot down and shutting them out a resounding 15-0 in the final.
Play Style
One of the greatest strengths Fury has in their versatile personnel, and their offense uses their roster's skillsets to great effect. The team can be tough to define matchups for because their roles are so fluid and their talents are well rounded. Handler defenders may be exposed downfield or deep defenders get opened up underneath. Even adaptation during the course of a game or point is possible for Fury. Anna Nazarov personifies this characteristic, able to do pretty much anything from anywhere effectively.
This is also due to their high ultimate IQ. The team is helmed by the legendary Matty Tsang, in his final season with Fury, and one of the foremost strategic and player management minds in the game. But beyond that, the squad is loaded with players with elite ultimate experience. There are no rookies on this roster; the newest player is Sabrina Fong, a Team USA U23 member and first year player with Riot last season. This enables their cutters to quickly slot into backfield roles and facilitate rotation and movement.
Fury's also found solutions to some of their early season issues. This team has plenty of aggressive throwers, such as Kaela Jorgenson, Carolyn Finney, and Manisha Daryani, and while they have downfield players who can make plays, they were too inefficient in their first few appearances this year. However, the healthy returns of Cree Howard and Maggie Ruden have given them the big time receivers – joining Claire Desmond, one of the game's rising stars – to haul in their aggressive deep looks.
In addition, they've started using their deep threats for under gainers. Lisa Pitcaithley's size and burst can scare most defenders into backing her, but she's shown herself to be a quality disc-mover underneath, along with Desmond, Howard, Ruden, Gen Laroche, and Liz Duffy. Tactically, this sort of offensive movement synergizes perfectly with their players' versatility.
Defensively, Fury relies on smart positional defense, tapping in their experience, field vision, and coaching to close down lanes and recover on cuts. They don't apply much pressure to throwers, usually choosing to limit upfield options. Lakshmi Narayan and Nazarov shine in these strategies. By forcing disc movement to stay side to side, they lure the offense into their area of strength: adjusting position and helping each other.
This is also means poachy looks and zones are in the Fury wheelhouse. They're not afraid to throw out a 4-2-1 with a cup filled with big bodies that make upfield throws intimidating. The key strategy of giving backfield resets at the expense of yards and power positions can be applied in various forms and San Francisco's intelligence gives them access to most of them.
Likely Ceiling
There's simply too much talent and experience to set the bar any lower than a Championship. With Tsang set to leave the team after this year, Fury might feel the curtain closing on their era of dominance, and want to close with one last hurrah.
Likely Floor
There are just enough threats and Fury's shown just enough inconsistency for a quarterfinals exit to be in play. If the Fury that nearly lost to Nightlock rears its ugly head in Quarters against a team like Traffic, San Francisco will find themselves watching the final matches for the first time in a long time.
Worst Matchup
Riot has had Fury's number pretty much all year. They don't have the answer for Riot's team speed or defensive pressure, and have failed to disrupt the Seattle offensive regularly enough to score any wins since the early season. The tables in this rivalry have turned.