Seattle Sockeye is hungry for a return to the top of the Club Division after last year's second place finish.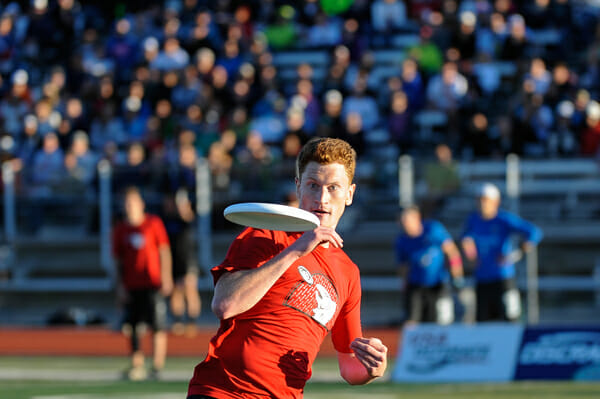 For the 14th time in 15 years, Seattle Sockeye will compete at the Club Championships. And after a runner-up finish in 2013, the Northwest club is on the verge of recapturing some of their championship magic of the mid-2000s.
The perennial powerhouse has not achieved the results expected from them so far this season, though, for those that expected them to be a top challenger. Could this be a sign of growing competitive balance in ultimate? Or is Seattle not as strong a team as the 2013 squad that finished the season just behind Revolver?
For Sockeye, a lackluster regular season doesn't mean much. They have the ability to beat the best teams at any moment. On the biggest stage, they proved they were arguably the second best team in the world. If captain and star Danny Karlinsky plays well at Nationals, this Sockeye team certainly can make another run to the finals.
Sockeye in a Nutshell
Overall Indicators: 
Overall #3 seed at Club Championships
2013 Nationals Finish: 2nd
#4 in Ultiworld Power Rankings
#3 in USAU Club Rankings
Positives:
Won the Northwest Region championship convincingly over Rhino.
Took second place at the World Club Championships
Have lost three games to Revolver by a combined four points
This is a big game team. When it matters most, Sockeye can play some great ultimate. The easily "get up" for games against tough competition and have the ability to make a great run through a tournament.
Sockeye features a creative style of play that can confuse teams who can't adjust quickly. It's hard to prepare for a team like Seattle.
Danny Karlinsky is healthy and coming off a great season. His leadership can take this team far; Sockeye's other stars, Matt Rehder and B.J. Sefton, have also come up big in important games.
Concerns:
This team is streaky. Yes, they can be the best team in the country, but they can also fall flat. (See losses to Sub Zero and Furious George).
Went 7-7 against Nationals qualifiers, though they did beat Johnny Bravo and Doublewide twice.
Failed to make it past quarters in both the U.S. Open and Pro Flight Finale
Have added some defensive height, but lingering concern about that unit's ability to generate honest man turns.
Probably the least athletic of the contenders.
Season Recap
Like Johnny Bravo, Revolver and Ironside, Sockeye had four tournaments on their schedule leading to nationals: U.S. Open, Worlds, Pro Flight Finale and Northwest Regionals. Two of those tournaments did not go as planned.
First, in Minnesota this past July, Sockeye failed to make it to the bracket portion of the tournament after a 4-3 performance in pool play. Losses to Furious George and Revolver set the Seattle club back early, but in true Sockeye fashion, they played two excellent games against Bravo and Ironside to give themselves a chance to move on. Ultimately, Sockeye controlled their own destiny. Their last pool play game against Sub Zero was essentially a play-in game to the final four. Sockeye fell apart. They failed to handle the windy conditions, often taking ill-advised deep shots, and it cost them. Sub Zero took the game 15-8 and Sockeye's weekend came to an abrupt halt.
A month later in Italy, though, a different team showed up. Sockeye blew through every team the faced at Worlds with ease, led by the play of Karlinsky. Seattle outscored their first eight opponents by 51 points, including a 17-4 trouncing over Australia's Colony in the semifinals. They seemed destined to take home the gold. But, unfortunately for Sockeye, their old regional rival was waiting for them in the final. The back and forth match against Revolver again showed that Seattle has the potential to take down the best. The game only featured three breaks, one for Sockeye and Revolver in the first half, and the eventual game-winning break for Revolver out of half.
Seattle came into the Pro Flight Finale looking to build on their strong Worlds performance. Again, though, Sockeye was bounced from the tournament early. Two strong wins over Johnny Bravo and Doublewide put Sockeye on top in Pool B and set up a quarterfinal match against GOAT, a match in which they lost on double game point, 12-11. Though they finished the weekend with a 3-3 record, Sockeye was able to showcase some of their versatility, especially on the defensive side. These poach and zone looks confused many teams, and generated a number of turns for Seattle.
Sockeye started their postseason run at the Northwest Regional Championships. They came in as the #2 seed behind Portland Rhino (due to Rhino's higher USAU ranking). It was made clear, though, that Seattle is the best team in the region. No team put up double digits against Sockeye, who capped off their weekend with a 15-9 victory over Portland to take the title.
Sockeye's form in the major tournaments this year creates some hesitation when predicting how they will fare in Frisco. If the team who dominated the WUCC shows up, there might be only one team who can stop them (Revolver).
Playing Style
Sockeye is known across the world for their fun, fast and unique offensive style that keeps even the most athletic teams off-balance. In terms of raw throwing abilities, Sockeye has roster wide talent that is unmatched, even at the Club Championship level.  They look to break the mark first and often, and also love throwing over the top (Rehder, in particular, may prefer the hammer to the backhand).
Overall, as seen in the clip below, the focus in the Sockeye offense is timing rather than raw athleticism.
The offensive unit in particular is willing to throw a hundred passes, and appears to enjoy throwing and moving — Sockeye really does enjoy the journey as much as the endzone destination.
The combination effect of all these principles is a Sockeye offense that can look both lazy and deadly at the same time. And that might be a fair knock — can this Sockeye squad really grind out a win in the trenches? — but their big double game point win against Ironside in the semifinals last year mitigates that criticism.  It turns out being smarter, more deliberate, and more skilled than your opposition makes things look easy.
The criticism, along with the quibble that this team isn't quite athletic enough, probably does a disservice to this exact iteration of Sockeye. Especially amongst the offensive unit, there is great athleticism and a variety of talent in the cutter core. Rehder with his NexGen pedigree and big game performances gets most of the attention — and he does give Sockeye a big play outlet. But Phil Murray is also scary deep, and an excellent compliment. BJ Sefton may be the glue that holds it all together, willing to run forever, do the dirty work, and be a pressure release when the team needs it most. Want proof? Check out the winning play against Johnny Bravo — not an 11 foot sky so much as a gritty, tough, and creative catch:
Rehder is going to score his points over the course of Nationals weekend, but a team that is able to slow down the other Sockeye downfield options might crack their armor.
Even with the loss of Chris Kosednar to Revolver, there is an embarrassment of riches in the backfield. Karlinsky is playing great, and also has Nate Castine and Aly Lenon as support. For the offensive unit, the disc skills are so high that it seems like plug and play: talented handlers can come in and fit, even as rookies.
The majority of questions these days are asked about the Sockeye defense and whether they, either because of the talent or system, can really generate the blocks needed to win a championship. Pressure defense, especially when done well, can work for a lot longer than one might think, but eventually, a champion will take the disc from their opponents.
Even with some tall roster additions, Sockeye's defensive unit is smaller than the other top contenders. The stereotype of this team as a zone-only team that throws new surprise looks at teams each match is overdone, but they will certainly need to rely on creative tactics and help defense to matchup.
Expect to see Rehder doubling up as the tournament goes on, and for star Reid Koss to take a majority of the athletic matchups. Koss has one of the more interesting roles at the Championships. He pulls, takes the other team's marquee athlete, and then serves as a handler on the turn. His handling style is distinct from the other, more small-ball Sockeye throwers; Koss has the green light to put it.
Likely Ceiling
National Championship. Sockeye's main pieces — Rehder, Murray, Karlinsky, Sefton, Koss — are all quick and aggressive. When they get rolling, it can be difficult to even understand how to stop the attack. But a lot of those guys play better when they have confidence and swagger. Look for this team to play well in the stadium games if they can get there.
Likely Floor
Quarterfinals exit. Sockeye has played some very poor games this season, suggesting that they are more variable than the other top seeds. The middle-of-the-pack teams at Nationals might think Sockeye is the one contender they can match up with athletically; that alone isn't usually enough to overcome Sockeye's other talents, but it does plant a seed of hope.
Worst Matchup
Revolver. They're 0-3 against San Francisco over the year, and there's the lingering sting of last year's loss in the finals. You would think that Sockeye's talent and style — at times, seemingly opposite from Revolver — would make them the perfect foil. But the matchup problems up and down the line have made it extremely difficult for Seattle to get the disc from them in big games.