A look at Pool A: Revolver, Doublewide, PoNY, and Prairie Fire.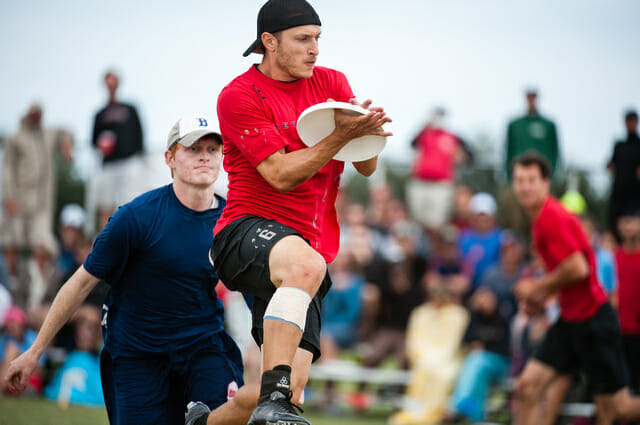 Pool A is often overlooked. With the snake-seed format putting the eighth seed as the second best team in the pool, it doesn't offer up as many "sexy" match-ups as some of the other pools do. It's easy to look at Pool A and just write it off as going chalk.
That may not be the case this year.
With Austin Doublewide falling to the eight seed, spectators who follow Pool A will be treated to a high profile matchup featuring two of the best teams in the country. The addition of an unpredictable PoNY and newcomers Prairie Fire looking to knock off a giant should provide the top pool with some exciting ultimate.
Here is a deeper look at the teams who will be competing in Pool A.
Revolver (#1) Looks To Repeat
Since 2010, no team in men's club ultimate has been as dominant as Revolver. With championships in three of the last four years, it's hard to not look at the San Francisco club as the favorite to win every time they play. The 2014 Revolver team comes in as the overall top seed and are looking to repeat as champions.
Their regular season was business as usual. Revolver won three tournaments — the U.S. Open, Worlds and the Southwest Regional — with their only setback being at the Pro Flight Finale, where they were bounced in the quarterfinals for the second straight year. But, as has often been mentioned, you have to take that result with a grain of salt: they had hardly practiced since Worlds.
They have the best player in the world, Beau Kittredge, and back him up with the deepest and most experienced roster in ultimate. They have very few weaknesses on either side of the disc.
Revolver has consistently been the best team against the toughest competition. They have nine wins against Nationals qualifiers, though they have yet to compete against any of the other teams in Pool A.
San Francisco is clearly the best team in this pool, but is by no means untouchable.
Athletic teams who like to huck provide Revolver with some trouble. Take a look at their four losses this season: Johnny Bravo, Ironside, GOAT, and Chain Lightning. Each of these teams used the deep game to knock off the champs. Doublewide is more athletic than all of those teams.
Still, it will take something special for Revolver to be upset in pool play. If the top seed is on their game, they are extremely tough to beat.
Can Doublewide (#8) Play a Complete Tournament?
Those who attended the South Central Regional tournament caught a glimpse of Doublewide's potential. An exciting double game point loss to Johnny Bravo in the final showed that Doublewide is still an elite team. Now, they just have to play that way on a consistent basis.
In each tournament that Doublewide has competed in this year, they have showed moments of excellence. In thethosesame tournaments, though, the Austin club also left fans scratching their heads.
Coming into the Club Championships, Doublewide will look to build on their strong Sunday performance at Regionals and silence the critics.
If there is any team whose athleticism can cause problems for Revolver, it's Doublewide. Austin has a bevy of six-footers who have great speed and leaping ability, highlighted by Will Driscoll.
Driscoll is one of the most dominant cutters in the game today. His size, speed and throwing ability make him one of the toughest matchups in the country.
Doublewide should feel they are able to compete for the top spot in Pool A. But they could just as easily struggle mightily; we've seen both sides from Austin this year.
But it's now or never for the Austin club. If they continue their up and down play, they may face an early exit. But if the stars align and the rookies don't get caught up in the moment, they could really challenge Revolver and, perhaps, make a deep run in the tournament.
PoNY (#12) Has Something To Prove
Not much has been said about PoNY this year. Coming into the 2014 season as the top elite level club, New York had an average regular season. They picked up quality wins over two of their Pool A competitors — Doublewide and Prairie Fire — and added wins over Nationals qualifiers Ring of Fire and GOAT.
PoNY has met their expectations for the season, but has yet to exceed them. They qualified for Nationals for the second straight year, after taking care of Garuda in the game to go in the Northeast Regional. But they missed some opportunities to come in as a higher seed after losing two close games to GOAT.
The New York club will have to limit their mistakes if they want to compete against the two powers in Pool A.
PoNY may have a tough time containing the athletes on both Doublewide and Revolver. Their win over Austin at the Chesapeake Invite, while a morale booster, does not mean much now — It was the first game of the season for both teams. Since then, New York hasn't played a Pro Flight team, which could hurt them this weekend.
Offensive line deep threat Robbie Gillies should be back in the mix for PoNY, which will add significant depth to the offense. Billy Katz has been one of the biggest impact rookies of the season in the Division, now serving as a starting O line handler along side Chriz Mazur and Ben Van Heuvelen.
Still, it will be a tough road in Frisco for PoNY. If they can't break seed in their pool, they will most likely face Ironside or Johnny Bravo in the quarterfinals, which could mean an early exit. Their game against Doublewide looms large.
New Territory For Prairie Fire (#13)
For the fist time in the club's history, Kansas City Prairie Fire will compete at the Nationals Championships. After three straight years of being eliminated in regional competition by Madison Club, Prairie Fire finally got over the hump and nabbed the North Central's second bid. The young team is hungry and looking to continue their rise through the ultimate ranks come this weekend in Frisco.
Prairie Fire will be facing competition the likes they have not seen this year though. As the second select team from the North Central, they did not compete in any TCT events this season. Now they get the best.
For Kansas City to compete in Pool A, they will have to rely heavily on their playmakers. Former Doublewide player Valley Renshaw and USA U-23 star Jay Froude will need to make big plays all weekend.
Prairie Fire's strength is their team chemistry. They have played the most games, by far, of any team at the Club Championships this season. Their six returning offensive starters move the disc well and know how to cut with each other.
A lack of experience could be the downfall of this team. After facing Doublewide and Revolver in pool play, Prairie Fire will most likely get Johnny Bravo or Ironside in the pre-quarters. It will be tough for them to match the athleticism and depth of those Pro Flight teams.
Anything past a pre-quarters exit would be a huge success for this team who has finally made it to the national stage.
Three Games to Watch
Revolver v. Doublewide – Thur. 3:45 p.m.
This is the obvious big matchup from Pool A. The amount of talent in this game is absurd. Look for Doublewide to use it's superior athleticism to try to beat Revolver with the deep game.
Doublewide v. Prairie Fire – Thur. 9:00 a.m
Doublewide will be looking to set the tone for their tournament. They have struggled early in tournaments this season. Prairie Fire's first championships match in their club's history. Valley Renshaw facing his former team.
PoNY v. Prairie Fire – Thur. 3:45 p.m.
If Prairie Fire wants to legitimize themselves on the national stage, this could be their game — PoNY is a perennial contender for a spot at Nationals and finished 9th last season. Also, the loser of this game most likely gets the top finisher from Pool D.