Here's what happened in the 3:45 PM round at Nationals.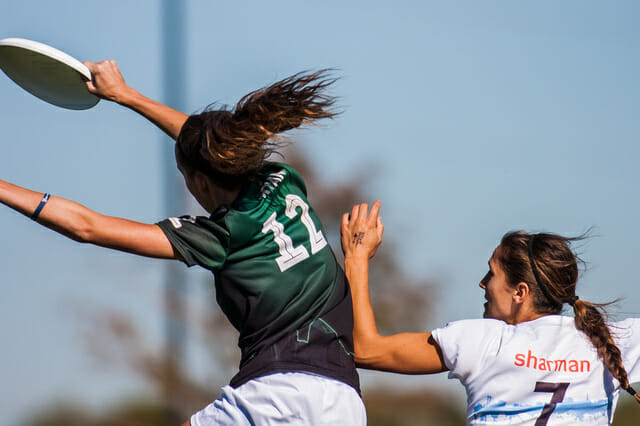 Here's a look at the fourth round action from the 2014 USA Ultimate National Championships.
Scoreboard
Men's
Revolver 13-12 Doublewide
PoNY 12-10 Prairie Fire
Ironside 9-12 Johnny Bravo
Chain Lightning 14-9 Furious George
Women's
Riot 14-4 Nightlock
Heist 15-14 Green Means Go
Fury 11-8 Traffic
Showdown 12-11 Underground
Mixed
Polar Bears 12-13 American BBQ
Bucket 9-14 Seattle Mixed
Drag'N Thrust 13-9 Santa Maria
Slow White 15-9 D'Oh Abides
CLX 15-10 Cosa Nostra
7 Figures 9-11 AMP
Blackbird 14-12 Administrators
Mischief 9-12 Wild Card
Men's Division
POOL A
San Francisco Revolver (#1) v. Austin Doublewide (#8)
The marquee matchup of Pool A lived up to the hype. San Francisco Revolver took down Austin Doublewide 13-12 on double game point.
For a majority of the game, Revolver looked the better team. They were sharper on offense and more intense on defense, in tough conditions. The wind had been picking up steam all afternoon, and there was a consistent 15 MPH wind present in the last round. Still, both teams were able to work the disc and scored multiple goals upwind.
The second half was a different story. Both teams struggled to move the disc past half field when going against the wind. Eventually, though, Doublewide got over the hump on a beautiful hammer to the endzone from Andrew Amerson. Austin was able to convert the downwind break the next point and tie it at 10.
The next four points were an absolute battle. Both teams made great plays defensively, but couldn't convert any upwind breaks. It came down to double-game point, with Revolver going downwind.
True to their style, San Francisco patiently worked the disc down the field, and put in the score for the win.
Joel Schlachet was an absolute force for Revolver with two goals and four assists in the game.
Doublewide played their best game of the day. It was the only game in which they had any defensive energy. With a tough prequarters matchup tomorrow morning against Boston Ironside (a team that defeated them last year at Nationals), Austin needs to fix a number of things if they want to make a run.
New York PoNY (#12) v. Kansas City Prairie Fire (#13)
PoNY closed out their first win of the weekend, 12-10, against Prairie Fire, but couldn't win by enough to avoid finishing at the bottom of the pool. PoNY, Prairie Fire, and Doublewide all finished 1-2, but Austin's +1 point differential edged out Kansas City's 0 and New York's -1.
The entire game was marred by increasing wind and a whole lot of turnovers. Both teams moved in and out of the lead, often breaking upwind, before allowing an upwind hold by the opponent's offense, and then getting broken on the following point.
Prairie Fire took half 8-7 but PoNY got a pair of breaks that would prove to be enough to hold on for the win.
PoNY will face Johnny Bravo tomorrow in the prequarters; Prairie Fire will face Chain Lightning.
POOL D
Boston Ironside (#4) v. Denver Johnny Bravo (#5)
It's tough to call what happened here an upset. As the sun started to set on the FC Dallas Complex, Denver Johnny Bravo ran away with the top spot in the pool, grinding through a windy game with Boston Ironside to win 12-9.
Boston may not have expected to end up in the two spot for Pool D, but they also may not have expected to find themselves down 4-2. The defining point in this game occurred early on, with Ironside pulling down 3-2 to Bravo. A strong wind running right down the field pushed throws high and turned tight resets into turnovers for both teams. Marking Jimmy Mickle — as he would for much of the game — Boston captain George Stubbs fought tirelessly to find a tying break for his squad. Yet, after a staggering ten turnovers and a Kurt Gibson injury, Brodie Smith would find Jackson Kloor to go ahead 4-2 and never look back.
Bravo closed the door on the half up 8-4, and the Ironside team that returned to the field came out gritty on defense, fighting hard to earn back their points. Josh "Cricket" Markette was key for Ironside on offense, distributing well in the wind and working tirelessly to reset. As Ironside pulled closer, eventually closing the gap to within one at 10-9, the game devolved into a mess of picks, travels, fouls, and injuries — each team more and more flustered at the choppy pace.
In the end, it was Bravo who seemed to hold on to their composure. Nick Lance and Kurt Gibson both contributed very impressive and loose up wind hucks that bladed into space, where Stubbs and company could not quite connect. Boston's no-dump vert stack set often crumbled under pressure of wind and Bravo defense, and they were troubled when trying to reset.
Fates, however, are not set for either team. Johnny Bravo will ride their top seed from the pool into a prequarters matchup against a 1-2 PonY, a size matchup that favors the Denver team. Ironside will take the field in their prequarters against a dangerous Austin Doublewide, who narrowly missed a win against overall one-seed San Francisco Revolver in a last round double-game point matchup.
Atlanta Chain Lightning (#9) v. Vancouver Furious George (#16)
In the last Men's Division round of the day, Chain Lightning avoided ending up in the pool's basement with a 14-9 win over Furious George. Although they got the win, it definitely wasn't a smooth win for Atlanta. The defensive offense had multiple opportunities for breaks, many of which they failed to convert.
With a stiff wind, Furious George averaged a turnover per possession, giving Chain what would seem like more than enough opportunities. However, the "huck it" offense that Chain is known for didn't work in the wind. Luckily for them, Atlanta's offense was only broken once (the first point of the game), lifting some pressure off of the defense.
Vancouver tried to slow down the Chain O through a 2-3-2 zone, but failed to accommodate for the of Jared Inselmann and Tyler Conger. The nail in the coffin for Furious George, was the immense contribution Atlanta had from their younger players. Elliot Erickson (UGA), Brian Moore (Alabama), and Austin Taylor (Alabama) all caught at least one score, on top of Elliot's two layout D's. For Chain to be successful tomorrow, these types of contributions will have to continue.
Furious will play Revolver tomorrow morning, and Chain Lightning will play Prairie Fire.
Women's Division
POOL B
Seattle Riot (#2) vs. San Francisco Nightlock (#7)
Seattle Riot continued their destructive run through Pool B taking on a tired Nightlock on the showcase turf field in Round 4. Nightlock was coming off a tight and intense capped against Heist, and the swirling winds that had engulfed the FC Dallas Soccer Complex made points longer and harder. Riot, with their fresher legs and deeper roster, faced little offensive pressure from Nightlock. San Francisco could never find a rhythm on O and Riot rolled to a 14-4 victory, securing them Pool B.
Madison Heist (#3) vs. Philadelphia Green Means Go (#14)
Heist went into the round with important goals, needing to hold their second spot in the pool earned by their win over Nightlock. Green Means Go, who had beaten a shorthanded Heist during the regular season, was hoping to score their first ever win at the Club Championships. In a windy and turnover-filled affair, the Madison women held off a great second half comeback from Philly and pull out a 15-14 win in what was probably the round's most exciting match.
The early lead went to Heist. Georgia Bosscher's bombs were the straw that stirred Madison's drink, while Philadelphia tried to scrap their way to success. While GMG was able to haul in a lot of floaters, they weren't able to contain Madison's offense, who scored some quick huck points and took half 8-5.
The second half started with a three point run from Green Means Go to tie it at 9s and reenergize the first time nationals attendee. While Heist was able to respond with their own pair of goals, but Philly would not be dissuaded, racking up three in a row to take their first lead of the game, 12-11.
Green Means Go held on to their lead to game point, at 14-13. Liza Minor was a crucial part of the Heist offense, and continued her contributions with a score to tie it up at 14. Robyn Wiseman notched a second score in a row on the ensuing point to a horizontal Emily Langland for the game winning score.
POOL C
San Francisco Fury (#3) vs. Vancouver Traffic (#6)
San Francisco Fury and Vancouver Traffic both came into the game undefeated and in position to win their pool. But Fury withstood the wind more effectively and Traffic had just too little in the tank to finish the game. Long points with numerous turnovers marked the game, but most of the game was in Fury's control, and they won 11-8.
Austin Showdown (#10) vs. Seattle Underground (#15)
Both Showdown and Underground entered the final round of women's play seeking their first win of the weekend. Showdown came oh so close the round prior before getting broken on double game point to lose to Traffic. They found themselves in another double game point situation in round four, but this time, they emerged the victor, 12-11.
The game seemed firmly in Showdown's hand at the first half went on. Their 6-2 lead looked pretty comfortable. But their lead wasn't safe against Seattle. 6-2 became 7-5, then went back to 10-7, and then it was 11-10, then 11-11. The comeback fell short, but Underground has to feel more confident heading into the bracket, while Showdown has to be relieved to have escaped without having their seed yanked from under them.
Mixed Division
San Francisco Polar Bears (#1) v. San Francisco American BBQ (#13)
It was supposed to be a lock.
The one seed up 12-8 in a game to 13 against a regional rival they've convincingly bested all year. For the last few years.
San Francisco's American BBQ didn't care.
In the windiest round of the day, ABBQ pulled off one of the craziest comebacks in mixed Nationals history against one of the most consistently dominant programs in the country.
Despite starting a little slow, San Francisco Polar Bears eventually found their groove and opened up a big lead out of the second half. Their offense was flowing and their defense was forcing turnovers.
Then something happened.
On the precipice of closing it out, the normally resilient and disciplined PBR started questioning themselves. Open cutters looked off, questionable looks put up, and targets just missed added up to a golden opportunity for ABBQ to jump back in the game, a particularly dangerous occurrence for an underdog.
"We came in with a happy-to-be-here attitude," ABBQ captain Kevin Manss said. "We didn't care about the outcome and it really paid off."
Such a mentality could be seen in their loose play, where ABBQ took a lot of chances and managed to connect.
The momentum slowly began to shift, and all of a sudden ABBQ were pulling upwind on double game point with all the energy.
PBR had their chances, including a blade to the endzone that Kevin Cocks couldn't reel in, but couldn't convert. ABBQ worked it up patiently and managed to find Sarah Carnahan — who has been a beast all day — for the shock upset.
That leaves all teams in pool A at 1-1, meaning the final round will decide who takes what seed.
San Francisco Mischief (#5) v. Boston Wild Card (#9)
Looking to complete their return to excellence, Boston Wild Card came out strong against San Francisco Mischief, managing to secure some late breaks and take the game 12-9. The win secured the top spot for Wild Card in the pool of death and removed just about all doubt created by their up-and-down regular season.
Strong gusts made the match a distinctly upwind-downwind battle, making all opportunities near the upwind endzone crucial, regardless of whether they were on an O or D point.
Mischief used their strong hucking game, often with tireless cutter Sean Ham as the target, to put themselves in prime positions going upwind. Unfortunately, they were only able to capitalize on a few of them, missing a particularly important one at 9-9 that would have gave them the break and the downwind advantage.
Wild Card remained focused, however, and stayed committed to their vert stack and handler movement. Captain Ian Engler in particular helped direct his team through the swirling winds and keep the squad within their system.
A key handblock on a huck attempt by Kevin "Dollar" Smith at 10-9 gave Boston great field position and the chance for an easy break. They managed to convert that break, and consequently convert the ensuing downwind possession to secure the game and the pool.
Though their expectations coming into the day were somewhat murky, Wild Card reassured everyone that they are a legitimate title contender.
Engler said his team had full confidence coming into the weekend, spurred by their recent intense practices and tight knit bonds on and off the field.
He said Wild Card's mentality of "Zero-Zero," where they imagine every point as a new game, has aided their success.
"There's no point in looking back or looking forward," Engler said. "It's just that point."
Though Boston still has to play Oregon's The Administrators in the final round, Wild Card have already secured the top spot based on head-to-head. Mischief, on the other hand, will battle San Francisco Blackbird this round for the second seed, in a rematch of the thrilling Southwest Regionals final.