Machine was the class of Pool D, but Sub Zero has reason to believe.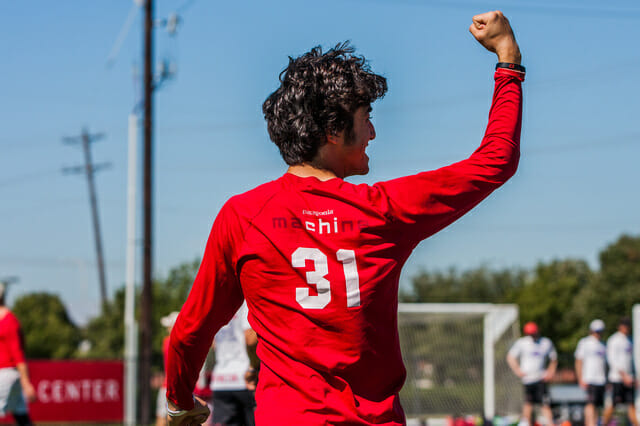 In a day of close games and shifting seeds, Chicago Machine took care of business and went home early.
Playing the first three rounds of the day, Chicago quietly took care of their pool, going 3-0, continuing their hot streak, and putting themselves in an excellent position heading into the bracket play.
Those who believed this team would be the GOAT of 2014 were proven wrong; Machine rolled off three straight: 15-14 against Sub Zero, 15-11 against Truck Stop, and 14-13 against Rhino after they had already secured the top spot and were playing loose lines.
While other teams had to struggle with long, sloppy points in the later rounds in the wind and the hot sun, Machine was gone from the tournament complex, resting, refueling, and looking ahead to Friday.
But the questions remain, just how good is this team? How far can they go? Can the fire stay lit to go the distance?
They certainly have a favorable road ahead of them. Machine will play Ring of Fire and then, provided they advance, will play the winner of Chain Lightning and Prairie Fire.
The reality is this: Machine is set up perfectly to make semi-finals and they have both the talent and the intelligence to do it. It has been some years since Chicago has looked this confident and comfortable at Nationals. This group as a whole is filled with veterans, been playing together since May, and has been running a deep playbook extremely well.
Teams that thought they had Machine extensively scouted and were ready for their plays found out about that depth the hard way.
Frequently, players from the sideline were yelling out predicted plays on defensive points. "Watch the zipper!" could be heard several times a game. But Machine was ready, and was running alternative counters off of their staples.
Chicago still ran the sweep in the horizontal often, but they would vary the side and the cutter they'd run it from. Machine still ran the split-and-send, but often directed the target to an under instead of a deep. Indeed, it was Chicago's slow and steady offense which really shined today as they lived up to their namesake and marched up the field on most o-points with efficiency. The underrated Taylor Kraemer has been playing like a monster all tournament, getting unders seemingly at will, and A.J. Nelson is always a threat to score.
The wind didn't prove a factor either. Machine team leaders were confident in their throws up and down the roster, and decision-making was precise. Bob Liu really only asserted his presence when other teams threw zone.
"I think the biggest thing for us is that we are mentally strong to fight through whatever conditions there are," said Machine's Craig Poeppelman, "and play our ultimate no matter what the weather is."
The Sub Zero game, early in the day was perhaps best representative of their calm confidence. Chicago was down 7-8 with Sub Zero receiving out of the break, but didn't panic. The second half was tight, but saw Machine stick almost entirely to its normal lines and trust in those groups.
"Tough game, we really grinded," said Poeppelman.
And they came through. The defensive line got two breaks and the offensive line held the entire way to force universe point. Machine would receive; it was the exact same o-line that they used to start the game and they walked it down, unflustered, to punch it in.
Jitters were minimal. Upsets were avoided. And Machine, after all their hard work, has given themselves a great chance.
They'll face Ring next, and although the Carolina team has had a disappointing tournament thus far, they're a dangerous matchup, as they'll try to derail Machine's calm and force them into long huck-and-d points. Machine has an axe to grind as well.
"We're looking forward to playing them," said Poeppleman. "We've lost to Ring a few times in the last five years at Nationals; it'll be great to get another shot at them. It's a prequarters matchup and they're a really talented group, so we've got to come out firing right away and definitely do our homework."
"When it comes down to it we trust our sets. We are just going to run what we have, we don't need to do anything special in those big games. And I think our top players can go against the top of other teams and win those matchups."
*
Sub Zero — tights and mustaches in full glory and ironic fun — also looked good on the day.
The top line from Minneapolis — Eric Johnson, Nick Stuart, Grant Lindsley, and Simon Montague especially — wasn't hindered in the slightest. Those four had their way with everyone, including Machine. No one has been able to slow that foursome down or limit them in any real way. Lindsley and Montague move the disc at will, swinging and breaking to create a great amount of flow, while Johnson and Stuart dominate downfield in isolation.
When any of those four are on the field, Sub Zero hums, but when they are all absent, the team struggles. Sub's D line, especially, seemed hampered by this. They could often force turnovers, staying tight to their man and putting on pressure, but on the offensive side, they struggled and failed to convert many chances.
Sub couldn't handle upwind points particularly well, often floating passes or making costly drops. Expect the offensive players to go both ways more often as they move forward.
"[Our top offensive players] play about three [defensive] points a game," said Tom Murray after the Truck Stop game. "That number will go up tomorrow."
Minneapolis has a tough prequarter matchup against GOAT; it'll be a close game and hybrid lines will likely be needed to generate breaks, especially if the conditions are windy. But Sub has the ability to prevail.
"We still haven't reached our full potential," said Charlie Reznikoff in regards to the team finally being complete in the post-season. "We get better every game."
*
Truck Stop played well on the day and their results are disappointing when compared to the effort. They came out hot to take down Rhino 15-10, and then continued to hang tough with Machine throughout the second round, eventually losing 11-15. The game against Sub Zero to end the pool would be another close one that they couldn't capture, losing 12-14.
Unfortunately, these outcomes, while solid, don't really prove anything for the team for D.C. or elevate their status at all. Going into the season, they had a reputation of playing well against strong teams, but being unable to win the big games. They can put a solid win on the board against a mid-level team, they can prove they are worthy of the top twenty, but can't break into the top ten.
Truck's style is also arguably the most vulnerable in the windy conditions, which hurt them. The team has an excellent huck game, and if that game is limited by the gusts, they struggle and make mistakes.
Truck Stop has drawn Temper in the prequarter matchup, a team that has some momentum going into day two, but also should be a good matchup for this squad. The Thorne brothers and Degirolamo run an offense built on Pitt chemistry, with quick throws and trust hucks, and of course Truck dominated Temper in the final of Mid-Atlantic Regionals.
Truck has the height and in-the-air game to match, but Temper may have better throws in the wind, especially to the break side, from their top guys.
*
Rhino looked young, fast, and they showed their play-making ability throughout, but mistakes across the board cost them and they struggled in matchups on defense leading to an 0-3 result.
The lack of experience and a consistent cohesive strategy hurt the group. When facing players and teams with a great deal more club Nationals experience, it seemed they made more mistakes, gave other teams more chances, and couldn't capitalize when they had their own opportunities.
Rhino will get another matchup from the Northwest in Sockeye; the team from Seattle cruised to a regional championship over Portland, and Rhino can't be thrilled to face this group again in prequarters.