Portland finally beat Seattle in a big game.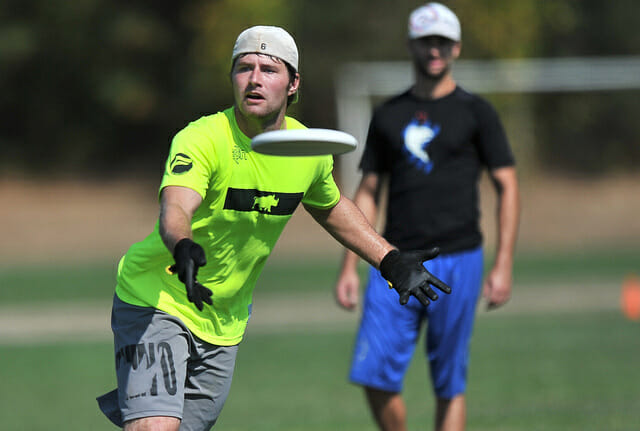 FRISCO — 2-19. That was Portland Rhino's record over the last 10 years against Seattle Sockeye coming into their prequarter matchup on Friday morning at the National Championships.
Make it 3-19.
Rhino, a team that went 0-3 in pool play yesterday, landed the biggest upset of the tournament, stunning Sockeye 14-13 on double game point to end Seattle's title hopes far earlier than anyone expected.
It was a gritty and inspired performance from Portland, who, despite giving up crucial breaks at two points in the game — including once late in the second half, never stopped believing they could win.
"We feel like they've looked over us for a while," said Rhino captain Jacob Janin. "And we've sort of bought into that and played like we deserve to be looked over. But after going 0-3 yesterday we felt like we had nothing to lose. And we brought it. We finally brought it."
No team ever led by more than one point. The game started oddly casual, with Sockeye looking somewhat more vulnerable, coughing up the disc on their first three offensive possessions. But when Rhino couldn't convert on any of those, it seemed like they might not get another chance.
It turned out to be Sockeye's missed opportunities, though, that decided the game. Seattle had a red zone possession with a chance to break to go up 4-2. They threw it away, and Rhino tied the game at three.
"We got a couple Ds early that we really needed to put in," said Sockeye coach Roger Crafts. "But we moved a little too fast and they got the disc back."
Both offenses started to lock in; the game's first break didn't come until 6-6. Eli Friedman just got a hand on a lazy throw into the endzone to tip it away, and a hanging Rhino huck to Kellyn van Ardsdale bounced off of the pile. Van Ardsdale had an easy second chance catch to put Rhino up 7-6.
After an offensive hold, Sockeye, for the first time in the game, put out a truly top end defensive line. They promptly got a break with suffocating man defense to take half.
Rhino retook the lead when Sockeye made an unforced error at 10-10. Ben Lohre found some room deep for the score.
It seemed like Rhino's luck had run out when their former teammate Riley Meinershagen got a huge, instinctive block on a low huck and later got free in the endzone for the bookends score to make it 12-11.
Once again, though, Rhino stayed composed. A poor Danny Karlinsky huck went too deep and Rhino had the disc with 70 yards to go. They ran mostly a handler weave, bouncing it back and forth between their resets. There were three foul calls on the possession; two went uncontested. All three looked like fouls (there were no observers on the game).
Finally, Chris Strub found a soft spot in the Sockeye defense in the corner of the endzone and caught the go-ahead score.
Rhino nearly turned it over on double game point, when a Dylan Freechild upline throw was tipped. But he had cut up the line looking for the give-and-go and ran right into the path of his own tipped throw. "I was just there because I like running around," he said.
He caught it, swung it, and moments later the game was over. "We slayed the lion," said Janin.
Sockeye will look back on the first half with regret. They subbed a little too loose and did not come out with energy and focus. By the time they started to dial in, Rhino had already built up their confidence. Perhaps Sockeye overlooked Rhino a bit, with the legacy of dominance they've had against the team.
For so long, Rhino has been in the shadow of its northern neighbor. Not today.
"It feels great beating them and a city that many people view as a destination ultimate town," said Janin. "We have a lot of good friends on that team. We have people who have left Rhino in the past to go play and to go win in Seattle. And it feels really good to show that you can win in Portland too."