Truck Stop picked up where they left off at Regionals.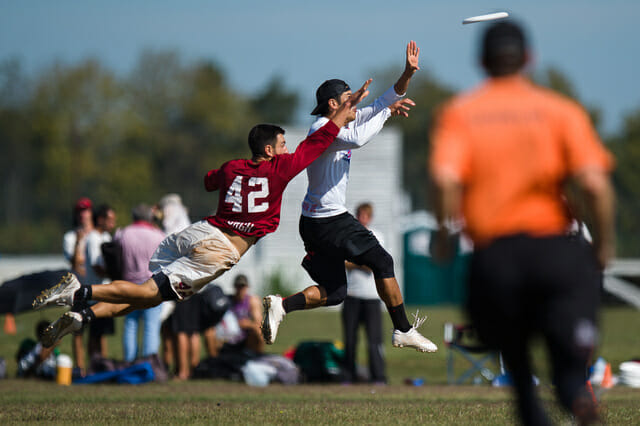 FRISCO — The sunny backdrop of Frisco has changed nothing in the Mid Atlantic. Only a day earlier, four seed Temper had ransacked Pool C, lifting two wins from eventual quarterfinalists Ring of Fire and GOAT. They were the hottest team at the tournament and, with few eyes on them through the regular season, had an element of surprise. The one team in the bracket who would have no trouble adjusting to Temper's fast paced movement was DC's Truck Stop, who reminded Pittsburgh why they were Mid Atlantic champs 15-12 in prequarters.
Temper led only once this game when they pulled down wind and broke. After that it was all Truck Stop. A glimpse at the scoring chart says it all. From 0-1, DC goes up 4-2. Broke again for 5-2. Then took half as Jeff Wodatch brought down a two-handed jam in the downwind end zone with a man on his back. 8-4 Truck Stop.
"Offensively we knew that we could probably over power them," Truck Stop head coach Will Smolinski said post game. "They're running such thin lines that, as long as we kept out O line fresh they were going to do it."
Subbing for Temper was tight. Their stars played a lot. Conversely, DC had more of a "next man up approach." It's one thing to say you trust all your guys with the disc but quite another to put it in practice. Smolinski's group distributed the disc. Truck Stop had 11 different players with at least one assist.
DC really controlled the up line cuts on both sides of the disc; open on O, stopping them on D. When the up line space or dump resets weren't there, Truck Stop had guys open coming back to fill. A few times Temper defenders gave too much cushion and paid for it with hammers, including two early overheads for breaks to Delrico Johnson.
Pittsburgh's D line made a concerted effort to get Truck out of their pull plays by running transition but DC's offense was able to calmly smoke it out and move the disc until they got a man look. Once they got there Truck was right at home.
In the second half Temper started testing the face cut with success. They kept big bodies and great throwers around the disc like Marcus Ranii-Dropcho, Tyler Degirolamo, as well as Alex and Max Thorne around the disc. Truck seemed happy to let them do it and bottled up the downfield cutters.
At 9-6, Temper scored up line in the upwind end zone. They pulled downwind to Truck and ran down in a hard man defense. Markham Shofner ripped an inside out backhand that Trent Dillon shadow blocked. Temper promptly hucked it away. Nick Kaczmarek skied on a stall nine huck to the end zone. Pittsburgh's D line moved it to about mid field but turned the disc to a poacher after some hard clogging while trapped on the side line. Truck scored to make it 10-6.
That's when the feel of the game changed. Turnovers were hard to come by. Temper got two chances to get their first break since 1-0 and they couldn't capitalize. So instead of 9-7, the scorekeeper hangs that double digit on them for 10-6.
Temper would eventually break to make close the gap 11-9 but it was too little too late. Truck Stop defenders keep playing feisty defense and finish the game 15-12.
"We knew coming in that they were a dangerous team," said Truck Stop head coach Will Smolinski of his team's pre quarters opponent. "We knew that people were underestimating them and they were very capable of having the day they had yesterday. We knew that before yesterday. Our prep today was more about going back to what worked at Regionals."
The biggest sign of respect in Ultimate isn't a spirit circle or a high five. It's preparation. Truck definitely did their homework.
The season isn't over for Temper, who will look to take one the the tournament's two Pro Flight bids. If they can manage that, they'll set the floor very high for themselves and their program next year.
"Before, with Oakland, it was a lot of lackluster practices. Not a lot of focus. Not a lot of big goals," Temper co-captain Tyler Degirolamo reflected. "This year we started the change. We're not all the way there… but two big wins in pool play I think at least validated what we're working towards in Pittsburgh."
Truck's not going anywhere. Neither is Temper. The average age of DC's roster is 27.2 years old. Pittsburgh's is 23.8. The next few years in the Mid Atlantic should be fun to watch.