With few upsets so far, the expected top teams met in the quarterfinals, with a group of Goliaths fending off a gang of would-be Davids.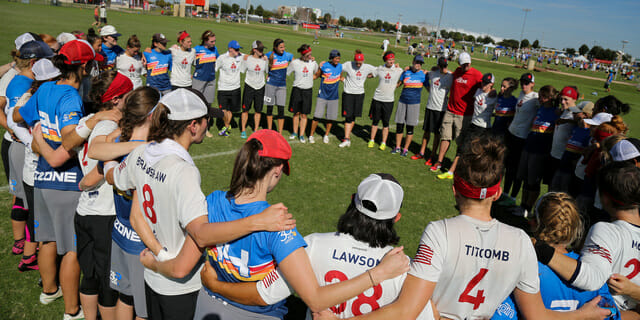 Eight of the top nine women's seeds matched up in quarterfinals in a slate of favorites versus underdogs. Both Thursday and the prequarters produced a combined single upset, but there was plenty of close calls and narrow escapes. In many cases, the margin of error has been pretty small.
In the quarterfinals, the margin shrank to the size of the razor's edge for Boston Brute Squad and Washington D.C. Scandal. Even San Francisco Fury was pressured by their opponent. Only Seattle Riot found a comfortable victory, and even though the favorites prevailed, their journeys were fraught were peril.
Boston Brute Squad 16-14 Texas Showdown
Brute Squad had been one of the tournament's most dominant teams. Across from them, Showdown had struggled to find stride, playing a lot of points in close games. Sure, Showdown had beaten Boston way back at the US Open (12-11), but neither squad's roster was flush then. This meeting was supposed to be different. Showdown's playmaking put the #1 seed in an intimidating hold, and only a late run powered by tooth and nail defense kept Brute Squad from suffering the tournament's biggest upset. They pulled out a barn burner, 16-14, to advance to semifinals.
The early edge was Showdown's. They snagged a 2-0 lead with the game's first break and while Kami Groom scored a break for Brute to get them back on serve, it was clear Boston wasn't prepared for the effort the Texans brought to the table. Throughout the game, Showdown came up with desperation plays: high stall grabs, diving catches, skies for punts. Sarah Levinn got up over Brute Squad to tie it and 7-7 and Sharon Tsao got a red zone D to set up a Texas break into halftime.
"They made a ton of ridiculous plays and came down with discs I didn't think they would," said Boston captain Emily Baecher. "That made us feel like we were starting slow."
Texas put Brute Squad against the wall by continuing their run into the second half. They scored the first two points out of half to push the deficit to three, including a Bex Forth bail out grab for a goal. Brute got a break back to make it 11-10. The pressure became magnified as the sidelines began to draw a crowd with other games wrapping up. Brute's defense began to get more aggressive and Showdown cracked when they dropped a pull at 13-12. Claudia Tajima deposited an IO break to Groom to tie the game back up. Texas nearly dropped the next pull, bobbling in before centering the disc and turning upfield, only to get D'd by a hustling Leila Tunnell. She helped generate the score to finally put Brute back up, 15-14.
The last possession was even more expressive of the late game tenor. Showdown went into their typical dish-heavy defense among the handlers, but the marks began clamping down as they neared the sideline and no upfield options could find any separation from their defenders. Forth went to punt the disc – a very successful endeavor up to this point – only to get handblocked by Tajima, her third of the game during her excellent performance.
"You can't have three point blocks and not have an amazing game. Her Ds were a gamechanger," said Baecher.
Brute Squad patiently worked the red zone and dropped in a third straight goal to finish off Showdown. The loss was a painful late game meltdown by Showdown, enabled by the vicious defense and energetic sideline of Brute Squad.
Washington D.C. Scandal 15-12 Vancouver Traffic
The story for Vancouver has revolved around their inconsistency. This game was no different, only this time, they had a catalyst for their change in play: the fiery defensive play of Scandal. After taking half on Scandal behind some strong Ultimate on both sides of the disc, Traffic couldn't handle on when D.C. dialed up the pressure. Once Scandal put the squeeze on, Vancouver couldn't keep pace, and Scandal advanced to the semifinals once again, 15-12. The title defense continues.
Right off the bat, the field seemed tilted Traffic's way. While Scandal scored on the game's first possession, it was on a disc that the defense got a piece of and the receiving just barely managed to get it. Meanwhile, Traffic's first possession was a centering throw followed by an incredible around backhand break huck from Tasia Balding that hit her target in stride.
A fired up D-line applied pressure for the Canadians, forcing silly miscues from Scandal and resulting in a break to go up 2-1. More Traffic pressure almost netted a Callahan for Michelle Ning and did earn them another break to go up 4-2. The defense struck again to make it 6-3, when they clamped down to force a punt after Terri Whitehead and Alicia White challenged each other with an impressive double layout that White came up with. At this point, Coach Alex Ghesquiere pulled Opi Payne and Sandy Jorgensen to offense, to great effect. But Traffic didn't back down Scandal's errors mounted; a huck to Rachel Moens was pulled down to make it 8-5 at half.
The same two teams did not come out of halftime. Scandal came out with the sort of passion and grind that power last year's Championship and Traffic came out scared. D.C. broke out of half, and their sideline's volume was turned all the way up. Jorgensen began dominating her matchup with the much smaller Whitehead, racking up Ds and catching jump balls over pretty much all comers. She skied over Whitehead to make it 8-7. An easy short field break followed after Traffic came out in a split stack that left them looking frazzled; the handlers threw two terrible turns that indicated that were not on the same page with their cutters.
The teams traded to 9-9 when Opi Payne and the defense really made their statement. They held Traffic on their goal line with no good options, and a rushed reset throw was eaten up by the Scandal star for a Callahan. The tension was high as Traffic suddenly found themselves trailing. Their handlers didn't field the loopy pull that came to them next point, nearly threw a second Callahan, had a drop, and gave up another break.
Scandal's 6-1 run essentially closed the door on Traffic. Jorgensen was a riddle Traffic never found the answer to. Payne, Crystal Davis, and Allison Maddux led a suffocating defense. The physicality and dictation that characterized Traffic's first half defense – Laura Mason was exceptional in the game's opening points – faded away. With it went Traffic's chances at the championship.
"If you look at this year's script and last year's script, it's the exact same script," said Ghesquiere yesterday after Scandal's comeback victory against Molly Brown. The same is true now: Scandal's defense is finding stride, centered around high energy and fierce determination.
"It needs to be about a team that finds a real gritty center early in the tournament, and then uses that for the rest of the games," Ghesquiere added. Scandal has those wins under their belt now. Another title could be next.
San Francisco Fury 15-11 Denver Molly Brown
Taking hold of the game early and never relinquishing control, San Francisco Fury outmatched Denver Molly Brown in quarters, winning 15-11 and securing their spot in the semis against Seattle Riot.
Coming into the contest, one certainly could have expected a tight match, considering the potential Molly Brown displayed all year, including their near upset of Washington D.C. Scandal in pool play Thursday. But Fury would hear nothing of it, outplaying their opponent on almost every level and coming up with the big plays when they needed it most. Denver remained close early on, establishing a strong hucking game and getting good movement from their cutters.
At 4-5, however, with the game on serve and Molly Brown pulling, Fury flipped a switch. They would go on a 4-0 run to take half up four breaks on the back of their flustering poach defense and well-timed cutting. Molly Brown would never lead again.
Fury captain Ness Fajardo said that initial cushion allowed her team to relax and play with less pressure. "All we had to think about was: 'Let's just score this, and we're back on D,'" Fajardo said.
That defense proved to be their defining advantage. In relatively little wind and with both squads loaded with talent, defensive pressure played a much more pivotal role, compared to the later rounds of Thursday where conversion and offensive discipline may have taken the higher priority. While both teams experimented with a number of different looks, it was Fury's poachy junk sets and help D that found the most success in generating turnovers. Some of San Francisco's looks sought to stay tight downfield and have the handler defenders sag in the lane, making it tricky to complete passes through the middle. Other looks placed defenders in the middle of the field with their backs to the disc, focusing on guarding cutters that came into the space and relying on communication from the deeps.
Perhaps the most effective strategy came in the form of what appeared to be simple man coverage, but actually entailed downfield defenders working to stay aware of where the disc was and who was getting open, which enabled them to poach off and intercept any throws that floated too long to opponents cutting away from the disc. A good percentage of Molly Brown's nine turnovers in the first half came as a result of throwers failing to recognize the watchful eyes of defenders guarding inactive players downfield. Consequently, Fury nabbed a number of run-through help Ds.
Molly Brown captain Carolyn Matthews said that part of the reason Fury's zone and poach defensive sets were so effective was because Denver's handlers didn't react ideally to their sagging defenders. "We stayed back, and we could've attacked more," Matthews said. "We needed to attack that middle layer and be more aggressive."
She also said that due in part to their 2014 schedule—where Molly Brown didn't play as many elite programs as Pro Flight teams like Fury did—they didn't get to practice against many complex defensive looks during the regular season. Matthews said this made it particularly difficult when they matched up against squads like Fury and Washington D.C. Scandal at this tournament.
Fajardo said her team pride themselves on their varied assortment of defensive sets and always like to experiment and change it up depending on the context. She attributed much of the credit to San Francisco's quarters win to that sophisticated pressure. "We did a good job of shutting down their first options and forcing them to hit the next look," Fajardo said. This was apparent throughout the game.
Despite Molly Brown's good spacing and exceptional movement downfield, their throwers weren't always able to hit the open cutters due to heads-up defenders and smart poaches. Prime targets like Tina Snodgrass, Paige Applegate, and Sally Lambert were somewhat neutralized and not able to make quite the impact they had against less skilled teams. Similarly, handlers Claire Chastain and Jana Krutsinger were much less dominant and often struggled to focus their squad's offensive attack.
Fury, on the other hand, appear to be gelling better as a team with each game they play. Many points looked like the epitome of how to move the disc effectively and how continuation cuts should be timed. Big plays made at crucial moments were also essential. Claire Desmond came down with a number of stellar grabs, scoring three goals and throwing for an assist as well. Kaela Jorgenson also had a great game and made some athletic plays, tallying two goals and three assists.
Sure, Fury had their mistakes just like everybody else, particularly on the few multiple-turnover hell points scattered about the contest. But they never slipped up for very long. Every time Molly Brown seemed poised to go on a big run, Fury would answer in emphatic fashion. When Denver broke out of half to make it 8-6, San Francisco held and returned the favor to make it 10-6. When Molly Brown responded with a surging 3-0 run to close the gap to 10-9, Fury took it in stride and stole the momentum back with their own 3-0 run to reinstate their four-point lead at 13-9. The teams would then trade to a 15-11 final, dropping Molly Brown into the Pro Flight bracket.
Fury, meanwhile, will rest and regroup in preparation for their semis match against Riot on Saturday at 3:30 p.m. CST, in the latest incarnation of one of ultimate's most storied rivalries. Though Seattle have already bested them at Worlds and are as yet largely unchallenged this weekend, one would be hard-pressed to expect anything but another thrilling grudge match. If Fury continue to hone their game at the rate they have been all weekend they just might be well on their way to reclaiming their familiar seat at the top.
Seattle Riot 15-9 Atlanta Ozone
Like the other quarterfinalists, Seattle Riot and Atlanta Ozone put quite a fight up against each other. At least, that was the case for the first half. A feisty Ozone team showed a penchant for playing up this weekend, playing their best against their strongest opponents. But once Riot made some adjustments and wore down Atlanta and blew open the game. Riot closed by claiming 9 of the final 12 points to win decisively, 15-9.
Riot's versatility and depth played a big role in defeating Ozone.
"We threw a lot of different looks at them, which just made it hard for their offense to find a pace," said Riot captain Rohre Titcomb.
Both teams were launching deep balls, a strategy that Ozone used heavily in the prequarters. Katherine Wooten's cannon forehand continued to be a dangerous weapon, and the Atlanta cutters have the speed to get into that space. The score was tight at 6-6, but once Riot limited Wooten's deep shots, they found more success.
"Forcing Wooten backhand makes a big difference," explained Titcomb with a smile.
Riot's top players also made their mark on the game. Hana Kawai had 3 assists to go with a D, and Sarah Griffith had a pair of goals, a pair of assists and a block. The Seattle squad was deadly and efficient: the defense converted on five of six opportunities and the entire team tallied only five turns in the win.