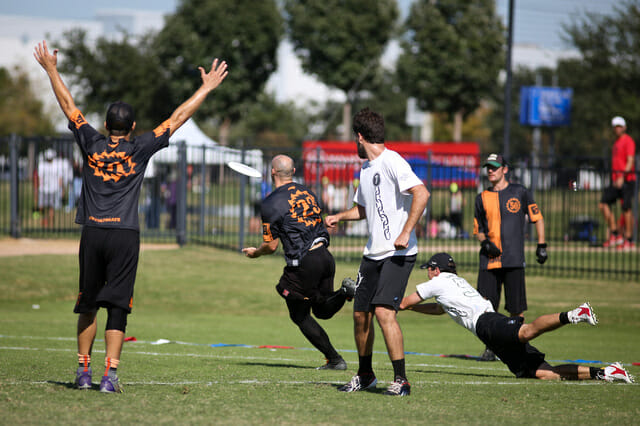 This is the 25th year of Ring of Fire's existence.
Overlooked. Ignored. Dismissed. The team from Raleigh hasn't been picked by anyone to be a real contender. They come from a part of the country that hasn't traditionally been known for its ultimate. They lack big names and big headlines. And yet, on the twenty-fourth time they've competed at Nationals, and for the second time in three years, the squad is headed to semifinals and the illustrious resume of Ring of Fire's history only grows.
"Teams aren't game-planning for Ring," said Taylor Pope after the team's quarterfinal victory over Chain Lightning. "They don't have the same respect for us as others. And that's fine with us. We are a team of faceless warriors."
"A team without stars," elaborated Josh Mullen. "We emphasize playing for the team, not playing for yourself. And we believe in each other."
It may sound cliché, but Ring does believe. While others continue to doubt this group, they keep winning and keep coming through.
Coach Mike DeNardis talked about the adversities this team has faced throughout the season and the tournament. "Now they're buying in," he explained. "The kinks and questions that were being asked earlier in the tournament are gone. It's 'We believe in what is being preached and taught'…The confidence is growing…and they believe that we will win."
"There is incredible buy-in for us and our program. We have a great historical organization with an incredible group of alumni at our backs," explained Pope. "This is our 25th year; we had a get-together with the alumni and listening to the stories from those guys, guys who are on Medicare right now…" he laughed.
"We have three O line players who are younger than the program," adds Mullen. "It's just incredible. I wake up every day with a text from one of our alumni."
What's really impressive is that this has all been done in North Carolina — an area that is growing in ultimate success and talent, but takes pride in the fact that it is mostly homegrown.
Both leaders talked about the team-first mentality. Ring of Fire doesn't have ultimate stars that want to come to North Carolina and pick-up with the team, and in many ways they don't want to be a team that brings in top players together for one season.
"We're home-grown and small-market," said Pope. "We have to cultivate our own guys. We have several players from Cash Crop on the roster this year who have been huge for us."
Every D that's made, every big play, whether from newcomer Hunter Taylor or veteran Micah Hood, is credited to the team first.
And so far, when it matters, it has worked. The games haven't been pretty, but Ring has gritted out the big wins.
Friday was a big day for Raleigh. They started off as a massive underdog against Machine, but through grit and gut, continued to deny Chicago a victory. And then they received a chance to play a Southeast Region rival in Chain Lightning.
"It's great," DeNardis said. "To beat a top team like Machine and then Chain who has owned us in the past…I think they've won something like the last nine of eleven meetings…to get these signature wins for our season, it means a lot."
And now the team is in semifinals.
"We try not to take it for granted," Pope explained. "It's easy to get wrapped up in the hype of the tournament. We do a lot of things to keep us present and in the moment."
The team has veterans like Pope, who has been on the squad for twelve seasons, but also features a core of young players. Mike DeNardis is in only his first year of coaching Ring and they've been doing a lot to grow the ultimate around them.
"We've gotten a coach; we've merged the two Carolina teams to create a developmental team," said Pope.
Cash Crop is now part of Ring of Fire's system. Ben Dieter – a ten year veteran that finally made Nationals this year – Shane Sisco, Matt Bode, Joey Cretella, Terrence Mitchell, and Bryan Clarke were the best of the team that were pulled on to Ring of Fire, and now the rest of the squad is acting as a second-team for Raleigh.
The youth scene of the Triangle area has only grown as well. Tri-force, the YCC U-19 team, coached by Ring player Nethercutt, was the National Champions this year, while the B-team of the Triangle took 6th. Besides the obvious coaching connection to UNC-Darkside, Ring has also been running youth clinics and making closer connections to the colleges in the Southeast.
"The future is bright," said Josh Mullen.
It could be even brighter if Ring takes the chance given them and makes the most of it in the present.
Tomorrow they'll face Ironside in a semifinal; expectations will have them losing, but, if anything, that adversity will only help the team, as it has today. This squad responds better when they're challenged.
"It's a North Carolina tradition, right?" DeNardis said, laughing, in response to the idea that Ring thrives off of the adversity. "You say we can't do it and we're gonna show you we can, and we're gonna do it ugly. That's no different this tournament. We started 1-2 and now we have two humongous wins."
Is Ring satisfied? Have they done enough to prove to themselves that the system is working and the future is bright?
The answer, is, of course, no.
"In 25 years we've never won a championship," said Pope with a grin.
It would mean a lot to that program to do it, but the odds will be stacked against them again. Ring has never beaten Ironside. The entire country would be surprised to see Ring of Fire in the finals, but that would be just one more surprise on the weekend.
The team is all in now, regardless.
"We've bought into the friendships and each other," said Pope.
"It's an honor to play with these guys," added Mullen.
If Ring of Fire can keep up their confidence and their energy, if they can make Boston play their game — as ugly as it is at times — they have a chance. It promises to be a fun one to watch.