Ironside blew an 11-6 lead, but managed a thrilling double game point win over Ring.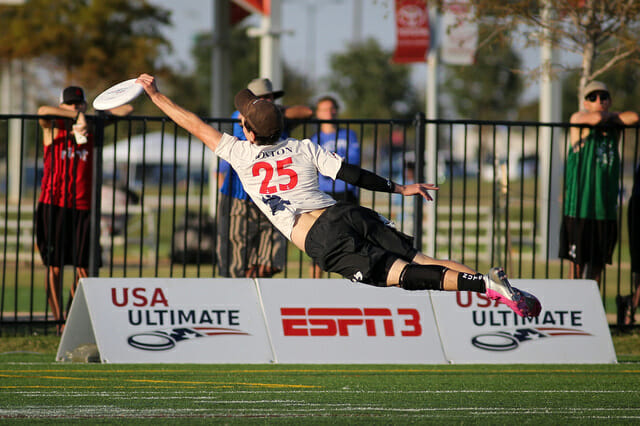 In what to this point has to be considered the wildest game of the tournament, Boston Ironside edged Ring of Fire in a double game point battle that lasted two and half hours. Here's how it happened.
Chapter 1: IronStubbs
When Noah Saul let his first pull rip, you saw Ring of Fire coach Mike Denardis' strategy go to work. Saul threw a rolling pull that pinned Ironside on the sideline pushing against the wind. Ring of Fire would set up a 3-2-2 zone "junk" look, with a transition to man around half field. They would quickly discover that they had more opportunities with the man defense, but not before Ironside struck and gained the 1-0 lead.
Ring's offense initially looked like they could be just as efficient, scoring on a huck from Micah Hood in their first possession. But after an Ironside hold (2-1), a poor throw from Jon Nethercutt gave the Ironside defensive line a break chance.
For most of this year, George Stubbs has been going to work for Ironside on the defense. His presence after the turn was crucial for their first break. Stubbs unleashed a big flick huck to his brother John, who dove for the catch and one of the biggest plays of the game.
Ironside was loud. Their sideline bull rushed the 20 year old. But suddenly you realized that Ironside was playing Ring's game. Throughout the first half Ironside looked completely satisfied with making this game all about emotional swings, which is classic Ring. They were so confident that they could ride it all the way home that they let the momentum push them emotionally and physically.
And for the first half it worked. The Raleigh offense couldn't connect. A few drops from Christian Johnson and bad throws from Jon Nethercutt set up Ironside break opportunities. Those opportunities were consistently seized by George Stubbs.
Stubbs assisted on all four of Ironside's first half breaks. He took control of the game. Defensively, he did about a good a job as anyone can do on Ken Porter, limiting his touches for the Ring of Fire offense.
In the midst of the George Stubbs show, a turning point for Ring happened. Down 4-3, Justin Allen got a layout D on an under cut, giving Ring of Fire their first chance at a break. Allen made an up-line cut, but couldn't toe the line in bounds for a score. But moments later, he gets another incredible layout D. With handlers on the field, this would have been an almost certain break for Ring. But without Josh Mullen or Dan Kantor to control the flow, the D-Line offense couldn't convert. Ironside would even spot them one more chance on an ill advised huck, but still the defensive offense of Ring of Fire could not convert despite the best efforts of Allen. Ironside took the 5-3 lead.
In the 6-4 offensive possession for Ironside, they started to feel the defensive pressure from Ring. But great players make great plays when it counts, and Josh Markette won't let even elite level marks stop him. An inside out scoober to Danny Clark was at the time just one more nail in a coffin of total domination. Clark caught the scoober, ran towards the crowd, and waved his arms in the air. Again, they played Ring's emotional game, and they were beating them at it.
Ironside takes half 8-4.
Chapter Two: Don't Look Ahead
So there's your story. Ring of Fire's inability to convert, and George Stubbs' ability to control the game and make big plays. Ironside had the ability to make us think the game was done, but we discounted Ring's "prove them wrong attitude." They must have sensed it.
There's no doubt that the second half of this game is one of the chippiest in recent memory, marred by frequent and lengthy stoppages. Some might say that that was the Ring of Fire plan all along. Regardless, the game turned into a slugfest of layouts and downfield fouls.
The defense gets tighter, the fouls start coming, and yet Ring still finds themselves trading offensive possessions. Until down 10-6, when Christian Johnson drops an upline from Jon Nethercutt and George Stubbs rips a backhand to Jeff Babbitt. Babbitt calls Time Out, and a smooth looking Ironside offense punches it in.
A five point lead with less than ten minutes until soft cap — it's got to be over. Not so quick.
The Ring offense comes out and gets a hold. Ken Porter gets his first goal of the game, then Ring of Fire gets a quick defensive line on and comes down in their junk zone. With some pressure from Josh Mullen, Ironside's Danny Clark throws it away. Mullen quickly picks it up, and moves it to Saul, who throws a break. Ring of Fire is still alive.
A poach block by Ring on the next possession forces an Ironside turnover.
Chapter 3: Insanity Ensues
"I told them to trust the system," DeNardis said at halftime. "Believe in what we're working to do. And we'll ride it."
Taylor Pope gets the disc in midfield and lets a big backhand rip out of his hand. Dan Kantor1 flies to the disc, streaking down the sideline, and reaches to toe the line on the mile high floater. Kantor missed by three inches, but was forced out by the Ironside defender. Kantor dishes to Saul, who leads Justin Allen just enough for him to make an incredible layout grab. Ring down just 11-9 now. Their sideline is energized after Allen's grab. They're not just "still kicking," but they've managed to rise up off the mat and throw some punches.
Soft cap hits. And you realize that even with the relentless fight of Ring of Fire, the clock continues to tick. The game is now to 13.
In most normal Ultimate games, the possession at 11-9 would have been the longest point of the game. Both teams turned the disc three times, and couldn't find a way to put the disc in. Until a floater goes up for Justin Allen, who makes yet another game changing play, skying Brian Garcia.
The Ring sideline erupts in boos, their rallying cry during the weekend. They want this. They want people thinking that the only way they'll win is to be scrappy and unpredictable. But George Stubbs is on offense now, and a player like that can really get a line back on track.
The Ring defense urges the crowd to get them one more. Waving their arms up and down before the pull, as if they were asking for an eighth defender. They would find an opportunity, when Stubbs turned it for the first time all game. Ring found Shane Sisco in the end zone for the break. Tie game.
After Ironside fought through the five or so foul calls in the next possession (from both sides), Brian Garcia found Danny Clark in the endzone for the one point lead, and a well-needed sigh of relief. The Ring of Fire offense takes the field for the first time in a half hour, with a chance to take this game to double game point. And of course the narrative would fall into the hands of Christian Johnson, who after three drops in the game, skied multiple Ironside defenders to do just that.
Chapter 4: Double Game Point
Brandon Malecek fields the pull, and centers to Markette. Eventually the disc finds the hands of Alex Kapinos, who goes for the win. A big huck to Danny Clark is contested by both Christian Johnson and Justin Allen. Allen gets way up for the block, and Clark calls foul. This would be the first of 17 fouls called in a twenty two minute double game point. The observer upholds the call and Danny Clark gets the disc on the goal line.
Clark elects to not call timeout, and attempts to punch it in. But a bidding Tristan Green saves the score and keeps the game alive. Ring of Fire calls time out. A game already filled with stoppages was now teeming with them. It was Ring's ideal game.
Ring's Joey Cretella got a shot at the game, but couldn't bring down the disc. After a controversial foul call (that was contested and sent back without an observer appeal), Mark Sherwood was eventually able to D a Ring huck downfield and give Ironside another chance at the win.
We'll skip through the woman streaking naked across the field, and jump straight to a Brandon Malecek time out. After an onslaught of fouls, Shane Sisco gets another layout D in the end zone. Ring saves the game again. But its only a few throws before Danny Clark earns it back. Markette throws into the end zone again. The short pass is dropped by George Stubbs, and the crowd gasps. But it bounces towards Clark, who makes the game winning grab.
Boston Ironside survives and advances.
"Our defense was so hot; that's the best they've played all season," Ring of Fire coach Mike Denardis said after the game. The Raleigh defense truly tested Ironside. But Ironside moves on, and gets one step closer to a title. 
An earlier version of this article incorrectly stated that the observers sent the disc back on the controversial foul call. It was not sent to the observers.
---
Kantor flew into Nationals on Saturday after finals at Duke Business School kept him out for the first two days ↩