The Johnny Bravo offense had ice water in its veins.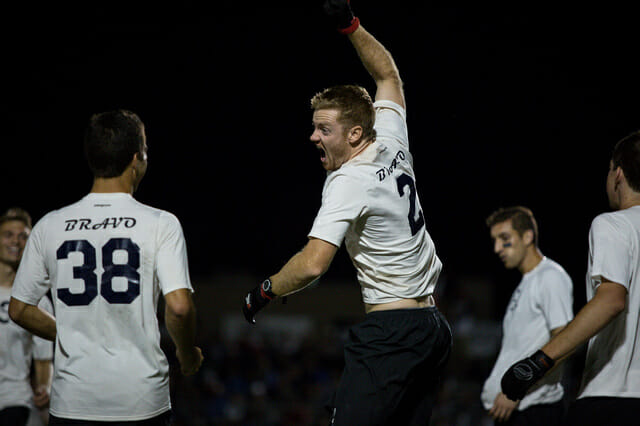 It's fair to say the night's second semifinal between Toronto GOAT and Denver Johnny Bravo lacked the spectacle of the early game.
There weren't a million stoppages. There was no self booing. Not even a streaker.
This one didn't follow a pro wrestling story arch. Instead, the fans that stuck around at FC Dallas' Dr. Pink Field were made to settle for some old fashioned elite Ultimate as Denver ended Toronto's run on double game point, 14-13.
Ho-hum.
As the PA faded out Bastille's Pompeii, perhaps the worst last song to hear before an elimination at nationals, GOAT pulls and runs down in hard man, forcing Bravo's resets wide and stopping up line cuts. Denver neutralizes GOAT's intensity with a supreme patience. Bravo works it down the field and falls into their end zone set. The disc moves to about a yard outside the endzone. Morgan Hibbert and Brodie Smith position for the front cone while trading bows. Bravo is unfazed and Ryan Farrell finds Kurt Gibson for pay dirt after a nifty face cut. Contested, no doubt, but Denver's O line swaggers through it. 1-0 Bravo.
"We're looking to do what we do," GOAT head coach Scott "Shooter" Hastie said pre-game. "Put a whole lot of pressure on the handlers and see if we can put some pressure on those guys getting the disc."
That's a plan Toronto really stuck with. You didn't really see GOAT in any zone looks or transition. Lots of hard man. Straight up on certain Bravo hucking threats and, as Hastie said, pressuring the handlers.
GOAT would earn the first break opportunity when Andrew Carroll blocked a huck to Jimmy Mickle at 2-2, only to give it back on a wide pass that was caught out of bounds about half field. Bravo's O found Bart Watson cutting dump from force to break. GOAT's Anatoly Vasilyev couldn't seal the around and it was easy money, Watson to Sean Keegan for the Bravo hold.
Johnny Bravo would tally the first break after a short GOAT turn, as Brett Matzuka found Matty Farrell with a precise low hammer to go up 5-3.
Toronto would then hold and break back to make it 5-5 after a goal line turn by Bravo when Hibbert finds some running room deep.
The player of the tournament thus far had been GOAT's Mark Lloyd. He caught five first half goals against Revolver a day before and was so dominant in the air that San Francisco altered their offensive personnel, moving Beau Kittredge to the D line to try and keep Lloyd off the the stat sheet.
Johnny Bravo coach Bob Krier experimented with defenders guarding Lloyd early in the game but eventually settled on Stanley Peterson. A Colorado Mamabird player, Peterson has been having himself a tournament too.
Looking for a hold at 7-6, GOAT threw a flick huck to Lloyd from half field. With Peterson closing, the Toronto captain took his normal calm approach to the disc. Lloyd seems to have position but Peterson elevates and is able to contort his body around Lloyd's frame and nearly make a catch sky for the block. This is something that hasn't happened to Lloyd or GOAT to this point.
"I think you guys need to stop posting clips," Bart Watson told Ultiworld after the game, "because the secret's going to get out that Stanley Peterson is probably the best defender in the world right now. He's making plays. That play he made in the Ironside game. A couple of the plays he made today… I think Stanley goes up with anybody in the game right and comes down with more than his share of discs."
Hard to question Watson's comments after Peterson's performance under the lights. The 21 year old was the only player thus far in the tournament to stop Mark Lloyd. This also had some psychological effect on Toronto. Lloyd worked magic in the air against Revolver and his teammates fed off of it. Now you had to account for his defender. It was no longer a gimme. Peterson finished with two blocks — both of which led to breaks — before sustaining a severe ankle injury later in the game.
Bravo broke to take half 8-6.
GOAT would get their break back after Geoff Powell snuck off his man for a poach D and Bravo received a third technical for profanity, putting the disc at Bravo's brick mark. Vasilyev threw a bladey hammer for the goal. Tied at 8.
A few moments after a GOAT player yelled "Gosh darn it!" to mock the technical violations, Mickle found Gibson deep with pinpoint flick blade from the trap sideline, and Bravo had some sideline banter of their own. "Shooters gotta shoot."
Mickle finished the game with four assists and Gibson racked up a whopping seven goals.
Denver broke again after Peterson pressured Lloyd in the air.
10-9. GOAT pulling and needing a break however they can get it.
Bravo fielded the pull and kicked it around a bit. A Denver handler being marked by Remi Ojo two yards deep in his own end zone somehow got caught in a one-in-a-thousand mis-release as he attempts to throw a dump. The disc slips out of his hand up into the air. He tries to reel it back it, bobbling it all the way to the ground. No one has touched it and the observers rule it a self pass. GOAT gets it at the goal line and converts a gift wrapped break. 10-10.
This sort of thing never happens; you have to start believing God is Canadian.
But the play has no lasting effect on Johnny Bravo's offense. Been there/done that handler Bart Watson sees a streaking Jimmy Mickle and sends a backhand to the house. Mickle makes a Callahan-winning catch a few inches off the ground. Bravo holds.
Soft cap comes on at 11 all, game to 14. GOAT is spitting fire and comes down hard man. Their handler defense is playing great contain and using flat marks to pressure throws. Brodie Smith floats a huck to the end zone. Two Toronto defenders — including the rangy Hibbert — chase down the Bravo cutter. The pack goes up together but the disc floats over the crowd and Bravo's Sean Keegan picks up the trash. An opportunity missed as Bravo holds. 12-11.
Denver breaks on the next point, then GOAT holds and breaks after Nick Lance misses Mickle up the line right at the goal line.
Double game point.
GOAT runs down in man and Bravo works it to half field. Resetting the disc is hard work but Denver's handlers are as nonchalant as ever. Toronto has been going straight up. The disc gets near half field and Bravo finds Gibson – who has just scored half the team's goals – with a backhand huck on a rope to advance to finals.
*
Johnny Bravo's Bart Watson has won multiple club championships and knows what it takes for a team to don the hardware on a Nationals Sunday. Even after a late break the Denver O line was able to stay on task and finish.
"When you get to big points like the one we just had, the team rises to the occasion," Watson said while teammates de-cleated. "Rising to the occasion just means doing what we know how to do harder, faster, better in those key points… a change from last year. We've grown up a little bit. We're ready to accept that moment and we're excited about those big opportunities in big games."
A great, gutsy season for Toronto. An awful showing on Thursday set the stage for an all time great Nationals shocker over Revolver and they went down swinging on double game point against a loaded Johnny Bravo team. The break tally in finals? 4/5 for Bravo. 4/6 for GOAT.
This was GOAT's second ever trip to semifinals since a John Hassell-led squad made the final four in 2007. This team made some major moves this offseason, most notably pulling Morgan Hibbert from Vancouver where he was a seven year captain. He shared some insight and perspective into that decision after the hard fought loss.
"I made the switch for the chance to win. That was what I wanted," Hibbert said after the game. "We had a shot. We had a really really good shot. I couldn't ask anything more from this group of gentlemen. They brought me in like family from day one and made me feel super welcome. I would do it again in a heartbeat…losing sucks but it was a lot of fun."
Bravo certainly looks ready for Ironside. Though they each won on double game point, these two teams were in completely different semifinal battles. Johnny Bravo's O line stayed cool under constant fire from GOAT while Boston survived what would have been a historic second half collapse.
Nothing can be said about this finals matchup. These are the best two teams. Both teams have been tested in this tournament but only one will make the grade for National Champion.