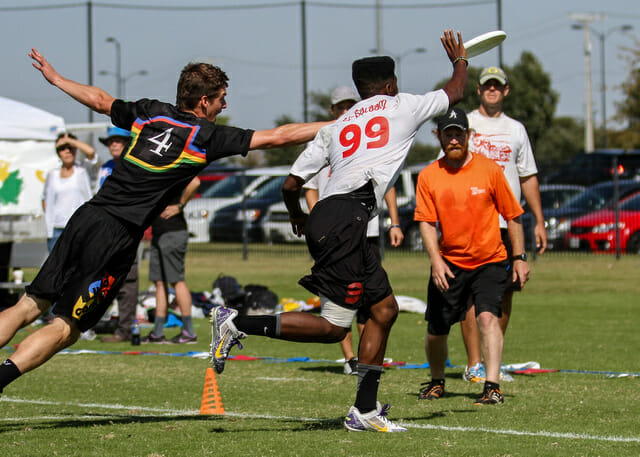 If the two national finalists in the mixed division have anything in common, it's probably only the fact that they've both handled business all weekend.
Other than that, they're almost polar opposites.
Defending national and world champions Minneapolis Drag'n Thrust has risen up over the past couple years, excelling during the regular season, but never making it past semis until their breakout year in 2013 when they really established themselves as a powerhouse that knows how to deliver when it counts most. They pride themselves on tight man defense, great system cutting with exceptional timing, and an overall team discipline likely unmatched in the division.
Seattle Mixed (formerly Ghetto Birds), however, are a first-year team with only two players on their roster that have been to club Nationals before. They like to play a loose, almost pick-up-like style where they look for poach Ds, flow without a central system and react almost exclusively to the context of the game, and love taking risks like putting up trust balls early to deep cuts to give their young spark plugs plenty of chances to make big plays.
When it comes to predicting how the championship game will go down on Sunday at 11 AM CST, it's honestly a big, fat question mark.
Sure, on paper, it probably looks like a blowout. Seattle likely takes a bunch of dicey looks, a number of which don't work out, and the veteran Minneapolis punishes them for it and cruises to a three- or four-point win.
But that's exactly what one easily could have thought about their semis match-up against Boston Wild Card.
The latter came loaded with lots of weapons, had a phenomenal weekend where they beat three other stacked San Francisco teams in Blackbird, Mischief, and Polar Bears, and were peaking at the right time. Wild Card looked like the hottest team in Frisco.
It turned out, however, that Seattle Mixed were hotter.
A volatile mix of explosive young ballers rounded out by a few wily veterans, they came out super aggressive and without fear. Huge skies and crazy layouts kept popping up like coffee shops in city centers. It seemed like even with all the factors leaning in Wild Card's favor coming into the game, none of it ended up meaning anything — their opponents were just playing too big to lose.
Seattle Mixed proved time and time again this weekend that they have one of the highest ceilings of any team out there. And that they're routinely capable of soaring up and pushing that ceiling even higher with each new point.
The question will be whether they can keep scraping up against that peak one more time. Against the best team in the nation. At the end of a long and grueling weekend. On the biggest stage.
As for Drag'n Thrust, it will be interesting to see how they gameplan for a team that doesn't really have a system and is already pretty much guaranteed to take a bunch of low percentage throws. That is, low percentage for most teams.
Which is to say that, if an opponent is already willing to play into what most defenses want, but for whatever reasons that opponent has been winning most of those battles, what kind of strategy do you take?
Considering their consistently unflappable spirit and grit, Minneapolis isn't likely to change much about their style of play.
They have a wealth of tall, athletic players with hops through the roof like Brian "Strings" Schoenrock, James Hron, Mike Clark, and Josh Hemmesch. Seattle Mixed's studs in the air—namely Khalif El-Salaam, Kahyee Fong, and Brad Houser—will have a significantly more difficult time coming down with some of those jump balls than they did against Wild Card.
And when they earn those turns, Drag'n will likely be a bit more disciplined about punching in breaks and executing when they need it most.
So unless Seattle Mixed can reduce the truly risky looks and only put up the trust balls in situations where they have a decent advantage, while simultaneously figuring out a way to slow down the patient Drag'n offense and earn some Ds, they might be in for an insurmountable challenge.
One thing, however, can be assured: it's going to be a wild show.