With their second straight National Championship, has Washington D.C. Scandal started their own dynasty?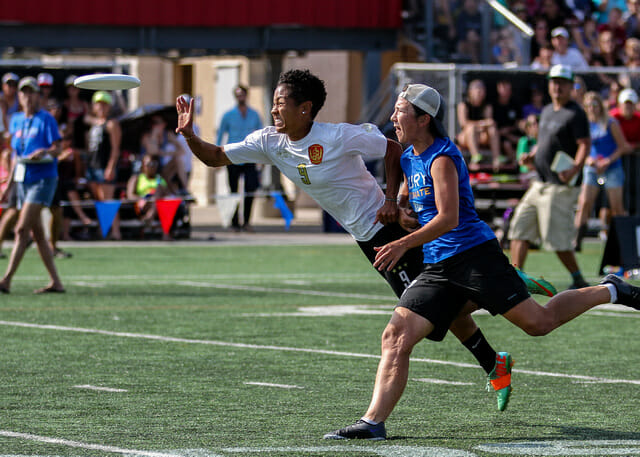 The USA Ultimate National Championships is the most competitive tournament in the world. In fact, this year's field could be the best one ever assembled. Teams as good as Texas Showdown and Denver Molly Brown couldn't even make semifinals. Washington D.C. Scandal had to battle their way through this incredibly talented field, beating the #6, #5, #3, and #1 seeds on the way to a title. The best teams stood in their way and they emerged atop them all. Again.
But Scandal didn't just outplay the best teams in the world. This season's top squads mostly leaned on their influential defenses. Boston Brute Squad and San Francisco Fury each trotted out elite defensive units. But the Washington D.C. women flat out did it better. Again.
And now, just like the division has so many times before, we stand at the precipice of a potential dynasty. In the 34 seasons that a Women's club champion has been crowned, only 11 teams have worn it. Scandal's back to back titles are worthy of heaps of praise, but they are the seventh team to accomplish the feat (Lady Godiva had two separate runs of multiple championships). Scandal is the fourth team to win any of the past 20 Women's championships.
It is tough to imagine Scandal continuing at this pace. The division's depth increases every year and at a seemingly increasing rate. That makes continued dominance even more challenging. But it's also how Scandal plays, with high intensity and physicality. How long can their bodies last? How long can they withstand the exhaustion such a style yields? Jenny Fey took a break, Allison Maddox nearly did the same, and Alicia White said after the game that she does not intend to play in the foreseeable future. Multiple Fury players took injury subs during the final, in significant part due to D.C.'s play style; next time, it may be Scandal's roster forced to the sideline. Scandal's fire is blazing, but all blazes eventually burn out.
The national final was a far cry from last year's unyielding blowout. This time, Fury was just a couple of mistakes from taking back the crown Scandal pried off their heads in 2013. If their offense had chosen their deep shots more wisely – they were just 25% on hucks in the game – and had converted some brutal and almost inexplicable red zone turns into scores, Coach Matty Tsang could have gone out with a bang. The Fury gameplan was so sound.
"[I'm] definitely disappointed that we didn't get our result, but in terms of the way we actually played the game, it was our gameplan," said Tsang after his final game. "I thought we played a really good defensive game. We gave ourselves chances."
On offense, Fury spread out the field and were able to go around the Scandal defense. There were a couple of possessions where they achieved the fluidity and handler play that makes their offense successful. Tsang kept Anna Nazarov and Claire Desmond – the two most effective plays on his roster during nationals – away from Opi Payne and Sandy Jorgensen by putting them on D-line. Cree Howard drew Jorgensen into the backfield where her handler play could overmatch the expert deep defender.
San Francisco's defensive gameplan involved neutralizing Scandal's speed and handler activity. A combination of zone defenses, poaching, and aggressive marking were effective in making Scandal work for their goals. But it is hard to make adjustments for your O-line's defense, and that's a huge part of D.C.'s success.
"Their strength is how good they are after the turn on D," said Tsang.
And what's more, it wasn't as if Fury was unmotivated. A challenging year had often left them sitting shotgun while Seattle Riot and Brute Squad drove the division. And Tsang's final tournament offered Fury a chance to thank their coach with their play.
"We all wanted it for Matty," said Nazarov, her voice shaky with emotion. "We really wanted it."
But their execution suffered in the face of the vaunted Scandal defense. Maybe playing in front of ESPN's cameras and a crowd of peers scares some teams, but the intimidation factor pales in comparison to have the D.C. defense bearing down on you as a Payne pull sails towards you. The Scandal gameplan of denying high yardage upfield options and forcing horizontal movement was well executed. For them to play their best during their two most important games echoes last year and speaks volumes about the team's mental game.
Perhaps this is the passing of the torch. Seven straight titles made it clear Fury owned the division. The past two finals certainly look like Fury handing the keys to Scandal. The giants of the division, like Tsang and Riot's Gwen Ambler (even White made her name with Fury during their title streak), are retiring. Alex Snyder, a legend with Fury in her own right, took a beating this year, wearing down a body that has put in its time as an elite producer. The guard is changing.
It's tough to say where the division is headed. Despite Nationals packing a bounty of talent, nearly every game went to seed. The top team in each pool entered the semifinals undefeated. Three of the same semifinalists as last year – and the fourth was just a few points away – and the same two finalists, and obviously the same champion. The evidence doesn't scream "wave of change" to an outside observer.
Whichever direction the division grows in, it seems like Scandal will be at the forefront. They're aggressiveness may influence the rest of the division as they try to play catch up, or an alternative strategy to take advantage of their weaknesses may gain traction. But its hard to stop a team that plays with an edge and with something to prove.
"We've really done a good job of adopting the motto that 'we're always going to be hungry,'" said Payne after winning the championship.
Twice now Scandal has pierced through expectations and regular season performances to defeat the most prestigious team in the game. They've thrashed the best teams when the stakes are the highest. Next year, the target will be squarely placed and nobody will be surprised by their continued success.