Seven snubs and seven rising stars.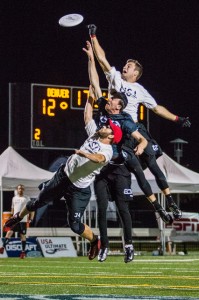 There were so many inspiring performances this season that we thought it best to include two extra lines on top of our standard 1st and 2nd team selections. We chose seven players as honorable mentions, as well as seven who we believed rose up to a new level as breakout players. Many of the players on these two lists were considered for inclusion on the second team.
Honorable Mentions
Stanley Peterson (Colorado) — Still underrated defender that now has a track record of shutting down other teams' first options. Thwarted Mark Lloyd in semis. Played through a sprained ankle to contribute in finals. Rising star. With a little more offense, would have been selected for 2nd team.
Josh Markette (Ironside) — Gifted cutter and thrower. Drives the Ironside offense and may be its most important cog as a hybrid player. Makes few mistakes and lives for the big moment. Has an argument for 2nd team but wasn't quite as effective as last season.
Grant Lindsley (Sub Zero) — Deeply skilled handler. Quietly effective. Had a huge season for Sub and can play both ways. Is one of the reasons Sub stays relevant despite a lack of depth.
Justin Allen (Ring of Fire) — Rangy, powerful athlete. Fits perfectly into Ring's fiery and emotional style. Has a knack for the monster play. Continually makes jaw-dropping plays on the field. Spark plug for the Ring offense.
Simon Montague (Sub Zero) — Wasn't always in attendance with Sub Zero this season but had a stellar Nationals and may be Sub's best player. Elite thrower. Uses his length extremely well.
Ashlin Joye (Revolver) — Didn't have quite the season he had in 2013 but still one of the game's top handlers. Plays incredibly well in Revolver's system. Great decision making.
Tom Annen (Machine) — Perennially underrated handler because he came from small market Madison team. Critical to Chicago's offensive success. Plays nearly mistake-free, but has throws and will use them.
Breakout Players
Jeff Babbitt (Ironside) — Rising college star at UMass made immediate impact for Boston's defense. Took big matchups and matched up well physically. Seemed to come up with at least one major block a game, either a heads up play or a huge layout D. May have been biggest defensive addition to Ironside D line.
Gagan Chatha (Furious George) — A bad Furious George season hid Chatha's excellence. Extremely athletic and talented deep cutter. Scoring machine. Will be a player for Vancouver to build around. Won't be anonymous for long.
Max Thorne (Temper) — Inspired performance at Nationals. Stepping into his own as club player. Will dominate in college this season at Pitt. Has big time ups for a player his size. One of the leading scorers/assisters at Nationals.
Simon Higgins (Revolver) — Already showing us the post-Beau future. Gifted cutter with field sense. Big season, got deserved recognition for strong Worlds performance. Showing superstar potential after just one year in Men's Division.
Abe Coffin (Prairie Fire) — "Do everything" guy for Arkansas also did everything for Prairie Fire. Was not outclassed by top defenders at Nationals. Will be a household name as soon as he plays for a major market team. Dominant athlete.
Henry Konker (Johnny Bravo) — Role player for Bravo defense but came up with big play after big play at Nationals. Has shown significant growth as a player over last two years. Earned his playing time. Plays with fire and intensity.
Billy Katz (PoNY) — Was perhaps PoNY's most consistent player as a rookie. Moved into starting offensive handler position within weeks. Powerful athlete. Physical. Huge throws. Natural defender.