The standoff between USA Ultimate and the semi-pro leagues is counterproductive.

What time do we have to get up?
When do we find out our teams?
Do you know Brodie Smith?
These are the three most common questions I hear at the beginning of every session at the National Ultimate Training Camp. The Brodie question has been a constant for the last few years, which is to be expected. He is the frisbee icon of the young generation and his popularity shows no sign of waning. He is here to stay.
What surprised me this summer, however, was a new obsession in the world of our youngest campers, the ones around 14 years old. They were not impressed when they first met Leila Tunnell and our other elite women counselors (until they had a chance to get schooled by them). One camper asked Leila on the first day, "Do you play ultimate?" At one of our Trade Nights, we overheard a young woman admire some Brute Squad shorts and then whisper, "Who's Brute Squad?"
This was disheartening and not surprising. We all know that women in ultimate inhabit the margins of publicity. But that's a topic for another column.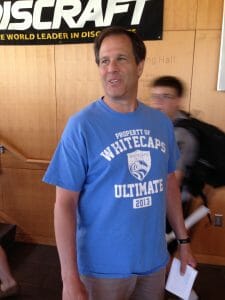 However, for the first time ever, I saw male campers all decked out in MLU gear. From head to toe. They had been to the pro games, they knew the teams, and they wanted to talk about their favorite players. We even had a Dad arrive in a Boston Whitecaps shirt. He was dropping off his younger son and repping the pro team of his older son, who also plays for Ironside. This Dad most certainly understands the difference between the two leagues, but the campers do not.
These young athletes have been dazzled by the pro teams that they followed all spring. They do not, however, know Ironside from Truck Stop from Revolver from Chain. They did not know about the Triple Crown Tour and they had no idea that their favorite pro ultimate athletes played on any other team. Those men's teams, in their minds, join the women's teams in those measly margins.
The Problem
Boulder, you have a problem. While my observations are clearly a small sample, and Northeast-based, I think we may have a canary in a coal mine. The canary is the USAU elite male player and he is being snuffed out by the marketing savvy of the MLU and the AUDL. The product that they are offering is more accessible, more entertaining and more understandable to the average fan and the rising young ultimate player.
Accessibility
The media machines from the pro leagues churn incessantly, as they should. Their main focus is their teams, but they are also committed to running clinics and camps, as they know youth will eventually fill their stands. And who are those adults running these events? They are local players and coaches who are invested in growing our sport, no matter who is running the show. A player's dedication doesn't change if he changes his jersey from the Whitecaps to Ironside, yet there is supposed to be no pro league presence at any USAU event. At a recent G.U.M. clinic, the D.C. Breeze had a presence, which I found quite surprising. And perhaps a step in the right direction.
Entertainment
This can be most easily illustrated by an anecdote. A group of Amherst High School players traveled to a Whitecaps game last spring and posed with player and alum Christian Foster, who also plays on Ironside. They had no reluctance about asking for a picture in this venue, but I asked one of them if they would ever do that at Devens at USAU Club Regionals.
"Never."
Maybe she said that because Regionals is a real event and the MLU is "play ultimate," like you would "play restaurant" as a child. Maybe this MLU game was more easily translatable to other fan experiences they had enjoyed at Fenway or Foxboro. Whatever the reason, ultimate fans clearly see a difference between these two experiences. The single game format continues to be more entertaining to the general populace.
Ease of Understanding
It is the rare parent who brings their children to Devens to watch ultimate for the weekend. In fact, I know of only one. My friend Dave Bucholz, who won a National Championship with Windy City in 1986, brought his son and a friend to Regionals two months ago. He had no direct connection to any of the players, but he wanted his sons to see top-level ultimate. He knew how to figure out what was going on and could easily explain it to these new players.
But most families do not have a built-in Ultimate Interpreter and are going to take the family to a pro game, which is much shorter, looks more professional, and is easier to understand. At USAU Club Nationals this year, I befriended a stadium cop because I wanted to see how an outsider who would view our sport. He liked ultimate quite a bit, but during the Ironside/Ring semi, he kept coming over so I could explain what was going on. And my friends at home were incessantly texting about how "unwatchable" that game and others were.
The Compromise
Last March USAU made clear its policy and philosophy about the pro leagues. For many reasons, they wrote that, "…USA Ultimate will not promote, partner with or otherwise formally recognize or endorse the AUDL or MLU at this time."
It is time to revisit this decision. USAU is missing a huge opportunity to reach more players and relieve the stress on its volunteers on the ground. I propose that USAU loosen its restrictions in two areas:
1) Broker an agreement with one or both of the leagues to have a USAU presence at their games to promote the sport to its young audience. A pop-up tent next to other vendors, with USAU branding, will most directly educate new players and their families about existing and exciting opportunities.
2) Welcome players from the pro leagues at USAU clinics or any other youth-targeted event. The volunteers running these clinics need all the help they can get and, again, we are talking about the same pool of players. I understand not wanting to overtly promote these leagues at Triple Crown events, but how far does USAU's reach have to extend?
If you notice, I did not mention refs or SOTG or gender equity or the definition of "real" ultimate. These debates are often too theoretical and miss the real, practical work that still needs to be done. I understand that this would not be an easy compromise but I believe it is one worth embracing.
Brodie is here to stay; maybe the pro leagues are too. USAU is not going anywhere and, at this point, they are the ones who are most able to take the high road and continue growing youth ultimate, no matter who they have to work with. Modeling how to build a reasonable compromise is a good lesson for the rest of us too.