The Southwest's top contenders and second tier squads begin their journeys to Regionals at the Santa Barbara Invite, the west coast debut of elite college women's.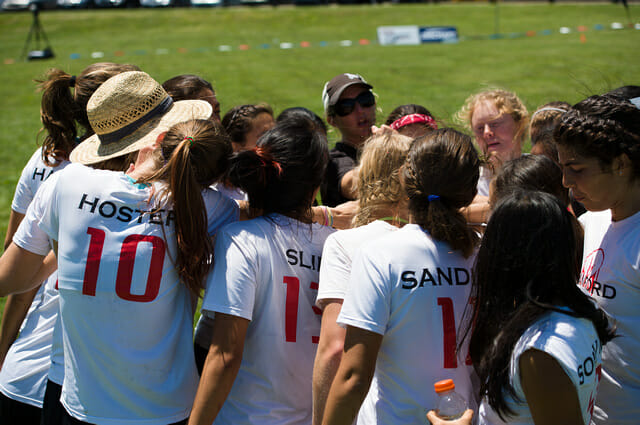 The West Coast is ready to get things started, and will do so at the Santa Barbara Invite. Essentially an early look at the Southwest, the tournament marks the debut of some of the country's best, including #4 Stanford Superfly and #9 UC Santa Barbara Burning Skirts. Last year's tournament proved quite predictive: #17 UCLA BLU finished 3rd at both SBI and Regionals, while UCSB topped Stanford 13-12 in the finals of both events.
The field of Southwesterners know each other well and will all be gunning to take down top seeded Stanford and third seeded Santa Barbara. UCLA has a lot to prove, while USC is coming off an impressive fall. Both San Diego State and Cal return a multitude of playmakers that could make them factors both now and at season's end. For those teams, the process is well underway and the weekend ahead provides a measuring stick.
Pool A: Stanford Favorite for First SBI Win Since 2011
There are major expectations for #4 Stanford Superfly, even to start the season. Their returning core is just too powerful and experienced. The team that struggled at nationals last year has plenty of reasons to want a second chance, especially at reclaiming the super competitive Southwest from their rivals, the UCSB Burning Skirts. Steph Lim, Monisha White, and Halsey Hoster are back and Michela Meister retakes the field after a year on the IR.
UC San Diego Psycho is the second team in the pool and is undergoing serious change. Gone are there three primary handlers, including Katrina Kalantar, the dominant star of last year's team. Rachel Homer will take up a central role in the backfield while some of the team's best downfield playmakers – Lizzy Cowan and Julia Salvacion – transition into throwing-centric spots. Don't be surprised if they underperform this early in the year while there's notable flux on the roster.
Like UCSD, UC Davis Rogue is also trying to replace its primary thrower. Michaela Lee truly ran the show for upstart Rogue last year, and she leaves a huge gap to fill. If Jazmin Jordan, Veronica Chan, and Elise Zarri can rise to the occasion, perhaps Rogue can start the year on a high note.
Pool B: Big Fall Turns USC Into Threat
It was a highly successful fall for the Southern California Hellions of Troy. They topped UCLA and UCSB at SoCal Warmups, taking home the tournament win. That followed up a 4-2 showing at Grape Escape. While Annie Lee is gone, Kathryn Fowler, Zoe Serbin, and Amy Lee return. They hope to lead the team to an improvement over last year's disappointing finish, when they failed to make the bracket at Southwest Regionals. That starts with improvement at SBI, where they finished 11th in 2014 after being eliminated on Saturday.
The rest of the pool is without strong resumes. Cal-Poly SLO does return Ana Huysentruyt, who is as tough to deal with as her name is to spell, so don't count them out. Arizona and Nancy Freitas will show what they look like sans Dani Lockwood.
Pool C: UCSB Wants Another Win, But Cal Lurks Below
The Southwest belonged to UCSB last year, and they'll look to stake their claim this season by defending their home turf. The #9 ranked Burning Skirts are a potentially scary squad. Last year's double game point final against Stanford was the first blow for the season, but UCSB will have to fight their way back to the top. Lisa Pitcaithley's productivity is a given, but there's questions about what she, the team leadership, and Coaches Tyler Bacon and Carolyn Finney can get out of the rest of the squad. Joy Kang and Talia Barth will flank Pitcaithley, replacing Noelle Neason and Kelly Gross. But the three player offense may not be enough in this day and age for win at the big show, the ultimate goal for the Skirts.
The California Pie Queens are ready to put that to the test early on Saturday with an 8 AM showdown in round one. Marisa Rafter is back (though battling through injury and will probably play sparingly), along with Molly Barlow, Kate Meyer, and center handler Ziyue Chen. Both Sharon Lin (U-23 Mixed) and Christy Jarman have been eagerly awaiting their chance to get back on the line. The Pie Queens added some additional firepower with their grad student transfers and are looking to make noise early and often this season.
Utah is a bit of a mystery and is a rookie heavy outfit, but went 3-3 with just 12 players at OFUDG this fall. Likewise, UC Irvine has little experience to fall back on, so it'll be a good chance for them to get further in defining roles.
Pool D: UCLA and San Diego State Both Seeking Elite Status
#17 UCLA BLU and the #20 SDSU Gnomes both want to make a name for themselves, but in very different ways.
BLU is a team that went to nationals last year, scored some crucial out of region wins, and locked in a third bid for the Southwest. They have a rich history and strong program. But major contributors from last season are gone, including Michelle Chang, Kelcie Ralph, and Alexa Cohen. Their absence will put a much bigger load on the back of Margot Stert, one of the team's top returners. Kristen Pojunis (U23 Mixed) also returns. Han Chen (one of the country's best freshmen in 2014) and Kathleen Lo have a chance to step into bigger roles as sophomores in Coach Alex Korb's system and BLU could use a strong performance out of the gate to boost their confidence.
Meanwhile, San Diego State has little program history to look back to and is trying to write their first nationally known chapter. Don't let their Santa Barbara Qualifier results fool you, as they were playing without most of the top end of their roster when they went 3-3, with losses to both UCSB split squads and UCSC. As a squad not used to the scrutiny of competing with top teams, it's possible they'll crumble when it matters. That means getting important Sunday games in against the best in the field is of vital importance for the Gnomes, who can ill afford to waste opportunities.
It's tough to know what to make of Sonoma State, who is rarely an easy out. However, D'Vine's most productive player, Kara Kelly, is not rostered heading into the weekend. Something to keep an eye on. Meanwhile, UC Santa Cruz will begin the post-Emmy Kolanz era.