Charlotte, NC plays host to Queen City Tune Up once more, the elite debut for some of the country's top contenders. The field of teams is one of the strongest of the year, and after the weekend concludes, most of the division's notable challengers will have taken the field. These matchups set the table for the major March tournaments.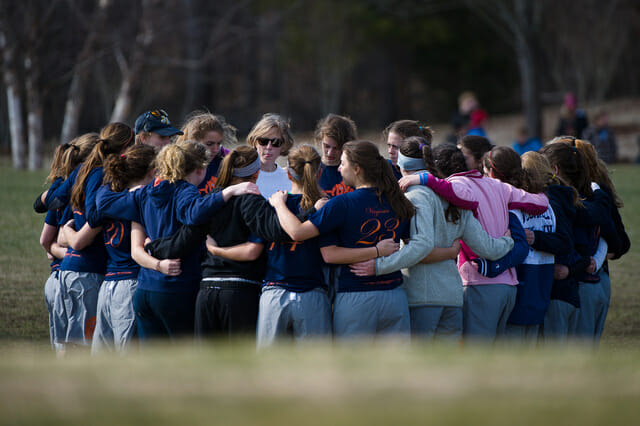 Charlotte, NC plays host to Queen City Tune Up once more, the elite debut for some of the country's top contenders. The field of teams is one of the strongest of the year, and after the weekend concludes, most of the division's notable challengers will have taken the field. These matchups set the table for the major March tournaments.
Many of last season's biggest story lines began at Queen City Tune Up. Ohio State and Central Florida had dominating weekends with Ohio State beating the Sirens in the semifinals and crushing in the final against Northeastern, 15-4. Kansas Betty began their debutante season, coming out into society by beating Carleton 12-11.
This weekend, plenty of national contenders – including #3 Virginia and #7 Carleton – hope their performances will be the opening salvos for the season's major stories. Second tier squads in several regions are either hoping to push for an additional bid or get ready for end of season matchups with regional Goliaths. Several teams look for redemption after a rocky Florida Winter Classic, and last year's royalty, UCF and Ohio State, hope to keep the crown.
Tournament Profile
Date: February 7-8
Location: Charlotte, NC
Ranked Teams: 13
Pool A – Virginia, Northeastern, Florida State, Iowa State, UNC Wilmington
Many eyes are on Virginia to see how they fare in their first elite competition of the spring. After back to back quarterfinals appearances at nationals, the team seems ready to break through. In a region where they are far ahead of the pack, the only regular season pressure the team faces is whatever they apply to themselves. For Hydra, Queen City is just a dash on the ruler.
"We're going to QCTU to find out where we line up against some other top teams," says Coach David Allison.
They have a strong pool to get a chance right away. #17 Northeastern, the second seed in their pool, knocked them out in the QCTU semifinals last year, the first of their two head to head wins against Hydra in 2014 and #15 Florida State showed they are not to be underestimated at FWC. Virginia has some of the country's top players – POTY shortlister Alika Johnston, Sarah Hansen, Rebecca Meeker – yet considers themselves a depth-based team and plan to use that as their weapon of choice.
"Let me put it to you this way: you better account for whatever seven players we have on the field," said Allison. "It's anyone and it's everyone."
Northeastern, for their part, is ready to stretch their legs in warmer weather. They learned a few lessons from Florida Winter Classic: clean up the endzone offense, think about positioning on deep defense (they no longer have the physical defense of Jenni Ladutko and Kate Flood), and to keep the energy up. The Valkyries also learned to watch their backs against Florida State. They return strong potential in captains Melissa Ellis and Hannah Walter, as well as Mei Brust. But they will have to take down Virginia's momentum if they want to return to the final again this year, and Florida State has already shown they can and will grit out upsets.
FSU's 6-1 start at Florida Winter Classic came with a third place finish, which they'll be looking to build on at Queen City. Unlike Virginia, the Seminole Ladies likely have the bid-earning potential of a strong regular season in the back of their minds. They've come close, but never quite gotten there, and making the Southeast a two bid region would do a lot for their push to make it to the Ship. They've got a deep core group of veterans, led by the duo of Lauren Brunner and Kari Tomarelli. Both are tall players that can rock and roll in the air, but often operate as key throwers in the FSU attack.
Iowa State has some spoiler potential, with an experienced roster containing some dangerous threats. Cami Nelson remains an elite talent, but she isn't alone: veterans Sam Sauerbrei and Britnee Grimshaw join her for Nelson's final year. They're capable of a real run, with many of these players there for the team's QCTU title two seasons ago. But this year they will need to defy expectations to get back to the top. Their North Central brethren sure wouldn't mind some upsets.
UNC-Wilmington looks a bit overpowered in arguably the strongest pool and is taking the field for the first time this season. Their small roster relies heavily on the handler play of Zoe Dorian and Klara Calderon-Guthe.They'll be working out the kinks and probably aim to build confidence with some Sunday wins in consolation play.
Pool B – Tufts, Maryland, Georgia, Michigan, Delaware
#12 Tufts Ewo, like their hometown Club team Brute Squad, has a history of stacking their team with talent and always delivering just short of greatness. If Qxhna Titcomb has her way, history will be rewritten in 2015. Ewo returns an excellent handler corps in Titcomb, Jojo Emerson, and Laura Fradin. Captain Hannah Dorfman rejoins the team after being abroad last Spring, and Ewo is poised for a strong season. They won't have their full team at QCTU, but look for them to hold their pool and grind through the bracket.
There's a lot on the line for #19 Georgia Dawgma, playing in what is essentially their second and last elite tournament of the season. The talented Southeastern squad would love to aid in bringing home bids to the starving region. They put up notable but uneven results at FWC, marred by turnover riddled stretches of offensive play. The flip side is that their defensive capabilities, championed by Hannah Leathers but with the full support of Erin Danzig, Melissa Merrill, and Erin Chun, are high and can carry them in some cases. With a couple more weeks of practice under their belt, a more polished offensive look could position Georgia for a strong weekend.
#20 Michigan Flywheel has spent many years building an institution, not just a team, and this year is no different. Their goal for this weekend is to match up against the cream of the crop and continue to hone their calm, fundamentals-focused game. Flywheel always wants to win games, but unlike hungry upstart teams, except them to be playing the long game this weekend.
The pool's second seed, however, is Maryland Helpful Corn, and quite curiously. Once a dominant team in the Metro East, Maryland has yet to break through in the AC. Their early results are solid: 2nd at Winta Binta Vinta Fest, with an 11-5 loss to the Virginia in the final. But Sarah Lord and company have their work cut out for them holding their high seed against a high powered field of competition.
Pool C – Carleton, UCF, Dartmouth, JMU, Pitt
Carleton Syzygy have long been the hydras of Ultimate (sorry Virginia). Like their male counterparts CUT, when their superstars graduate, another star pops up in their place. Over the last few seasons they have lost Anna Reed, Flannery McArdle, Julia Snyder, and Bri Rick. Every year their team seems built around stars, but when a new season comes, they're ready with new talent. This weekend, look for Kirstie Barton and Emily Buckner to take charge of the Syzygy game. Their performance in early seasons past has been inconsistent: in 2013 they were in the final and last year they were upset by Kansas in prequarters. They will have to make big plays to hold the pool against a still strong UCF and a promising Dartmouth team.
#14 Central Florida made Queen City Tune Up their coming out party in 2014, dropping a single game (10-8 semifinal to Ohio State), with some impressive wins. Now, their second place finish at Florida Winter Classic is par for the course. They'll be healthier, a key for a team that has relied on key players to marshal their offense. Their quick reset offense has proven highly effective. But the team has been limited in practice time, and they're dealing with the reduced presence of their Ultiworld 2014 Co-Coach of the Year, Joe Tilley, who may even miss the tournament. This weekend will be a test of leadership.
It may be #13 Dartmouth's turn to breakout at QCTU, but it will take a new level of performance from Princess Layout. Over the past three seasons, they have gone 2-13 against teams that qualified for the Championships. But if the team is feeling any pressure to raise their game, they're not showing it. ""We're just excited to be outside playing ultimate at QCTU," says captain Katy Peake. "It's important for us to refocus and remember why we show up to practice from 10pm to 12am in the winter."
Both James Madison and Pittsburgh are playing for the long haul. They went a combined 4-10 last year at QCTU, failing to register any meaningful victories. Both face regional titans attending and both reside in one bid regions; both teams are likely preparing this weekend for inevitable battles down the road.
Pool D – Ohio State, Wisconsin, Harvard, North Carolina, Northwestern
An underwhelming season opener at Florida Winter Classic hasn't shaken the confidence of the National Champion Fever. They bring a .500 record with them to Charlotte, but also additional time together. Going into FWC, #21 Ohio State had just four hours of practice. Now, they've gotten in more practices, and a scrimmage against Pittsburgh and Penn State.
"We are still building chemistry," says captain Jenna Galletta. "With the level of turnover we experienced from last year to this season, players are still ironing out what it feels like to be on the field together in game-time situations."
Nobody is counting Fever out. They didn't win their first tournament last season, but still came out and won Queen City to begin their massive win streak. Stevie Miller looked a bit tentative in her last performance, coming off an injury, and if she's feeling ready the team could really use her ability to make plays. Their pool provides some talented but inconsistent opponents for OSU to test themselves against.
After a disappointing FWC performance, #22 Wisconsin knows what they have to work on to win big games at QCTU, and they're well poised to do so in Pool D. Anna Hrovat-Staeder and Rachel Romaniak have plenty of athletic targets downfield, and they are not afraid to take on Coach Robyn Wiseman's defensive swagger. Ohio State had an equally inconsistent FWC weekend, and they have the most tenuous 1-seed status among the pools. If Wisconsin can start and end games with the same levels of high energy and focus, they have a real chance of stealing the pool.
The New England region is one of the country's strongest, and #24 Harvard is part of that strength. After earning a bid to nationals for the region last season, they're in the hunt to try and claim one this time around. Albeit from the outside looking in, Harvard's been building around India Stubbs, a premier handler with big game experience. They'll need to put together some complete games to score the upset, and will turn to some of the team's depth to support Stubbs.
North Carolina is finding its way in a new era for Pleaideas. They opened with a rather underwhelming close to their home tournament just last weekend, falling in the final to Georgia Tech. That field was much weaker than the competition they'll take on this weekend. Plus, UNC is on a back to back weekend, which didn't work out for them last year when they flopped a trip to President's Day.
Northwestern Gungho hopes to steal some upsets from the bottom. They're an even younger team this year and with a new coach, Chicago Machine captain Walden Nelson, they will have new strategies to test in the warmer weather.