The anticipated Oregon/Stanford showdown wasn't quite the game we might have hoped it would be.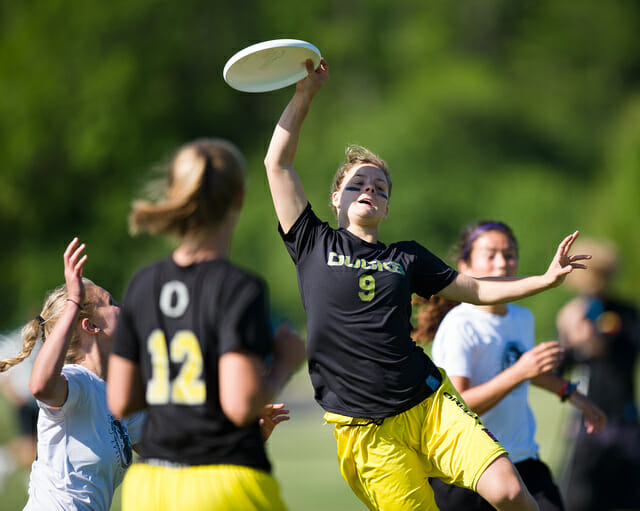 SAN DIEGO — Everything was set for a classic grudge match between #1 Oregon and #2 Stanford: Two title contenders that had yet to win a game by fewer than four points up until the final. Both had just come off a semifinal that started close before each pulled away. And the winner of the championship game would likely be viewed as the best team in the nation heading into the mid-season.
A grinding battle seemed like a foregone conclusion.
Instead, Fugue went up 4-0 on the backs of their flustering zone. Then they took half 8-2.
As Superfly limped to their huddle, Oregon bounced with mirth, hugging each other and chanting a call-and-response between coach Lou Burruss and his team.
The chant? "This is who we want to be!"
Though Stanford would pull themselves together and eventually make it a real contest, Oregon cruised to a 15-11 victory in the Presidents' Day Invitational final on Monday.
It was their sixth Pres Day title in a row.
For the entire first half, it didn't necessarily appear as though Fugue were an irrefutably better team. Their offense certainly had its share of problems and took a number of questionable looks.
"We throw a lot of stuff that's really cool looking, and when it works it's really cool," Burruss said after the game. "When it doesn't work, it looks really stupid."
The problem for Stanford was that they simply kept failing to make Oregon look stupid, so to speak. Which is to say that although Fugue rarely converted their break opportunities on the first go-around, Superfly kept giving them second (and third and fourth) chances, which the veteran Oregon would eventually convert.
"We did a good job of flustering them and creating anxiety," Burruss said. "But they had a lot of drops."
Indeed, though there were decent swirls of wind and the Oregon junk set didn't exactly make throws easy to complete, Stanford's primary downfall came mostly in the form of dropped passes and errant throwaways.
"We had some unforced errors with drops and missed throws," said captain Monisha White. "[But] we'll never give up. I think we're just as good a team [as Oregon]. I'm really proud of our mental toughness to keep the focus."
Such focus was evident in the second half, as Stanford came out much more polished. Superfly would begin the half with a solid offensive hold and earn their first break shortly after to close the gap to 9-6.
The teams would trade holds, as well as another break for both squads, but the deficit would prove too large for Stanford to overcome.
"We know we have things to work on," Stanford coach Jenny Wang said, "and it's great to play a team like Oregon that will help show you those things."
In particular, both Wang and Burruss noted that the tournament — and especially the final — gave both teams their first experience of the year playing in windy conditions, which proved to be a significant factor.
The grueling three-day format, particularly at such an early point in the season where many teams have only just begun conditioning, also proved to be an issue.
Yet, Burruss also said that it would be difficult to learn much from the final specifically, because he believed both squads turned in a poor performance relative to their capabilities.
Both Fugue and Superfly will get their next opportunity to improve at their next tournament, the Stanford Invite, on March 7-8, which will also feature an array of the country's elite contenders, including #3 British Columbia, #5 Whitman, and #8 Western Washington.