Regionals fields are set.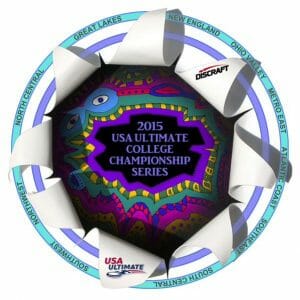 The second weekend of Conference Championships is in the rear view and Regionals fields are set. Most of the women's D III nationals spots have already been gobbled up. Take a look at what transpired to set up the beginning of Regionals.
Men's Division I
Metro East
Hudson Valley
Advancing
1. Connecticut
2. SUNY-Albany
3. Central Connecticut State
4. Yale
5. SUNY-New Paltz
Connecticut faced little challenge in moving on through their Conference, defeating SUNY-Albany 13-3 in the final. 1st seeded CCSU fell all the way to third and SUNY-New Paltz avenged a Saturday loss to Southern Connecticut State by defeating them in the game to go.
West New York
Advancing
1. Cornell
2. Syracuse
3. SUNY Binghamton
4. Queens Kingston
5. Rochester
6. Buffalo
Another Conference title to Cornell, who despite a mediocre regular season came ready to roll their Conference. They look to be the class of the Metro East still.
Northwest
Big Sky
Advancing
1. Utah
2. Montana State
3. Boise State
4. Montana
5. Washington State
Utah took home the Conference crown despite a Saturday loss to Montana, winning a three way tie between those two teams and Boise State to get to the one-and-done final. Montana State got help from BYU, who won their pool but (as is expected) did not compete Sunday, gifting a berth into the final. Another Conferences goes by with BYU, Saturday's only undefeated team, not advancing…
Cascadia
Advancing
1. Oregon
2. Washington
3. Victoria
4. British Columbia
5. Western Washington
6. Oregon State
It wasn't the easiest Sunday for Oregon Ego, who won back to back games by just a single point in the bracket to win the Conference. The teams they beat – Washington in semis and Victoria in the final – met up in the second place game, another close one that Washington claimed. UBC defeated Western in the 4th place game 12-10 in a Conferences filled with close games.
South Central
Ozarks
Advancing
1. Washington University
2. Missouri
3. Arkansas
4. Kansas
5. Saint Louis
6. Oklahoma
Wash U rebounded from a Saturday loss to Missouri to defeat them on double game point in the final and win the Ozarks title. Mizzou bounced back to take down Arkansas in the backdoor game. Speaking of bounce backs, Oklahoma recovered from an 0-3 start to beat Kansas State in Sunday pool play for the final spot.
North Central
Northwoods
Advancing
1. Carleton
2. Minnesota
3. Duluth
This regions went as seeded, with favorite Carleton coming out on top after beating Minnesota 15-9. Duluth punched its ticket to Regionals beating Winona State for the second time on the weekend.
New England
Metro Boston Dev
Advancing
1. Tufts-B
Southeast
Gulf Coast
Advancing
1. Auburn
2. Tulane
3. Alabama
4. Vanderbilt
5. LSU
The top two teams in the conference took the top two spots. Auburn held up 10-9 to beat Tulane 11-9. The top five seeds all qualified for Regionals.
Southwest
NorCal
Advancing
1. Chico State
2. Stanford
3. Davis
4. California
5. Santa Cruz
6. Santa Clara
Chico State claimed the Conference from top seeded Stanford, 15-8 in the final. 7th and 9th seeded Santa Cruz and Santa Clara (respectively) jumped over Las Positas for the last tickets.
SoCal
Advancing
1. California – Santa Barbara
2. California – San Diego
3. UCLA
4. Cal-Poly SLO
5. San Diego State University
6. USC
Despite losing to them in pool play, #14 UCSB took down San Diego in the final 15-11, and will remain a favorite to take the region's bid to nationals. The bids went to chalk on the whole.
Women's Division I
Metro East
East Metro East
Advancing
1. Princeton
2. UConn
3. Yale
4. Columbia
5. Rutgers
6. NYU
7. Stony Brook
Princeton squeaked it out over UConn, both teams coming in with undefeated weekends; UConn was within one at 12-11 but couldn't get the game even before hard cap. Columbia and Rutgers broke seed from 8th and 10th, respectively.
Northwest
Big Sky
Advancing
1. Whitman
2. Montana
The Conference posed little threat to #10 Whitman, who went undefeated and won the final 15-8, which they ended with a 5-1 run. Montana claimed the final invite to party with the big kids in Walla Walla.
Ohio Valley
Pennsylvania
Advancing
1. Pittsburgh
2. Penn State
3. West Chester
4. West Virginia
5. Carnegie Mellon
6. UPenn
#17 Pittsburgh showed why they are a favorite to claim one of the Ohio Valley's two bids to nationals by traipsing through Regionals, capped off by a 13-8 win in the final over Penn State. Saturday featured some upsets, but most of Sunday went to chalk; most games weren't even really that close.
South Central
Ozarks
Advancing
1. Kansas
2. Wash U
3. Missouri State
The top 3 seeds claimed the bids, headlined by #11 Kansas, who dispatched Wash U in the final. WUWU didn't go down without a fight, pushing a deeper Kansas squad, but eventually fell 13-8. Missouri State had no trouble finishing out in the consolation bracket.
Southeast
Gulf Coast
Advancing
1. Auburn
2. LSU
3. Tulane
4. Vanderbilt
5. Alabama
Teams got down and dirty in the Tupelo mud and a Conference formerly stuck with a single bid found themselves flush with opportunity. The top 5 seeds advanced, with Auburn crushing in the final, but LSU rebounded from a 1-2 pool play performance for a surprising run to the final. The entire group will provide dangerous landmines for the Southeast's nationals hopefuls.
Southwest
SoCal
Advancing
1. UCLA
2. USC
3. UC San Diego
4. San Diego State
5. UC Santa Barbara
6. Claremont*
An easy weekend for #6 UCLA, who came out of the gates slow, but wound up rolling. The mixed bag of talent was on display with the middle of the pack battling it out, and USC emerged victorious. Claremont finished 6th, ahead of Cal-Poly in a strange pool play format; they'll go to D-III nationals, ceding their spot.
NorCal
Advancing
1. Stanford
2. UC Davis
3. Cal
4. Humboldt St.
5. UC Santa Cruz
Top seeded and #3 Stanford cruised to a victory, giving up 6 points in their four Ws. Let down games remain an issue for #24 Cal, who fell to Davis in the back door game. UCSC claimed the last spot with a 15-8 win over Chico State.
Men's Division III
Metro East
Hudson Valley
Advancing
1. Connecticut College
2. Army
3. Marist
4. Skidmore
5. RPI
Connecticut College squeaked out a 10-9 win over Marist with the next four spots falling into place with win-forfeits.
Western NY
Advancing
1. Geneseo
2. Fredonia
3. Hamilton
4. Oneonta
5. Ithaca
Geneseo won a tightly contested 15-13 finals matchup over Fredonia to win the conference title.
North Central 
Northwoods
Advancing
1. Carleton GOP
2. St. Olaf
3. St. John's
4. St. Thomas
No team put up more than four on GOP as it defeated St. Olaf 15-4 in the championship game.
New England
Metro Boston
Advancing
1. Brandeis
2. Bentley
3. Stonehill
4. Merrimack
Mostly easy pickings for #4 Brandeis and #21 Bentley, who crushed the field before Brandeis took home the belt.
North New England
Advancing
1. Bowdoin
2. Middlebury
3. Bates
4. Colby
A true thriller for four teams each already locking up bids just by getting out of bed. But really, the games were actually very close across the board. Bowdoin's 12-11 win over Bates and 15-10 victory against Middlebury propelled them to the top.
South New England
Advancing
1. Amherst
2. Bryant
3. WPI
4. Williams
#1 ranked Amhertst faced some stiff challenges from Williams and Bryant, but emerged undefeated by the tournament's conclusion. Bryant narrowly claimed second place over Worcester Polytech.
Ohio Valley
East Penn
Advancing
2. Haverford
3. Franklin & Marshall
Your actual winner was Lehigh, who advanced to D-I Regionals. Franklin & Marshall defeated Swarthmore 13-8 in the last game to go, after Swarthmore crushed them in pool play.
Ohio
Advancing
1. Franciscan
2. Oberlin
3. Cedarville
4. Ohio Wesleyan
Some close games, but top seeded Franciscan emerged victorious. Oberlin and Ohio Wesleyan broke seed by a spot; OWU edged Kenyon to take the last spot.
West Penn
Advancing
1. Messiah
2. Dickinson
3. Gettysburg
4. Clarion
With five bids and four teams, one squad was getting left at home. Gettysburg rose from the last seed to the 3rd place finish and Clarion beat Pittsburgh-Johnston, who had beaten them on Saturday.
South Central
Texas
Advancing
1. Rice
2. Midwestern State
3. Trinity
Trinity beat Midwestern State twice before losing to them in the back door second place game. Not common to have to play the same team three times.
Women's Division III
New England
South New England
Advancing
1. Williams
2. Mount Holyoke
3. Smith
4. Amherst
All four teams advanced before even the first pull, with four bids between them. That didn't stop #5 Williams from asserting themselves over #14 Mount Holyoke and company.
Ohio Valley
Pennsylvania
Advancing
1. Haverford
2. Lehigh
3. Messiah
4. Swarthmore
5. Dickenson
6. Gannon
#11 Haverford romped through most of the tournament, giving up just 9 points in their 5 games preceding the final. Finally, #18 Lehigh pushed back, but relented to fall at a score of 13-10. Lehigh notched two close wins over #21 Messiah, 10-8 and 9-8.
South Central
South Central
Advancing (to Nationals)
1. Rice
2. Truman State
3. Harding
There's no question about who is #1: Rice beat #2 Truman State twice, 13-9 in pool play and 13-11 in the final, locking up the top seed at the D-III Championships. #15 Harding beat Missouri S&T 13-8 in the game to go.