Air Force isn't in attendance, but their bid is.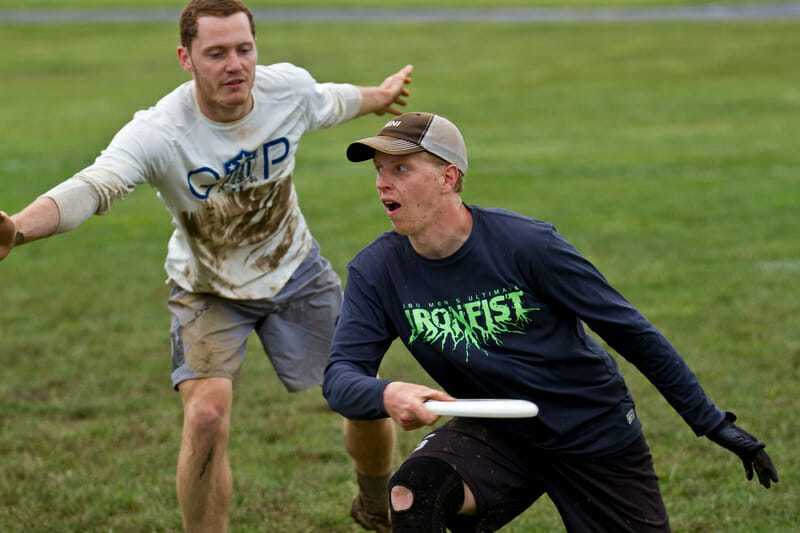 South Central DIII Regionals should be a shootout this year. Most of the teams in this field are bringing potent horizontal stack offenses, while few boast elite defenses. In the majority of these contests, the outcome may very well be as simple as who throws the fewest unforced turnovers. As always, look for Tulsa weather, particularly that cursed Oklahoma wind, to play a factor on one or both days of the tournament.
While the South Central region has received some flak — some of it deserved — for being weak, there are three teams who are rounding into shape at the right time and could be competitive at Nationals this year should they make it. Unsurprisingly, the top teams in the region are the programs with the most previous Nationals experience under their belt. However, there are a few darkhorses sitting underneath them waiting to strike if these top teams slip up. With two bids this year, look for John Brown, Harding, and Rice to lead the way in an exciting weekend.
The Heavyweights
John Brown
Depth is often the calling card of teams who win their regions, and John Brown Ironfist has one of the best combinations of speed, height, and disc skills in the South Central. With those tools, there is no reason Ironfist should find themselves overwhelmed in any of their games.
At times, they have looked too casual and thoughtless when handling the disc, which leads to more turnovers than you would like to see from a potential Nationals-caliber team. However, they also displayed moxie at Conferences by grinding out and winning many long points.
Ironfist generally starts in a flowy horizontal stack with cutters initiating the offense. This allows downfield threats like Kyle Dyer and Drew Taylor, one of the more impressive players in the region, to go out and let the game come to them. However, there were stretches where opposing teams put excellent pressure on them, and when this happened their cutters started clogging space. This forced throwers to hit tough break throws to open up their offense.
In the finals against Harding, the displayed an ability to shift to a vert stack as needed. Being able to successfully throw some different offensive looks will be important to keeping their offense unpredictable and efficient.
At the end of the day, star handles Aric Powers and Matt Weeden do a great job of being there for resets when the offense stalls. Unfortunately for John Brown, captain Ethan Penner said that "Matt Weeden, our cheer captain and probably our best all around player, won't be playing this weekend after he sustained a head injury at [conferences] against Harding." If John Brown can avoid major issues caused by Weeden's absence and keep their cuts clean and precise while still operating out of a flow, there is no defensive unit at the tournament that can consistently break them. And if they are getting broken, look for Penner to come over from the D-line and make an impact on offense.
This year's Ironfist team is markedly different from their predecessors on defense. Previous iterations of the team relied heavily on zone to conserve legs and allow their best players to play both ways more often. This team, however, runs almost two true defensive lines that grind out tough man defensive points while throwing some zone and junk looks as curveballs.
Penner is the heart and soul in setting the tone for their defensive effort, especially after the turn when his offensive abilities are on display. Equally impressive on defense are twins Matt and Mark Henry. Having played varsity soccer at John Brown, they bring big layouts and, despite not being extremely tall, they play bigger than they appear. They are also grinding cutters after the turn and really wear their matchups down. Look for freshman Grant Bruner, a legitimate candidate for the Region's All-Freshman team, to be putting up some impressive hucks and break throws after the turn. If he can avoid tunnel vision and make the smart choice, this team can convert a high number of their break points.
Harding
Harding Apocalypse had a somewhat disappointing campaign last year. Of course, disappointing for a program like Harding means a semifinals loss to John Brown. That's a testament to a group that consistently strives to compete at the highest levels. After taking some time to find their stride this year, they rolled through Conferences until they met JBU in the championship. The contest was an excellent game that really could have gone either way had Harding made a couple more momentum shifting plays. They are, without a doubt, one of the three biggest contenders to take one of the two bids the region has available.
Harding also operates out of a horizontal stack that can be handler or cutter-initiated depending on the defense being played against them. Apocalypse does not necessarily have the "superstar" player that many teams have. What they have is a collective of extremely solid, unselfish players who share the disc quickly. Captain Gregg Downing brings veteran leadership both in the huddle and on the field.
The real engine of the team on the field is Luc Sutherland. An underrated player in the region, Downing said "he can do pretty much everything on the team." He's right: Sutherland is an explosive pack of dynamite who can hit break throws, streak deep for a score, and consistently make layouts or big plays in the air at will.
Travis Duwe is also another key for this team. Possessing a huge flick, he can be seen flick pulling out the back of endzones. "His first step is very explosive and not only can he run fast, he can jump and contend with the best in the air for a disc," said Downing. Duwe will need to avoid some of the costly turnovers he made at Conferences to give Harding a shot at returning to Nationals.
Harding relies on their top players to help solidify their defensive looks. They also throw timely zone looks as a mechanism to keep offenses from getting in too much of a rhythm. And with a tall, athletic player in Kendall Lowe who can either play deep or be part of a tall cup, their zone looks can be intimidating when they maintain their spacing.
Harding can generate turns on defense, but they have two deficiencies to overcome if they want to survive this weekend. First, they are not a tall team overall and will need to mitigate other teams' deep looks on their shorter defenders. Second, they will get tired if their go-to players are forced to play a lot of points. Regardless of whether or not they wear out, never expect to see them stop competing.
Downing quoted a Bible verse that is their mantra for the year: "Whatever you do, work at it with all your heart, as working for the Lord, not for human masters." This internal motivation drives Harding to give you their best shot. Still, keeping players like Downing, Sutherland, and Duwe rested and efficient as the game goes on will be imperative when playing opponents late on Sunday.
Rice
Rice Cloud Nine is a bit of an enigma this season. Are they undefeated with a plethora of blowout wins? Absolutely. Are they relatively unchallenged having stayed close to the Houston area and playing many of the same teams repeatedly? Affirmative. That said, with a solid core of players that were part of their back-to-back Nationals runs from 2013 to 2014 leading an emerging group of underclassmen playmakers, it will be surprising if Rice is not one of the top teams in the region this year.
Cloud Nine brings more versatility to the their offensive looks than any other team in the region. While most college teams at this level have very set roles for players, Captain Johnny Frolichstein said that, "One of the crucial elements of our [offense] is that everyone has plus throws, so we really try to flow. The handlers and cutters are far less set in stone than other teams I've seen [or] played on in the past."
This affords them a positionless offense that can take on whatever form it needs to win. They are anchored by handlers Brett Virgin-Downey and Austin Benavides. Those two will look to find their favorite targets in Michael Drewry and Alex Heath. Drewry, a captain, has been a force for Rice the past few years and this year should be no exception. With electric bids and an awesome thumber, he is the consistent cog in Rice's offense. Shutting him down will not take away all of Cloud Nine's offense as they have too many weapons to be reliant upon one person, but it could go a long way to determining a close game on Sunday.
On defense, look for Rice to bring man pressure. Frolichstein explained that their philosophy is that they "have the team philosophy of treating defense like the fun part of frisbee. Offense is just something you have to do after you're done playing defense." Rice will relish the prospect of shutting down cutters and punching in breaks.
Frolichstein helps keep the ball moving on this side of the disc. With previous Nationals and club experience, he keeps younger players grounded and focused on their task. This allows younger defenders like Linden Shih and Abhijit Brahme to go out and make plays. Frolichstein said of these younger defenders that they are "two of the hardest people to get open on I've ever played with, including club. They usually take some tough matchups despite their relative inexperience." Ben Lopez will also put his mark on the defensive line especially after the turn where he carries a heavy load of the handling responsibilities. His throws being on point this tournament will be paramount to Rice's success.
Darkhorses
Truman State
Truman State JujiTSU had an up-and-down Conferences weekend. They posted an 0-4 record on Saturday before turning around and playing their way to a hard-earned third place finish. This Truman team is not quite the same juggernaut that last year's team was, but they are a solid program and will not be afraid of the big games and moments. If they catch one of the favorites sleeping on them, they could take advantage.
JujiTSU is another team that relies heavily on a horizontal stack offense. President Brendan Cirillo said the "offense hinges on the ability for the handles to run the motion." Watching JujiTSU it is also easy to see that they like their inside breaks and are not afraid to hit a man moving to the breakside.
Tom Crockett, a returning All-Region player from last year, was not present at Conferences and his return to the team will be one of the more interesting storylines of the weekend. It is not a stretch to say that Crockett will have the best arsenal of throws on display this weekend of any handler, and If he can find some of his favorite targets, like fellow Senior Aaron Davis, a captain for JujiTSU, they can ruin someone's weekend really fast.
Cirillo was frank in admitting that "defense has been a weakness all year and will continue to be a huge factor down the stretch." How JujiTSU's defense comes together will impact where they will land on the totem pole this year. Will their man defense be able to smother opponents? Or will they need to rely upon some of their junky zone looks that have served them well in past years?
JujiTSU was often unable to generate their own blocks at Conferences and relied upon unforced turnovers a majority of the time for their breaks. If they can start getting more blocks from some of their younger players, it will allow their key players to stay rested and keep their offense running smoothly late into the tournament. It will be interesting to see how often Crockett crosses over onto D-line because his presence will drastically increase their ability to convert break chances.
Missouri S&T
Missouri S&T Miner Threat is a much improved team from a year ago. A large portion of this is attributed by their captains to better "recruitment on campus the last two years." They also tested themselves better this year by traveling to tournaments like Midwestern Invite. Miner Threat is a good team that can give you problems if you are not playing well. However, they have struggled to be competitive late in games against elite competition all year as they tend to fade down the stretch. If they make championship bracket, look to see if Miner Threat can finally put together a full game and make a run at Nationals.
Miner Threat, along with every other team in the region, operates mostly out of a horizontal stack. Their featured players are Zach Johnson, Neil Wessling, and Kelly Mauntel. Their identity, on both sides of the disc, is simply defined by their captains as "play hard."
No one on their team embodies this better than Zach Johnson. At Conferences, it seemed that every time you would look at the field where S&T was playing, you'd catch Johnson laying out. He and the other key players will need to bring that fire all weekend to have a shot at one of the two bids. Miner Threat really seems to lack some of the bigger throwers that the other teams in the region have. It will be interesting to see if someone steps up to take and hit big throws when opposing teams ramp up the defensive intensity.
Miner Threat throws both a strong dose of man and zone looks depending on the opponent and the weather. Their defense is something that will need to take a step up from sectionals where they struggled to generate breaks against the elite competition. Their offense is simply not talented enough to avoid getting broken all game, and there will come stretches in crucial games where they will look to their defense to bring them back into a game. Look for them to load up D-lines from time to time trying to get those big breaks on Sunday.
Colorado Mines
You may have heard that Air Force didn't make it to Regionals. Well, meet the guys responsible for it. Colorado Mines was simply the better team and beat them convincingly twice over the course of the weekend to advance. Colorado Mines is a fun team to watch and came to sectionals ready to ball out. They told me that Conferences was all about Chasing SaraTulsa and they left no doubt that they were a regionals-level team. With a lot of upperclassmen on the roster, this will be a big year for them to try and put their mark on the region. Still they will need to overcome one of the smaller rosters at regionals and a lack of experience in big games to take home a bid.
Offensively, captain Scott Harris described their offense as "a very handler-run [horizontal] stack, running bumps and quick break side looks." Patrick Boyker is one of the biggest reasons this movement works as he is constantly hustling and moving the disc with both his throws and cuts. When he gets the disc in power position look for him put it up to one of the tallest targets in the region, Zach Cotter.
Cotter, only a Freshman, is often the initiating cutter and also the bailout option when the offense gets bogged down. And with a frame as large as he has, he was able to get up for almost any disc he wanted even in their two games against John Brown. His performance in big games could have a huge impact on whether or not they pull off a key upset.
Defensively, Mines stays almost exclusively in a hard man look and trusts players to win their matchups. One player to watch for is James Miller. A highlight reel machine, Harris said that Miller "is a player that really gets the team pumped." He is also someone they were without for Sectionals, and he could produce some layouts down the stretch of key games to keep their energy levels high. Mines doesn't get fancy on the defensive side of the disc, but if they can manage their short roster effectively, they have the raw athleticism to be very effective.
The Rest of the Field
Trinity
Focusing on Trinity Turbulence really starts and stops with one player on their team: Reid Bacon. Bacon, a player for Doublewide last year, is a legitimate star in the region and will deserve the attention he receives from opposing teams. Unfortunately, the surrounding talent of Trinity's team makes it unlikely that they will advance very far at this tournament. Look for teams to try and neutralize Bacon's effectiveness and make other players beat them. If this team gets even close to sniffing a Nationals bid, it will mean that Bacon is having a huge weekend.
Midwestern State
Midwestern State Calvary is a relatively new team in the region and has been progressing every year. Still, it is hard to see this team getting close this weekend. Their top talent will have their hands full trying to matchup with opposing stars, and the supporting cast of players will be overwhelmed by the kind of players bigger teams in the region can keep throwing at them point after point. Mark Campbell and Darin Young, the captains of this team, will look to keep their team positive and improving throughout the tournament. Calvary is a team that likes to throw the deep ball and will look to keep slinging it this weekend, but if they are not able to bring those throws down it could be a long weekend for Midwestern State. They will also hope to junk up other team's offenses with some crafty zone looks, and will probably be hoping for a bit of wind to equalize the games a bit in their favor.