Texas A&M continues their hot streak as Texas avoids disaster.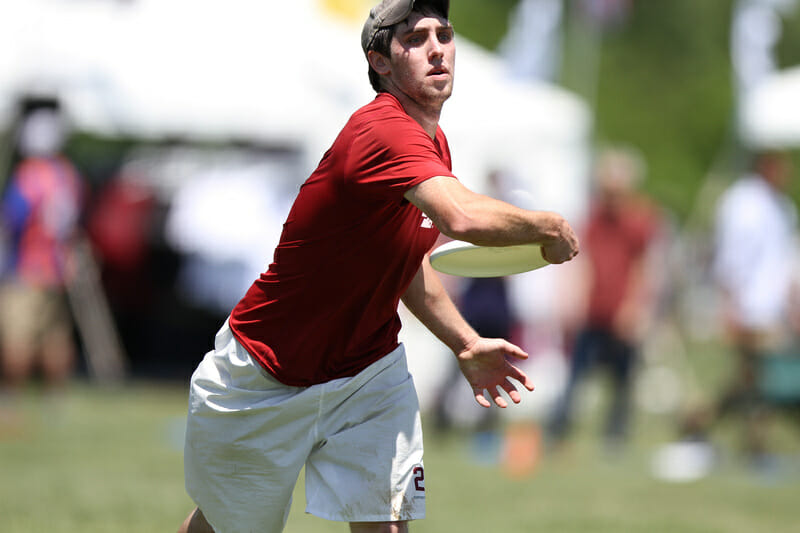 DENVER — On a rainy Sunday morning, Texas A&M used a brutally effective junk zone and had one of their cleaner offensive games of the season to storm past Colorado 13-8 to win the South Central Regional title for the first time in program history.
Primary handler Matt Bennett finished the game with six assists and a goal to lead the A&M offense, but it was the defense, stifling Colorado's normally effective offense and converting six breaks, that led the way.
"The strategy our whole season is guarding the vert by starting at the marks and the front of the stack," said A&M coach Jose Cespedes. "It just so happened that Colorado — that's where they run their offense. We used a lot of the zone that was helped by the rain."
A&M's junk zone was a nightmare for Colorado's thin handler set. On multiple possessions, Colorado never got 20 yards from their own endzone before turning it over, often gifting breaks to A&M. "Too many turns we gave them right near our endzone," said Colorado coach Brent Zionic. "I don't think that was the weather so much as it was A&M executing their game plan."
The rain surely did not help. Colorado's deep game was clearly affected, as many of the team's hucks turned over and fell far short of their target. They did have somewhat more success on the backhand side, but they struggled mightily to throw flicks with the wet disc. Both teams had some drops and miscues because of the rain, but Colorado's inability to stretch the field just made A&M's zone that much more effective. Combine that with some great plays by A&M's cutters and the game got out of reach quickly.
"I don't think the rain had a whole lot to do with it," said Zionic. "I think it was primarily that A&M came down with every 50/50 ball. We had plenty of times where we got them to stall eight, stall nine. They'd send it and they'd catch it and score."
Texas A&M jumped out in front with two quick breaks thanks to Mamabird miscues, but Colorado tied the game at 3 when Eric Hotaling made an excellent sliding catch at the front corner of the endzone on a disc thrown behind him.
A&M got the break back two points later after Wesley Chow dropped a pass near the Colorado goal line. Bennett picked it up and fired a textbook inside out flick across the field to Bobby Lewis for the 5-3 lead. Bennett extended the lead to three with a scoober assist on the next point following another short field Colorado turnover.
Colorado didn't get another break, despite having some chances, until midway through the second half when A&M had their own backfield turnover. But A&M's offense was just too sharp, as Lewis kept coming down with everything and Dalton Smith and Bennett played very steady in the backfield.
Smith capped off his four assist, three goal performance with a Callahan on a swing pass on the game's final point to seal the 13-8 win.
"We're going to Nationals," said Bennett. "And that was not the goal, but it's a step towards the goal. First place was always our main thing here, though, because we knew we were good enough to be first seed." It was a no doubt Regionals win from Texas A&M as they build towards a deep run at Nationals.
Colorado Breezed Past Texas
Colorado bounced back right away to claim the second bid out of the South Central with a 12-6 win over Texas. Texas, coming off of a double game point win over Colorado College, stayed with Colorado for most of the first half, but fell apart in the second half mostly due to offensive miscues. They also mostly ran man defense, which Colorado was able to exploit far more than the defense they had seen just minutes before from A&M.
Everyone on Colorado seemed more sure of themselves in this contest, as Stanley Peterson, Wesley Chow, and Pawel Janas led the way for Colorado. The game felt sealed right at the end of the first half, when a drop from Texas' Luke Simerly near their own endzone gave a short field to Mamabird, who punched in their third break of the half to take a 7-5 lead receiving out of half.
Texas had two opportunities to break on the first point of the second half but could not convert — a story of their weekend — and Colorado never looked back.
Mamabird, despite finishing second in the region, will not be an easy out at Nationals. The poor weather clearly dampened their game against A&M, but they were the far superior team in the 2nd place contest. "They play one of the best defenses in the country," said Texas captain Chase Cunningham.
Strong Second Half Vaults Texas To Final Bid
Texas looked to be on the brink of elimination at halftime of the 3rd place game at the hands of Washington University of St. Louis. WashU stormed into the game with boundless energy after a convincing win over Colorado College moments before. Texas had their heads down after the tough defeat to Colorado.
WashU senior captain and primary handler Joseph Marmerstein led the offense to an easy hold on the game's first point and the WashU sidelines erupted. This was going to be no cakewalk for Texas. "I think we came in with not only with momentum and positivity but we knew we had nothing to lose," Marmerstein said.
Marmerstein went on to have one of the best individual halves of ultimate on the weekend, heading into the break with five assists, a momentum-shifting layout block, and excellent poise.
It was a 7-4 halftime lead for WashU, thanks to a three break sequence that put them up 5-1. They were gifted a couple, as Texas cutters caught the disc out of bounds during routine zone offense. Joel Clutton, who was called out on the second break point, was outraged and ultimately given a technical foul for arguing with the observers.
Texas got one back before half, but couldn't consistently slow down the WashU offense. They had their backs against the wall at halftime. "We obviously weren't very excited," said Texas coach Calvin Lin. "But we've been in corners before and we felt like we could turn it around a little bit we could start going downhill."
That's exactly what happened. An offensive hold. Then a Clutton run through block and a scoober assist for the break. Then a lucky break as Chris Schultz got a second effort score to tie the game at 7. Captain Michael Hays' massive layout block on an in cut came next, and everyone knew it was over. Texas went on to score all seven of the second half points and close out the 11-7 victory.
"We just had to believe in ourselves," said Lin.
Cunningham rebounded from a poor game against Colorado and in the first half against WashU to lead the team both on the field and in the mental realm. He was the most fired up player on the field in the second half. Texas' defense was just overwhelming for WashU late in the game. "The fact that we got people hitting the ground really started to get us pumped up," said Cunningham.
It was a valiant effort for WashU, but some of the lucky bounces that went their way in the first half evaporated in the second half. Rattled cutters threw into poaches and the offense ground to a halt.
"I don't think that we slowed down," said Marmerstein. "A lot of it was that they continued to force looks that were in their favor and we just didn't connect on them…Athletically they were better than us. A lot of their guys were taller and faster."
But don't think Texas wasn't worried. Dillon Larberg, who hadn't played all day because of ankle injuries, cleated up for the second half and gritted through it. He played a big role on defense as the team worked back into the game and eventually to the win.
"It's tough to finish on a loss and more than anything it's tough to have the season come to an end," said Marmerstein. "But there was definitely a feeling for me personally and our team in general: we didn't feel like we held anything back. Definitely a lot of pride of what we were able to accomplish in the season."
Texas now looks to get healthy and bring back some missing pieces as they head to Nationals as a tricky matchup for any team with their combination of size and defensive skill. If their defensive line can get more consistent at scoring after the turn, they will have upset potential in them.
Notes
– A&M beat Texas for the fourth straight time this season in semifinals.
– Every game in the Championship bracket went to seed, until A&M upset Colorado in the final.
– If WashU's Joseph Marmerstein played this well for the entire season, he's a lock for first team All-Region. He put the screws to Texas in the first half of that game.
– The tournament director did a very good job of limiting the damage of the poor weather. Rounds were rescheduled for late Saturday afternoon, and a 10 AM start time for the final was pushed back to 8 AM. It didn't dodge the rain, but it meant less time in it for everyone.
– A&M's offense has looked much improved after each tournament. They have height and speed on the O line, and the turnovers were way down against Colorado, despite the rain. We could be in for a treat if they end up as the #3 overall seed with UNC Wilmington in their pool at #6. Very possible.