Oregon and Washington have been the class of the Northwest this year. Will they cruise to victory?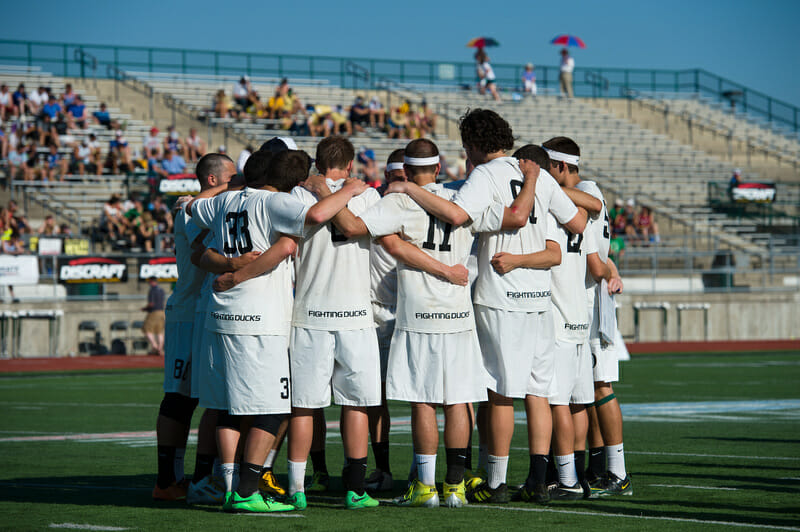 Let's rewind the clocks back to before the college restructuring in 2011. The Northwest used to be one of the strongest regions, featuring teams like Stanford, California, and UC Santa Cruz in addition to those that remain today. In the seven year period from 2004-2010, the regional title switched hands four times and six different teams were sent as representatives to the national tournament. Since then (save for the 2011 Norris British Columbia team) the Northwest has been all Oregon. For the past three years, Ego has taken the region in commanding fashion. Though there appears to be more parity near the top in 2015, most are expecting a fourth consecutive title.
When the first pull flies at 9:30 A.M. this Saturday in Walla Walla, WA, history won't mean anything. If last weekend was any indication, even perennial contenders can find themselves watching from the couch on Memorial Day. While trying to predict how everything will shake out in the end is a fool's errand, these qualifying tournaments are slightly more manageable. Here's a swing at forecasting how things will shake down in the Pacific Northwest.
Quack, Quack, Quack, Mr. Ducksworth!
Picking the top seed is not the sexiest thing in the world, but they're favorites for a reason. Looking back to the beginning of the season, however, there was certainly no doubt: 2015 was supposed to be Oregon Ego's year.
2013 Callahan winner Dylan Freechild was coming back for his final year of eligibility. Aaron Honn was back from studying abroad in France. There were even rumors swirling about the addition of Las Positas/Revolver big man Simon Higgins. These three young titans with their already impressive trophy case, playing together in the college division? Oregon would have been at the top of the short list. Alas, it was not to be. Honn made the decision to not return to Ego and the Higgins rumors turned out to be just that. Many believed that Oregon would still be good…they'd qualify for Nationals but perhaps not return to the semifinals for the fourth straight year.
Months later, doubts have been shattered. This spring Ego finished first at Pres Day, second at the Stanford Invite, and third at Easterns on the way to a 31-3 record. With wins over Wisconsin, Texas, Colorado, North Carolina, and Washington as well as close losses to Pittsburgh and UNC Wilmington, Oregon looks like they haven't missed a beat. Add in the fact that Ego has shown the ability to win big games without Freechild and you're staring at a resume of a top three team.
Before any discussion can begin regarding Oregon's possible finish at Nationals, they'll have to qualify through a seemingly even Northwest region. Ego hasn't been able to show dominance against their regional competition which culminated two weekends ago with single point victories against Washington and Victoria. Though the Ducks won't see either team until the finals, it still begs the question of whether Oregon has the ability to separate themselves from the pack.
If important games come down to a few key breaks and Ego is too nonchalant with the disc, Oregon could find themselves in the backdoor game for the first time since 2011. Personally, I think Oregon breezes their way through the weaker Pool A and finds themselves in the finals against a team who will be more focused on winning the game-to-go. It's happened before and it'll happen again.
A Fresh Look At The Fundamentals
Coming in the two spot are the Washington Sundodgers, and expect things to stay that way. UW has absolutely rolled through most of their competition this season, with a first place finish in Santa Barbara, second place at Pres Day, and fourth at the Stanford Invite. Boasting an average margin of victory of nearly five goals, this team has burst onto the scene on what looks like the express lane to a top eight finish.
There are many reasons why Washington has been so successful this year, but none are more apparent than the execution of their system. While many teams are shifting from horizontal to vertical offenses, very few have a reset system as crisp as the Sundodgers'. With handlers comfortable throwing around and inside breaks on both sides of their body, fresh stall counts come easy and the dead side of the field becomes a scary prospect for both marks and downfield defenders.
This is not Washington's greatest weapon, however. New head coach Alex Wells has installed a system in which throwers look downfield considerably longer than most defenses anticipate. These additional stall counts equal one or two extra changes of direction for athletic cutters like Khalif El-Salaam and Callahan nominee Jonny Stacey. If you caught the Washington vs. Carleton game at the Stanford Invite, you saw firsthand how El-Salaam was able to create tons of separation against an elite defender like Jesse Bolton who was consistently fooled by the cut's length and timing. With athletic receivers and throwers that can throw deep without motion or find a reset late in the stall count, it's no wonder why the Sundodgers have found themselves ranked #8.
The main issue with this system, like many vertical stack offenses, is that it can be game-planned. Elite level defenses, like those of Pittsburgh, Colorado, and Oregon, have the defensive horses and trust required to stay tight in person-to-person despite the instinctive tendency to overcompensate in the lane. We also saw cutters in the lane bracketed and switch defenses being employed to confuse the Sundodgers and stagnate the flow of their offense.
Though Washington will not face the same level of pressure every game this weekend, they will have to play against teams who have familiarity with their style of play. It will be very interesting to see how Wells and his team adapts in those situations. With monster athletes like Salaam and Zane Rankin at their disposal, the Sundodgers will have the ability to lean on their athleticism if all else fails.
Never Give Up, Never Surrender!
If I had to choose a team to play the spoiler, it would be the University of British Columbia Thunderbirds. Though Vancouver rivalries with Seattle and Oregon may be shadows of their former selves, signs of a resurgence have begun to appear with closer battles in the club and pro scenes. Two of UBC's best, Peter Yu and Fred Lam, have been suiting up for the AUDL's Vancouver Riptide and hope to use that higher level experience to dominate the relatively slower college game. Additionally, Yu has just come off of a nationals qualifying season with Furious George, the old stomping ground of UBC's head coach Marc Seraglia.
With so many ties to the angry monkey, it's easy to assume that UBC would also have a break heavy style that creates space for long under cuts. "Being part of the Vancouver ultimate scene, there's bound to be influence from the Furious George style and that reflects in some of our play calling including our horizontal sets, which seem to be disappearing from the college ultimate scene quickly…," said Lam. "In terms of specifics, [the] Furious of old was able to use the horizontal stack effectively as a means to gain yards.
"They also were loaded with throwing talent, as well as big cutters who posed threats going both ways. With a personnel that is less intimidating than the likes of Lugsdin, Mike Grant, etc. we've had to tailor our offense towards a style that brings out the skill set of our guys, which tends to be quickness and creative throwing."
Oregon and Washington will have the athleticism, conditioning, and defensive prowess to stick with UBC, so it'll likely come down to other aspects of the game. Vancouver has a storied history of punishing opponents with a high conversion rate off turnovers and UBC will need to do just that to be in striking distance late.
For teams at the top, Regionals is all about being in the best position (physically and mentally) to win the most important games. The tournament organizers have smiled upon UBC, who should roll through easy competition before facing Oregon. With a finals spot on the line and no games afterwards, there is no reason for the Thunderbirds to hold back.
"As a team, we haven't paid a whole lot of attention to the way the brackets fall…Most of our focus is in just being able to play the game [the way] we want to play, and to dictate as much as possible..," said Lam. "If we're looking up at the dirt road when the dust settles, so be it, we're prepared for that too." It's evident that Seraglia's strongest contribution has been in the form of mental toughness in the face of adversity. Be it playing the huge underdog against a dominant one seed or taking the long way to the second bid, Seraglia has experienced it and often come out victorious.
Food For Thought
The Northwest Regional Championship is effectively a two bid redo of the Cascadia CC's that occurred earlier this month. All six teams who qualified are seeded in the top seven, with Utah Zion Curtain looking like the sole hope for the Big Sky conference.
The Whitman Sweets are certainly a shell of the Norden/Janin/McGinn squads of 2011 & 2012, but the hometown boys have a chance to be the second team to ever make Nationals without qualifying for Regionals. Minnesota-Duluth, who had a significantly harder conference, did just that back in 2012.
Seattle Sockeye's young workhorse Matt Russell will have an opportunity to prove himself Callahan-worthy if he can carry Western Washington Dirt to a Nationals appearance.
With the top teams looking like they can beat one another in any given game, this weekend should be one to remember. I'll be there to cover the action, so be sure to follow along on Twitter @Ultiworldlive.