A drama-filled weekend was all you could ask for at Regionals, featuring upsets, thrilling victories, and heartbreaking defeats.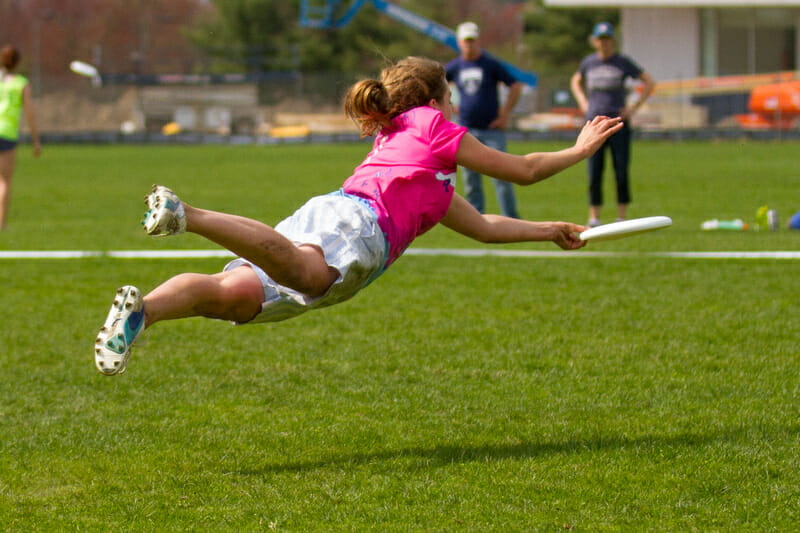 After the first weekend of Regionals went primarily to seed, we all needed a little excitement and drama. New England gave us all we could handle. Over 10 games were decided by three or fewer points; eight games concluded with a single goal separating the winner from the loser. And while Dartmouth efficiently sliced their way through the competition, after that, everybody attempted to valiantly throw their hat into the ring.
Look at just Saturday! The top seed in pool B, Tufts, was nearly eliminated from contention. And yet Tufts had a chance to still win their pool in their final round on Saturday. 9th seed Vermont put very late scares into both Tufts and eventual third place finisher Harvard. Boston College narrowly edged New Hampshire, helping the 7th seed climb to finish second in their pool.
Fittingly, it was another surprise – Middlebury – who snatched the ticket to Milwaukee from the eager grasp of so many contenders. There's a lot to digest from an incredible weekend.
Hail Dartmouth, Princess of New England
Dartmouth Princess Layout entered as the number one seed in the region and left with no doubt about who was the best. They not only won the region without a loss, but were rarely even approached by the specter of failure; their closest margin of victory was four points against Northeastern. The final against Middlebury was a lopsided showing from the beginning, when Princess Layout went up 3-0 and took half 8-3.
"It feels great to have won the region this year and to prove that we deserved to be in that game and that we deserve to go to Nationals," said captain Patricia Neckowicz. "In past years, we've had to try and sneak in through the back door, which never feels quite as decisive."
Zone play was a key factor for the regional champ. On defense, they stifled teams with a three person cup and aggressive short deep play, enabled by the imposing presence of Eva Petzinger in the deep lane. On offense, Angela Zhu, Katy Peake, Julianna Werffeli, and their other handlers showed poise and urgency with their short game and disc movement. Their team speed – particularly Neckowicz and US Freestyle Skier Sophia Schwartz – gave teams trouble all weekend.
But mostly, it was their ability to reach further down their roster and still get key contributions and a high level of execution that seemed to make the difference. "The incredible depth of our team helped us win games decisively," said captain Peake. "Other teams were playing their star lines for whole games – we had multiple lines that we could trust to score points and keep the energy up, even during close games."
Top Form, Middlebury
In a region with three 2014 Nationals qualifiers and another team who won a strength bid, somehow Middlebury emerged from the fray, battered and bruised, but victorious. They battled their way through favored Tufts and Harvard (both on DGP on Saturday), not around them, defeating both en route to winning Pool B and advancing to the final.
"Everything clicked at regionals," says Middlebury captain Aly Fassett-Carman. She explained the team has worked hard on becoming more flexible, but also more mentally tough. "We kind of have a tendency to freak out during important games. This weekend we went in to each key game knowing it would be intense… The energy on this team is always amazing, but it was absolutely incredible this past weekend."
Following a convincing loss at the hands of Dartmouth, Middlebury dropped down to the game to go, a rematch with Harvard. After falling into a 3-1 hole, the Lady Pranksters found some rhythm, anchored by handler Nina Job. Tied at 4-4, Job had a big catch block that allowed Middlebury to take their first lead. They scored 10 of the next 13 points to win going away, 15-7.
Middlebury played a confident brand of ultimate anchored by pressuring physical defense and great offensive distribution. "Going into [I-85 Rodeo] I was not sure how we would end up – I knew we had a lot of talent on the team, but I was not sure how we would stack up against nationally ranked teams like Pittsburgh, Georgia, and Wisconsin," admitted Fassett-Carman. "Leaving that tournament having beaten all three was when it really hit everyone that nationals was within our reach."
Their handlers are smart, skilled, and active; cutters do a good job grinding out unders and getting the disc back into the hands of their throwers. They have a solid chance on improving on the program's 19th place finish in 2010, their last trip to the big show. Teams looking for an easy win clearly best look elsewhere.
Tufts Sent Home Early
For the first time since 2010, Tufts Ewo's season won't extend into late May. The region's two seed and reigning champion was ranked #13 by both Ultiworld and USAU, but failed to qualify after losing in the second place semifinals to Harvard. It was the second time on the weekend Tufts was upset by Quasar, accounting for two of their three losses during the weekend.
Ewo seemed to suffer from a lack of depth and execution. In the first round of the tournament, they couldn't hold their 11-9 lead against Harvard, allowing them to rattle off three in a row. They responded with two of their own, but gave up a hold and the ensuing break. Even with multiple possessions to win the game, the opportunity slipped away, and Harvard won 14-13.
They also couldn't fight off Middlebury a few rounds later, in a game that could have righted them ship for them and won them the pool, giving them much needed rest. A 7-6 halftime lead turned into a hard capped 12-11 deficit. That one ended with a bit of controversy when Tufts called a stall on the Lady Pranksters game winning scoring throw. The observer, however, disagreed, and Middlebury claimed the 13-12 win.
That late game inconsistency reared its head again at the worst time: the game to go. After Tufts narrowly kept their season alive with a win over Vermont to make the bracket earlier in the day, they got another shot at Harvard. An 11-10 lead turned into a tie after a Tufts drop, and despite receiving on double game point for the second time in the weekend, a Harvard handblock set them up to knock Ewo out, 13-12.
In their Harvard matchups, Quasar's Eliza Pugh did an excellent job challenging and neutralizing Tuft's Player of the Year shortlister Qxhna Titcomb. With her role in the offense reduced, the rest of the squad was not able to grit through the large number of difficult points a deep field had put them through. The late game cost Tufts over and over again.
Performance Under Pressure Gets Harvard So Close
You just can't talk about the 2015 New England Regional Championships without talking about Harvard's run and the pressure they faced at nearly every turn. Through eight games, Quasar played four double game points, and had another game decided by two. Three of those five games came to start the weekend and four of those five went Harvard's way. Those victories got them to a third place finish.
A trio of stars lead the way for Harvard: India Stubbs, Eliza Pugh, and Eliza Chang. Stubbs and Pugh are both lanky intelligent handlers with the size to give defenders problems and Chang is a springy downfield target. Pugh, in particular, blazed a trail for Quasar, taking one tough matchups and often winning them. As previously mentioned, her play against Qxhna Titcomb in their Tufts games was instrumental in Harvard going 2-0 versus the reigning NE champ.
Living in the edge, however, eventually proved too dangerous. By the time Quasar found themselves in the second place final, they had logged 176 points; opposing Middlebury had played 51 less, perhaps two games worth. Even in their games against lower seeds Vermont, Brown, and Tufts-B, Harvard gave up 28 goals versus 12 conceded by Middlebury. Against the physicality and grinding offense of the Lady Pranksters, Quasar's legs had to eventually give way.
Additional reporting from Alisha Schor.