Pool D is the pool of depth.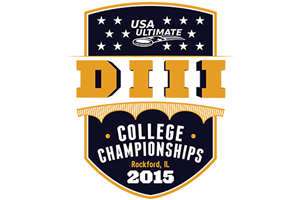 Disclosure: The author is a player for SUNY Geneseo.
Pool D, traditionally the pool of death, doesn't carry quite the same epitaph this year given the staggering pedigree of pool B. It may be the pool of depth, however, as top to bottom all of these teams look competitive and capable of advancing to the bracket. Three of the four teams are returning to Nationals after making appearances in 2014, and the bottom seeded St. Olaf is making its first appearance since 2012 after losing in the game to go at Regionals the past two seasons. All of these teams have something to prove after last year, and this weekend will give them the opportunity to do just that.
The overall #4 seed and top of the pool Lewis and Clark Bacchus will have their work cut out for them if they want to hold onto the top spot. The Northwest champs return to Nationals after their maiden voyage in 2014 has left them hungry for more and ready to prove that they are here to stay at the elite level of the division.
Bacchus has had a sterling campaign so far in 2015, going undefeated against D-III competition. They romped through the series, taking down regional rivals Puget Sound and PLU in emphatic fashion at Regionals. Not only were they dominant in the series, the team hasn't lost a game to anyone since January, as the last game they dropped was to Oregon State at Colluvium.
The only knock on Lewis and Clark's regular season is that they haven't beaten or even played another D-III nationals team this year, which makes their undefeated record lose some lustre. Of course, they did beat D-I Nationals qualifier Western Washington, which might be the most impressive win on paper that any D-III team put up all year. While that game was played all the way back in January, clearly Bacchus's schedule hasn't been just cupcakes, and they have a signature win to hang their hat and their confidence on coming into this weekend.
To continue picking up signature wins, the team will need its stars to play well. In keeping with traditional Oregon ultimate, the team lives and dies with its top players. Will Shaw, Ultiworld's 2014 Offensive POTY, is back and looking to torment defenses at Nationals just as he did last year when he led all players at the tournament in assists. His favorite target is his co-captain, Ben Whitenack, who led all players in goals at Nationals in 2014. If Bacchus' two studs can top the leaderboards again this year, the rest of the field needs to watch out.
Lewis and Clark likes to run a vert stack that takes advantage of Shaw's break throwing ability and lighting quick first step. It's a classic pick-your-poison scenario for most teams with Shaw, as his speed is usually too much for larger defenders that might hope to bother him with a big mark. Whether they get abused by his throws or his speed, teams have to compensate for Shaw's gravity, and, once they do, Whitenack and other top cutters such as Sam Gordon-Koven eat them alive.
Last season at Nationals, Lewis and Clark may have been a little intimidated by the field, as they did not play their best and dropped seed, finishing a disappointing T-13th. This year, with much of their core from 2014 returning, the jitters should be gone. They have a tough road, but if they can maintain the momentum from their current 14 game win streak, they have the potential to bring the Northwest its first D-III title.
Two time Metro East champions, SUNY-Geneseo is hoping to put last year's Nationals disappointment in the past with an improved finish this season. Coming in as the 7th seed in 2014, Snail finished T-15th after losing all five of their games by a combined nine points. Losing so many close games in 2014 gave Snail the extra drive they needed to reclaim their Regional title, and develop a stronger mental game that they hope will let them finish games strong this time around.
Besides some mental hiccups, another part of Geneseo's tough 2014 was due to the injury of David Abbott. Ultiworld's D-III Breakout POTY last season, Abbott was primed to show the country what he could do at Nationals before tragically breaking his wrist in an AUDL game just before the tournament. With his wrist healthy and a fire in his belly, Abbott is looking to validate last year's breakout by following it up with a campaign for Player of the Year, period.
Abbott's speed is up there with the best in the country, but his length is what makes him an exceptional player, and the combination of the two makes him one of the only players fit to guard Lewis and Clark's Will Shaw. If seeds hold, those two will go toe-to-toe for control of the pool on Saturday in what could be one of the most compelling and exciting player to player matchups this weekend.
Geneseo's other star is Matt "Micky" Rybak who had a tremendous Nationals in 2014 when he was forced to step up and fill some of the production gap caused by Abbott's injury. His 11 goal, 19 assist performance kept Snail hanging around last year, and if he can reproduce those numbers alongside Abbott this weekend, then Geneseo could be in business.
Geneseo's regular season saw them score two big wins over third seeded Elon, but also saw some inconsistency. All season they have struggled to put away teams early, needing to grind out games they could have won going away. With the strain of Nationals, every point wears significantly on legs, and if Geneseo hopes to have success late on Sunday, they will need to win games efficiently early in the tournament.
The third team in the pool that is returning to Nationals after making a debut in 2014, Bryant Craze is looking to pick up where they left off after a stellar performance at New England Regionals. They shocked just about everyone besides themselves to finish 2nd and earn the 9th overall seed this weekend.
Projected to finish just outside of the top four teams in the four bid region, they started Regionals with a bang, smashing top seeded Amherst 13-8. They didn't stop there, as their suffocating zone choked the life out of defending national champions Bentley and 2013 champs Middlebury en route to a 4-0 day and the top spot in their pool. They would eventually fall to Brandeis in the championship game, but rebounded to take down Bowdoin, ending the weekend on a high note and putting the country on alert.
The four man cup zone is a staple of Bryant's game plan, and helps their short roster save legs by slowing the game down and frustrating their opponents. Big cups are generally benefited by windy conditions, and if the current weather predictions are accurate, having that zone in their pocket could really benefit Craze.
Of course, defense only accounts for half of the game, and Bryant would not be where they are without the stellar play of sophomore Jacob Garfinkel. At a young age, Garfinkel has demonstrated exceptional ability on offense, and a lot will be riding for Bryant on this sophomore's play.
St. Olaf comes in as the lowest seed at the tournament, but it would be foolish to dismiss them as a flash in the pan or "happy to be there" team. Although the Berzerkers haven't been to Nationals since 2012, they have played high level competition the past two years in the regular season and at the annual death match that is North Central Regionals. The veterans on St. Olaf have put in the work and after coming so close the past two years, are not going to treat their Nationals opportunity lightly.
The key for St. Olaf is their all-everything captain Ben Liska. One of the best cutters in D-III, he is the driving force that brings their offense to life. After losing standouts John Knapp and Vinh Bui to graduation, the burden has fallen even more on Liska this year and he has risen to the challenge.
As good as Liska is, it will be up to the rest of the team to determine St. Olaf's fate. The team's young handling core did a good job at Regionals of keeping possessions alive until the team's big play makers made something happen. However, as defenses tighten up at Nationals and key in on Liska, they will be forced to make plays themselves if St. Olaf is going to escape the pool and make it to pre-quarters.
The Berserkers lack a signature win this year. Beating St. John's three times is impressive, but this was a down year for a BAM team that missed Nationals. There are plenty of giants for the Berzerkers to slay at Rockford this weekend, and just the prospect of them bagging one should be enough to make things exciting.