A look at the four quarterfinals in the women's division at the 2015 College Championships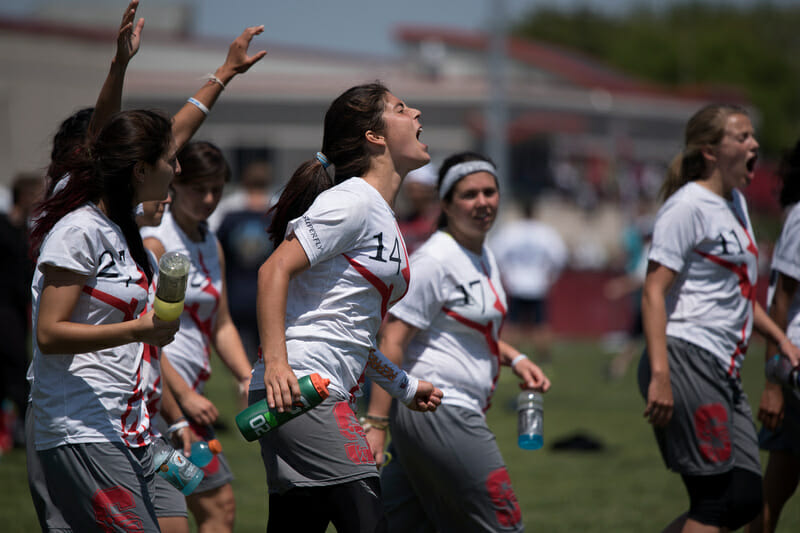 Oregon (1) vs. Dartmouth (7)
Top seeded Oregon faces off with Dartmouth in their quarterfinal round and will be the prohibitive favorite. The teams last met at the Northwest Challenge two months ago and Fugue prevailed 13-8. However, Nationals is Oregon's domain, and they'll be seeking a sixth straight trip the semifinals. Dartmouth hasn't even gotten to the quarterfinals since 2006.
The Oregon attack has been getting sharper and more relentless as their opposition has yielded with less resistance over the tournament's first two days. Senior Bethany Kaylor is back with a vengeance after missing out on the 2014 College Championships, racking up 7 goals and 13 assists. Fellow senior Jesse Shofner has been a big playmaker, as well, adding 13 assists and 3 goals. Along with stifling defense, Oregon has allowed fewer and fewer points in each of their first four games and has given up double digits just once.
Dartmouth Princess Layout has played quite well, if not as dominant as Oregon. They've lost just one game – to Stanford in pool play – and have otherwise won most other matches by healthy margins. The only exception was their revenge victory over Washington in the final round of pool play. Angela Zhu's 26 assists lead all players in the women's division and teammate Eva Petzinger has done a bit of everything, with 11 goals and 12 assists, not to mention numerous Ds.
As the conundrum often is against Oregon, the game will be all about if Dartmouth can resist being forced to play Oregon's game.
"We know they like to play really fast," said Dartmouth Coach Eugene Yum prior to their match. "We don't see that a lot from east coast teams, but we know that's something we'll have to deal with."
Their prior experience against Oregon will help combat some of the strain that the #1 team's pace puts on their opponents, but Dartmouth has their work cut out for them. They'll need to find a way to value their possessions against a variety of defenses while trying to slow down Kaylor and Shofner in isolation sets. Few teams have found a way to do either or both of those things and Dartmouth will have to push to a new level – especially on defense – in order to pull the huge upset.
Virgina (5) vs. British Columbia (10)
Two teams that been in the top five of Ultiworld's Power Rankings from the season's beginning to its end will face off for a coveted spot in the semifinals. Both Virginia and British Columbia have fallen in the quarterfinals in the past two seasons, including Virginia's double game point loss to Oregon in 2014. One team's streak will extend to three years while the other can continue on in their season long attempt to win a title.
The tables have turned since the last time they faced off at the Northwest Challenge. At that tournament, UBC was already undefeated and looking like a favorite to win the tournament, which they did. Meanwhile, Virginia was coming off losing star and Player of the Year shortlister Alika Johnston in the previous game. Now, it is the T-Birds who will be without their elite playmaker, Mira Donaldson, who separated her shoulder in pool play Saturday.
"We are a deep team," countered British Columbia Coach Tasia Balding. "We just moved some people around."
The fact is that both teams pride themselves on how far they can reach into their bench and how many players they can turn to when times get tough. They are system based squads with diverse skillsets, although UBC is a bit more prone to attack deep while Virginia's defensive capabilities are their edge. Without Donaldson, the Canadian squad has struggled a bit more to open the field, but they've turned to Terynn Chan and freshmen Ellen Au-Yeung and Jess Chung to step up on offense. Their O-line will need to find a way to fight through Hydra's physical and disciplined downfield D.
"They're a super fast team," noted Balding. "We're super fast, but we're not used to playing teams as fast."
Sunday's conditions could play a big role. Without Donaldson cannoning throws regardless of the wind, British Columbia's upwind offense slowed dramatically. The Atlantic Coast champions are a strong team in the wind, in large part because of how organized their reset actions are. Cutters know when to look to their reset and what moves to expect and how to hit them in an advantageous position. Johnston and Michelle DeRieux in particular have the power to open up the field against strong winds.
The eyes have been on the prize for both of these teams, but only one team will have a shot to accomplish their lofty goals. If UBC can connect on their deep game and punch in short field turns, they can push past Virginia. Doing so without their superstar will be tough, especially against a team with depth that can match theirs, and one veteram gamechanger to their none.
Carleton (6) vs. Whitman (5)
Carleton Syzygy and the Whitman Lady Sweets are set do battle for a spot in the semifinals after both scored crucial upsets in pool play.
Carleton College had a quietly solid two days of pool play, with convincing wins against everyone in their pool except UCLA. They beat UBC in UBC's only loss so far, which launched them to the top of Pool C. Whitman had a slightly more eventful two days, beating the initial top and bottom seeds in their pool before finishing in second due to point differential.
Carleton showed up this weekend, like they always do. Syzygy performed as they were expected during the regular season, and continued that steadiness into pool play. They handily beat the teams that they were supposed to beat, and often accomplished this with unstoppable runs to put away their opponent. A group of practiced upperclassmen leads their team, and lend their experience when momentum is needed. Lucia Childs-Walker has been one of the top performers in Milwaukee, abusing marks and dump defenders alike, while Emily Buckner has provided consistent cutting and opened the field with her throws.
Whitman has a roster chock full of young talent, with many of them gaining experience on the U19 and U23 world teams, but after starting the regular season more slowly than expected, people stopped talking about what the Lady Sweets were going to do this year. They obviously put the pieces together while they were out of the spotlight, and have jumped back onto the main stage since upsetting many of the higher seeded teams at Northwest Regionals.
These two teams are both similar and different in so many ways. Carleton College is without a doubt a program, and one that has been making Nationals for a long time. Whitman, on the other hand, is a newer team full of young players that has never made it this far in the tournament before. Both teams play hard man to man and grind through all of their points. Nothing is given up easily. They have plenty of speed, athleticism, and skill to overcome each other, concentrated in different areas. Whitman has stronger raw talent with players like Nina Finley, Julia Bladin, Claire Revere, and Alissa Soo to name just a few. Syzygy has the experience and patience. Emily Buckner, Lucia Childs-Walker, Zoe Borden, and Megan Chavez have all already had a good start, and they've played at this high level before.
All Carleton needs to do is continue doing their job and beating who they're supposed to beat. Whitman will need to do a bit more, but they're not putting extra stress on their players. "We've already broken seed," says coach Jeremy Norden, "we literally have nothing to lose. We're in a perfect position to ball out."
In addition to this almost carefree confidence, team leaders and coach Ben McGinn have also talked about the strategy they need to defeat Syzygy, speaking of fundamentals and breaking the mark. Norden expressed more confidence in their familiarity with the team.
"We feel like we know them well despite only having playing them once this season. There's some classic Seattle youth matchups there." He's alluding to players like Childs-Walker and Buckner facing the Seattle army on Whitman, such as Bladin, Finley, Heffron, Revere, the healthy Soo sister… the list goes on. Of the all the women's quarters matchups, this one should be the most interesting.
Stanford (2) vs. Colorado (4)
Think Rudy. Frodo Baggins. ­­­­The 1980 USA hockey team. Choose your favorite underdog story, and add Colorado Kali to the list. Because they will need to mix luck, focus, and a small dash of miracle to get past Stanford Superfly in the quarters.
Stanford has had a spotless record so far this tournament. Even during their windy showdown against Washington this morning, Stanford was in control, reaching 15 points in each of their games. They're tall, fast, physical, and skilled. Monisha White is the explosive end and beginning of plays, whether she's launching a backhand deep or she's bidding to deny her opponent's hopes midair.
When Michela Meister and Halsey Hoster aren't stealing discs from the sky, Anne Rempel is snapping up handler swings in the cup. Stanford will huck the disc deep without the guarantee of a connection – they racked up 47 turns in their Washington game – but they know they'll get the disc back. Who can stop the big bad Superfly?
Colorado hopes to stop them tomorrow. Colorado has survived a trickier road to reach the quarters, despite coming into nationals as the one seed in Pool D. Both Virginia and Whitman capitalized on Colorado's inconsistent execution in pool play: Kali players cheer "catches and throws, catches and throws" from the sidelines, reminding each other to take a breath and take each play as it comes.
Megan Cousins, Dori Franklin, and Lisa Doan have done a lot for Kali, but the backfield and receivers haven't always been reading the same playbook. Nhi has been instrumental for Kali all weekend despite her massive leg brace and the pain she's visibly battling with every jump and cut.
When teams have truly taken down Stanford – and by teams I mean Oregon – they have worn down Superfly's upper crust and pressured their downfield cutters to make plays outside of resets. With smart matchups like Cousins and Rempel, Kirstin Johnson and Stephanie Lim, and Franklin and Meister, Kali can slow down Superfly's forceful offense and make them work for it. Stanford specializes in forcing teams into playing offense to their defense. Colorado will need to stick to the offense they've crafted if they want to make it through.