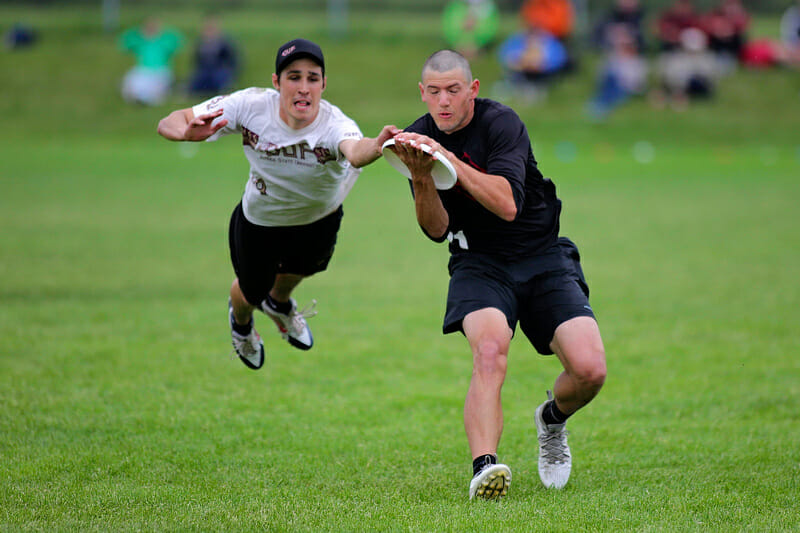 In the closest men's quarterfinal of the day, Florida State DUF gritted through a physical Massachusetts Zoodisc team, advancing to a semifinal matchup with Oregon. FSU's throwers gave them the edge, forcing Zoo out of their dangerous 1-3-3 zone defense early in the game and into man coverage. Chris LaRocque was instrumental on both offense and defense as he and his fellow captains led their team to a 12-10 win over UMass in the soft cap.
Zoo jumped out to an early 2-1 lead, scoring two straight after DUF's Brian Phillips got the first goal of the game. Off an unfortunate Wayde Voss drop, UMass co-captain Ben Tseytlin launched a flat hammer into break side space in the endzone that looked like it would helix out of bounds. Jeff Babbitt used his freakish athletic ability to fully extend on a horizontal grab of Tseytlin's throw, and Zoo sent their D-line back out with an early lead.
As the rain fell lightly but steadily, FSU's Andrew Roney had a disc bounce of his hand early in the next point. With a short field, UMass worked it around until Babbitt was able to blade in a flick for Manit Munshi, who scored the break and widened the lead to 3-1.
UMass's D-line almost went a perfect 3 for 3 on break chances, picking up another FSU turn immediately in the next point. A streaking Conor Kline had steps on Chris LaRocque in transition, but LaRocque dove high in desperation in front of the throw and the disc sailed through Kline's outstretched hands. DUF's O-line took control again and marched down the field, scoring the hold on a 20 yard flick from Roney to Connor Holcombe.
FSU came into the game looking to stack up their D-line to take advantage of any turn they could generate with their length and speed. Zoo missed on their next deep shot and LaRocque found Liam Rawson for the first DUF break. On the ensuing O-line point, LaRocque stalled out Babbitt and then found his brother Drew to tally up DUF's own 3-0 run and the 4-3 lead.
Both defenses continued to battle through with scary efficiency. UMass stole the lead back from FSU when Jeff Babbitt charged into the endzone to catch a high-arcing backhand from Ben Sadok, making the score 5-4. The lead flipped again with a 2-0 run for FSU and they stayed in control to take half at 8-7.
Roney's hammers were key for Florida State as they look the lead and held onto it throughout the second half. "We planned for their zone and watched what we could do. We saw that we could hit hammers and we did. We hit them early, and then they got scared and went man on us," said LaRocque after the win. While Larocque tallied six assists for DUF, Roney was right behind him with five of his own and one goal.
As DUF's man defense started to clamp down, a few drops and a big layout block from LaRocque on Babbitt helped increase the lead. "Even the [discs] that we weren't getting, we were close to, scaring them. They weren't taking some shots they normally would have taken, I think, because we were always right there," Holcombe added.
Turnovers started to nag at UMass, mostly on misses. FSU also flashed a 2-3-2 look that switched back to man defense just around half field in the middle of the second half, always keeping at least two of their three captains on the field to look for scores in transition.
With the soft cap on, UMass scored to make it 10-9 in a game to 12. Roney tallied his fifth assist to make it 11-9, and though UMass would score one more, they may have lost an emotional push when Sadok came down hard with an arm injury late in the game. Holcombe beat Babbitt deep on the next possession and LaRocque hit him in stride with a beautiful huck to close the game out, 12-10.
Babbitt and Kline were both effectively limited by the DUF defense, but they still couldn't contain freshman phenom Brett Gramann, who showed his own throwing prowess with five assists in the loss.
"I think we had some execution errors. We had those two key drops, one right on our goal line after a pull and another just a couple yards down the field. That breaks a team quickly," said Babbitt as his team embraced just minutes after their season eded. "A couple things go the other way in this game and we're still in this tournament," he added.  2015 was an exciting year for this young team, and almost all of their top contributors will return for the 2016 season, including Kline, Sadok, Babbitt, and Gramann.
The rain continued to fall as Babbitt allowed a small smile and walked back to his tent in the light rain while FSU stretched and packed for their semifinal against Oregon.