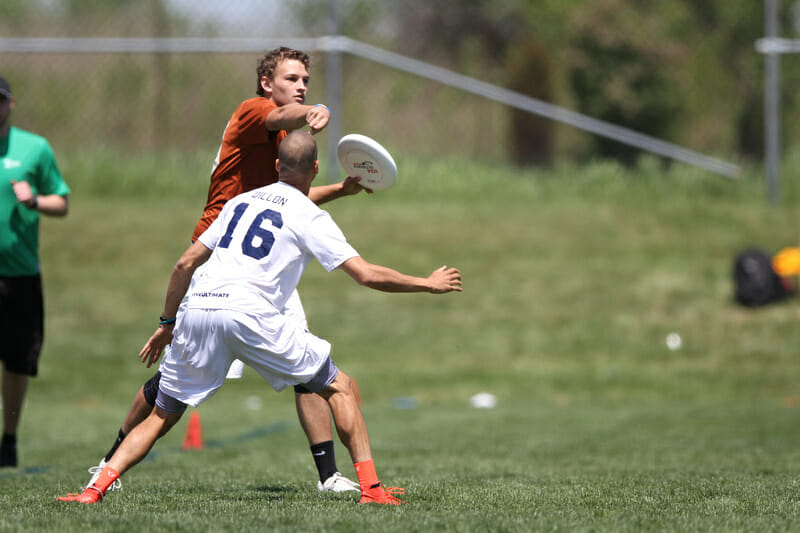 Check out the four compelling quarterfinals matchups in the Men's Division
UMass v. Florida State
Two elite deep games will meet when Massachusetts and Florida State take the field in their quarterfinal. That's not to say that either team has spent the whole tournament only going over the top, but each can send out elite deep talent that forces their opponents to mind the huck and opens up plenty of unders and resets. They just do it in very different ways.
"[UMass] plays the best zone at the tournament," said Florida State coach Pete van de Burgt looking ahead to the matchup. "…I think they can be prone to offensive weakness, so if you can get your D-line on the field, you can probably rattle off a couple breaks on them," he continued. Florida State has had a lot of success generating thrower pressure so far this tournament, using a deep D-line bench lead by Drew LaRocque, Liam Rawson, and Tom Mazza –all of whom were integral in overpowering the throwing prowess of Matt Bennett and Dalton Smith in FSU's prequarter win.
Offensively, the FSU captains have been about as unstoppable a group as an other three players this weekend. Christopher LaRocque leads the tournament in assists with 29, and Connor Holcombe is second in goals with 18 through the first two days. Andrew Roney, who's been integral for FSU even if not as many of his throws have found the endzone, is also tied for 8th in assists at 14. Those three have gone unchecked by most defenses, with UNC's junk and zone looks causing the only trouble (and the only loss) for them so far. When they can find Holcombe deep, they back defenses up and attack the break side with a solid vert stack system. FSU will need Holcombe to continue to get free for Roney and LaRocque, but they'll have their work cut out for them against Massachusetts.
For Massachusetts, the deep looks can come at more unpredictable moments. Jeff Babbitt, leading the tournament with 20 goals and tied with Roney with 14 assists, has joined Ben Sadok and Brett Gramman as a thrower for his team. Conor Kline's return to form couldn't have come at a better time for Massachusetts and he adds an additional 11 goals for his team.
The UMass zone has been stifling, contributing to a monstrous +25 point differential, the biggest of any team headed into a quarterfinal matchup tomorrow. They have yet to face a real challenge this weekend, but they've continued to fire on all cylinders with their top players, getting inspired play from their role playing bench. The zone has given players like Jeff Dreyfus great places to fill in on defense, and they'll look to limit LaRocque and Roney or force high throws over the wall that could easily be eaten by Babbitt on the wing.
There isn't much offensive weakness that we've seen from UMass beyond their willingness to huck at any moment, and so far Babbitt and Kline have successfully lead the charge on chasing down Sadok and Gramman's wilder throws to gain an edge over opponents.
FSU may even be hoping to see a lot of the 1-3-3, since Larocque and Roney minced up zones and junks from Maryland and Texas A&M. UMass, however, unleashed Babbitt in person defense against Wilmington, and he limited Jack Williams more than any player has so far this season. If UMass coaches Evan Johnson and Tiina Booth use him wisely, the Massachusetts star could cause more trouble against FSU's top players than anyone else so far this tournament.
The measured and patient deep shots of FSU will look to win out over the wild gunslinging prowess of UMass, with the game likely coming down to who can limit the deep space the most and force the opposing team to exploit space underneath.
Colorado v. UNC
The 2015 quarterfinals brings a rematch of the 2014 National Championship game between Colorado and UNC. The big difference in this iteration of the matchup is that while Mamabird bid goodbye to stars like Jimmy Mickle, Tim Morrissy, and Hidde Sneider, UNC welcomed back two of their big three in Jon Nethercutt and Ben Snell (losing Christian Johnson). UNC has eschewed regular season dominance in favor of gaining their entire roster experience playing man defense, as well as keeping a handful of zone looks unseen by opponents until the series (likely only used in practice before being rolled out to beat UNC Wilmington at Conferences and Regionals, and then FSU to take the pool).
The matchup between these teams could be compelling, but likely falls in UNC's favor as a result of their depth. When UNC is on defense they can leverage their deeper bench for an advantage. Colorado has shown that they are a solid team, but their offense is far from clean. Pawel Janas will put in his work on offense both throwing and receiving, but UNC may have an answer for him in Ben Snell, who has a broad enough skill set to deal with Janas flowing in and out of the backfield.
Colorado's offense is a team-based approach that would be hard for a star heavy team to deal with, but a deep UNC D-line should be able to apply pressure across the board to force turns, giving UNC the advantage in man defense. Expect them to stick with man because, while much has been made of UNC's variety of zone looks, they may not aid them as much against Mamabird. Carolina's zones tend to force around throws, but Colorado's lean-dump system has forced almost every O-line player to get comfortable making those types of passes.
On the defensive side, Colorado has shown to be a strong team but might not have it in them to contend with the Carolina offense. They varied their defensive looks a bit with a 2-3-2 look, and has flashed a diamond zone at some tournaments, but don't expect that to give UNC much trouble. Nethercutt has the over the top throws to take apart a pressing zone, and UNC has played a clam look similar to 2-3-2 in the past that their offense has likely had practice against.
That leaves Colorado in man defense, where Nethercutt and Snell should be able to shoot deep to their receivers to open up the offense underneath. They will turn it a few times looking deep, but unless Colorado can improve their D-line offense from what they showed in the Georgia game, don't expect them to keep pace with the UNC D-line. Human highlight reel Stanley Peterson will likely take a big matchup for Colorado, but he seems to be a much more effective downfield defender than a handler guard, and the Snell/Nethercutt battery will drive UNC from the handler position.
Both these teams are still strong from last year, but the game will likely go to UNC simply because they have too much depth on defense and more skill on offense than Colorado can handle.
Central Florida v. Pittsburgh
Audience of the 2013 Nationals final remember the trouncing that Pitt gave Central Florida in Madison. That Central Florida team had pounded their way through pool play and elimination and was looking to pull off the upset. They came up short.
The roles are seemingly reversed in 2015, with Pittsburgh scraping past UNC-W in order to give themselves a chance at the Pool B winners. UCF has been unchallenged all weekend, with no team scoring more than 11 against thm. Head coach Andrew Roca has become a master of getting his team to peak at the right time, and Pitt knows it. "The game we played against Wilmington won't work against them," said Pitt assistant coach Dave Hogan. "They're just better in the air. We can't jump over Stuart Little, [Jeremy] Langdon and [Michael] Fairley."
Stuart Little is third at Nationals in goals, and handler stud Alex Bullock is in the top ten for assists. UCF's D-line has been near perfect on break opportunities with Brawley Adams getting help from Jeremy Langdon who often plays both ways. You can be sure that UCF has their matchups picked already.
Pittsburgh has been up and down all tournament, a stark contrast to their regular season. They were able to turn it on late against Wilmington to put together a 4-0 run, but UCF may not give them the same defensive break opportunities. Pitt has yet to show they can truly earn Ds, aside from the occasional bit of downfield pressure resulting in high stalls. The offense has for the most part been clean, but with a bit of tight downfield pressure they falter (as shown against Wisconsin in pool play). If Pitt can take advantage of any chances they have on the defensive side, it will be much easier to win this tight matchup. To do that, Pat Earles needs to be on the field. His ability to put things on a dime deep is something the Pitt D-line was lacking against Texas.
It's hard to tell who has the advantage going into tomorrow's matchup. UCF is an emotionally powered team that could counteract Pittsburgh's business attitude. If UCF wins, the X factor will likely have been Brawley Adams. His quarterbacking of the D-line will be pivotal for the Dogs of War. If Pitt wins, the X factor will have been Trent Dillon. If Dillon can prevent Bullock from getting open on resets, the UCF offense could fall apart.
Oregon v. Texas
Rematches are inherently compelling, particularly when the two combatants enter with new stakes and perspectives. Oregon Ego and Texas Tuff met last year in the quarterfinals at Nationals, but the narrative for the two teams could not be more different this time around.
Last season Ego entered the game after winning a tough pool D, hitting their stride and playing the best they had all year, while Texas limped into the game after dropping seed and barely holding off UCF in a double game point prequarters game.
This season, the narrative shoe is on the other foot. Ego staggered into the bracket, finishing third in pool C after looking unimpressive and uninspired against Florida State and Maryland on Friday. They pulled it together today and managed to knock off a resurgent Minnesota Grey Duck in prequarters, but have not looked like the perennial semis contender of years past.
Texas, on the other hand, has been dominant this weekend, and pulled off the biggest upset of the tournament when they took down Pittsburgh, the number one team in the country. Earning the bye into quarterfinals is always a huge advantage; 23 of the 24 teams that have won their pools in the past six years have won their quarterfinal matchup.
Coming in as the 13th seed, even Texas's players must be a little surprised by their run of success this weekend, and keeping their composure in check will be important for a team that is playing this far beyond expectations.
Experience may be one of the key advantages that Oregon has in the matchup tomorrow, as three consecutive semifinals appearances have given this team the knowledge of what it takes to get to the later rounds of Nationals. Their experience shown through in their prequarters game today against Minnesota. With the score tied 11-11 and both teams facing elimination, Dylan Freechild and Trevor Smith elevated their games and took over the last three points to keep their season and college careers alive. If the game gets tight tomorrow, Texas will need players to step up and embrace the pressure of the moment.
The guy most likely to do that for TUFF is their U23 stud Chase Cunningham. Texas's Callahan nominee, Cunningham is having a breakout weekend on the biggest stage. His modest 3 goal, 11 assist stat line really undersells the impact he has had for Texas this weekend. He has succeeded on the most fundamental level; he simply wins his matchup against anyone the other team puts in front of him. Tuff's roster is full of athletic playmakers, but they need a straw to stir the drink, and Cunningham has filled that role and more this weekend.
Freechild and Cunningham are the big names on the field tomorrow, but the outcome of the game will likely come down to team wide stylistic adjustments. Texas is one of the tallest teams in the country, while Oregon is one of the fastest. The team that wins will likely be the one that is able to exploit its advantage while mitigating their opponent's area of expertise.
In the pool play matchup against Pittsburgh, Texas's Dillon Larberg and Jordan Taylor did a good job containing the speedy Max Thorne, and if they are able to have a similar effect on Freechild, Texas could be in good shape to make semis for the first time in recent memory.
There will be many compelling storylines brought to bear tomorrow morning, from the rematch to Dylan Freechild's quest for a title, and it will be fascinating to see them all play out on the field.