UNC overwhelmed Colorado on defense.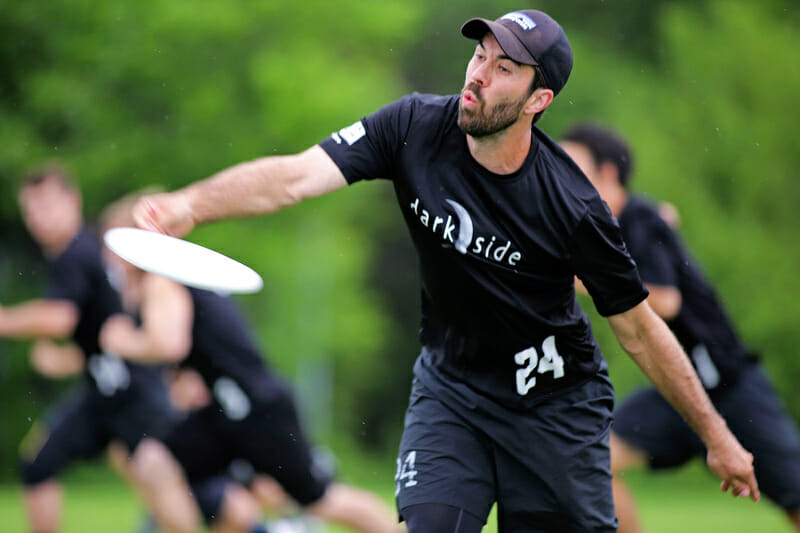 The 2015 quarterfinals rematch of last year's National Championship game between North Carolina Darkside and Colorado Mamabird ended with UNC exacting revenge for their loss with a 15-9 victory. The match was never very close, with Carolina collecting breaks early to take half 8-4. The second half felt much less intense, with teams mostly trading until the last point when Darkside broke to win.
Though North Carolina generally outclassed Colorado on offense, it was their defense (and their throwing machine, Jon Nethercutt) that led them to victory. These factors coincided often, as Nethercutt played nearly every D-point for Darkside (and indeed played all but three points in the entire game). Defensively, North Carolina played one of their new zone looks nearly every point to great success. Colorado throwers were flustered from the start and the downfield cutting stagnated quickly. UNC started off throwing clam twice and earned a pair of breaks from an Nick Macleod layout block and Colorado dump misfire (both goals assisted by Nethercutt).
The next point looked to be more of the same with Colorado trying to attack the junk with a no dump set that suffered from a lack of downfield movement. Mamabird was able to call a timeout to regroup and change to a multiple-dump look that, while still far from smooth, carried them to a hold. Colorado tried to go back to the break system they started against Georgia by adding star Pawel Janas to the D line for the first D point but to no avail. Mamabird flexed the lanes with handler guards to get the disc out of the Nethercutt's hands but, despite a few forced reset passes first, the result was a Ben Snell huck to freshmen Matt Gouchoe-Hanas, who pulled down a big sky for the score.
Carolina went back on defense, again in clam, but Colorado sailed an in-cut throw over their receiver early and JD Hastings found Ben Snell for a 3rd UNC break. Darkside pulled again and threw their flexing look that traps throwers in a 3-man cup on the sideline, with a man defender on the first dump. Colorado escaped with a hammer but Tim McAllister came up with a big point block on the transition to man. A Nethercutt layout to save possession followed by an around flick gave UNC their fourth break.
Carolina continued to play transition junk and forced another turn on a MacLeod layout D in the cup that lead to a break. The teams traded for half, starting a theme for the rest of the game. Despite the Colorado hold, the Mamabird sidelines were quiet the entire game while Darkside's players and fans were consistently loud.
While the story from this game has to be Jon Nethercutt who, as stated, took just three points off for UNC and collected nine assists in the game, it would be remiss not to mention the outstanding defensive pressure consistently applied by North Carolina. Nick Macleod and Tim McAllister generated two blocks each for Darkside while JD Hastings and Nathan Kwon played well in coverage and were big cutters on the turn.
Colorado was on their back foot from the beginning and could never establish an offensive rhythm. Their system that heavily relies on break side flow and power position hucks was devastated by the Carolina junk that left a poacher in the break space and the deep space. Even on the points where Darkside played man, Mamabird generated little flow. The breaks they got off were too floaty, giving defenders enough time to recover and stop any continues. Good Carolina dump defense also stopped any upline cuts from Mamabird, who didn't successfully complete a huck until the middle of the second half. Big names Janas and Peterson never exerted their will on the game. Janas did his best to make the tough throws for Colorado against the zone but his over the tops were never really on. Peterson had a very quiet game outside of an incredible up-and-out layout D. He tried to pop the Carolina junk but was fairly marginalized as a downfield cutter.
In the face of losing a great deal of talent, Colorado did admirably this season. They close 2015 with a solid T-5 performance at Nationals. Meanwhile, North Carolina will advance to the semifinals for the second straight year to face the red-hot University of Central Florida Dogs of War in what should be a barnburner.